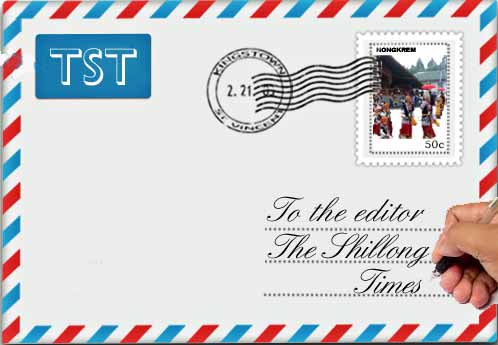 Improve Shillong-Jowai Road
Editor
   The fact that Mr  Nitin Gadkari, Union Minister of Road  Transport  and Highways came all the way to Shillong to  inaugurate  the  construction of the two lane Jowai –Ratacherra    road  proves that  there is  a strong  determination of the present Central government  to develop and improve road connectivity in the NE Region  of the country .  No doubt  the Jowai -Ratachera  road  which passes through Meghalaya is an important road linking  the southern   part of Assam and some  other  North Eastern states  with the  rest of India and the  two lane construction  will make it much easier and comfortable for commuters and others  who utilize this road for transport  of goods and commodities. The Government of India and the concerned state governments must be  congratulated for  taking up this initiative. One hopes the construction work progresses smoothly for timely completion.
     In this connection , one must however  point out that  to reach  this road from Shillong  or lower Assam via Meghalaya , one will also have to negotiate  the road portion  that emerges from the Shillong ByPass at Mawrynkneng   and continue along the existing road up to the Jowai ByPass near  Thadlaskein  Lake a distance which is roughly  between 18-20 Kms. This particular portion  of the road besides having  two lengthy steep gradients before or after  Puriang and  Mookyndur villages  depending on which way  one travels is not that  fully improved  to ease  traffic flow. On the contrary there used to be long rows of goods-laden trucks and even long twelve wheelers that move along this road after emerging from  both the By Passes. Often during peak traffic hours, commuters in small vehicles   find it difficult to manoeuvre or overtake these long rows of trucks resulting in increase in travel time. Occasionally  goods-laden trucks have overturned on this portion of the road and resulted in traffic jams of very long duration. It is expected that the situation will worsen when hundreds of coal-laden trucks move everyday on this road when coal mining resumes.
        It is not known if the initiative for improving or developing this road portion has been taken up. Hopefully this has been taken note of. If not  it is hoped that the State  Government and especially all  the public representatives from  the Jaintia Hills Districts  would perhaps jointly  press for this particularly while the process for the improvement and construction of the Jowai Ratachera  road is still on.  This will not only make it more convenient for the many  constituents  of these representatives to  travel on but it would also ease the travel  of other commuters who travel beyond the state through this road.
Yours etc.,
K L Tariang,
Via email
Meghalaya BJP in hot waters?
Editor,
I was shocked to read the news item, "Cash transaction shocker at BJP meet" (ST Sept.21, 2018). It was indeed revealing that one of the unsuccessful BJP MLA candidates who contested the last elections has charged certain persons in the BJP of taking a few lakh rupees from him in Hotel Pinewood in the last Assembly election. It was, however, not clear in the news report as to the purpose for which the money was realized from the candidate concerned. Was it meant for favouring allotment of party ticket to him or to set aside some amount of that money for election spending by the Party. In any case, this confession by a BJP candidate has damaged the credibility of the State BJP. It also exposes the deep malaise which is equal to corruption within the state BJP leadership which requires immediate redress. Moreover, the charge was leveled during the BJP State Executive Committee meeting chaired by none other than Nalin Kohli, the central BJP Leader in-charge Meghalaya. Such allegations if true are very serious in nature and indicate that money is the primary consideration by state BJP leadership for granting tickets to aspiring candidates. This will not lead to good governance and should be condemned by all right thinking citizens. In fact this warrants an immediate inquiry. If BJP claims that it stands for corruption-free governance then it is expected that the Central leadership should initiate high level inquiry in the affairs to immediately remove such persons responsible for bringing a bad name to the Party.
Yours etc.,
Philip Marwein,
Via email
Leaders are pillars of the party
Editor,
Mr DD Lapang may have aged but his followers are not. They are strong and vibrant. Hence his resignation from the Congress Party has created an uproar and enthused other parties to speculate on Lapang's future moves. Frankly speaking, no political party should take a knee-jerk decision particularly when it is at a low point. Moreover, the contributions of Mr Lapang cannot be undermined. He always remained unshaken as far as his loyalty to the Party and its High Command is concerned. Just as  WA Sangma, BB Lyngdoh and PA Sangma hold their own records, history will also record Mr Lapang's many adventures and sacrifices that contributed towards saving the national party from falling apart in this State. Hence this unceremonious treatment of Mr Lapang will hurt the goodwill of the Congress. Look at how the rivals are welcoming Mr Lapang. His residence has seen many new guests expressing their loving gesture and gratitude to the veteran. No experienced leader ever acts in such a manner as to bring the integrity of the party into question. Should the children ignore their parents when they grow old and infirm? This would be inhuman. Ethically, the elderly leaders should be given due deference and a special status. However, this misstep of the Congress Party shows the gross immaturity and statesmanship of the Congress High Command. In politics, the leaders who have endured rough weather always have a good following no matter how old they are. Gratitude is the least that the Party owes such veterans.
Yours etc.,
Salil Gewali,
Via email