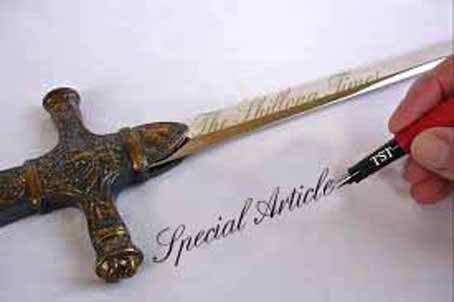 JUGGLERY OF GROWTH FIGURES
New GDP Data
By Dhurjati Mukherjee
The recent re-estimation of GDP using 2011-12 as the base year has created a controversy and not without reason as this lowers India's growth during the UPA regime. In August, an expert panel set up by National Statistical Commission and headed by economist Sudipto Mondle found that 10 years of UPA, propelled India's growth by an average 8 per cent per annum, but the new CSO estimation reduced it to 6.7 per cent in nine years against the 7.3 per cent in the four years of NDA regime.
Whatever may be the implications of the debate amongst the BJP and the Congress about the legitimacy of the data, it is a fact that investment has been around 26 per cent of total income now compared to 36 per cent during 2007. Moreover, States such as Punjab, Maharashtra and Gujarat, once among the wealthiest are in turmoil. Distress signals are evident in every corner of the economy, specially the farm sector, where recently the farmers staged a demonstration just the other day in Delhi, demanding a nationwide loan waiver and a few months back launching a similar protest in Mumbai.
An economist friend of mine regretted the fact that politicians talk about growth and try to mislead the people by showing that growth is an indicator of development. It is a fact that growth and development are not synonymous and the state of grass-root development that benefits the people at the base level has been rather poor in the country over the years. It is indeed surprising that even educated people tend to believe that a high GDP growth finds reflection in development matters.
As is well known, the structure of our planning process is top down, i.e. centralisation is very much manifest. The planners and politicians are all urban centric and have little time to think of the villages in remote and backward districts of the country. Moreover, it is an accepted fact that the problems that exist in these areas are indeed immense and huge resources would be required to uplift their conditions.
Political parties are aware of these aspects but have little resources to revive these. Building giant size statues, starting bullet trains, increasing defence expenditure though not improving the conditions of soldiers, who are guarding our borders, spending huge sums for building bridges, setting up toilets with or without water and the like are gimmicks that go down well with the rich and the middle class. Moreover, these expenditures ensure a cut in the money spent (commission) for the party in power as interests of business groups are involved.
The highlight of all talk relating to gearing up the economy lies in predicting a higher GDP for the current year and also possibly the next. But over the years, there has been very little development in the backward and tribal regions of the State if one core areas such as considers health and nutrition, education, sanitary conditions, shelter, child labour etc. Moreover, hunger still exists and there is widespread malnutrition as even government surveys have indicated.
Moreover, high GDP growth has unfortunately been accompanied by a slowing job growth, according to a recent report titled The State of Working India 2018 of Azim Premji University. Though much euphoria has been generated by India jumping 23 places, Chairperson of the Centre for Informal Sector & Labour Studies of Jawaharlal Nehru University and one of the authors of the report, Prof. Santosh Mehrotra, observed that ease of doing business or high GDP growth has hardly any correlation with job creation. One may mention here that in early 80s a sum of Rs 1 crore of real fixed capital (at 2015 prices) supported around 90 jobs in the organised manufacturing sector, while in 2010 this had fallen to just 10 jobs. The most pertinent problem of unemployment cannot be solved by high growth but only through grass-root development.
It is not known why Prime Minister Modi has been giving so much importance to the 'ease of doing business' that helped to push the country to 77 in the World Bank ranking for 2019 that was published this year from 142 for 2015 and 100 in 2018. There is no harm in necessary reforms in this regard and making procedures easier to attract foreign companies to operate in the country but it should be ensured that they adhere to the rules of the land and help the development process. Just increasing the size of the economy to $5 trillion without any resultant effects may not help the masses.
Possibly the only positive decision has been the Prime Minister unveiling a 12-point action plan recently for micro, small and medium enterprises (MSMEs), including subsidised loans, higher procurement and easier labour along with green rules to revitalise this sector which has been ailing for quite some time. In the plan, there is a provision for a two per cent interest subsidy for new or incremental loans of up to Rs 1 crore taken by MSME units through a new portal that promises to approve loans in 59 minutes is seen to be the most significant. In a situation of a credit crunch, sluggish manufacturing activity and increased competition from imports, specially from China, this could help revival of micro and small units and generating jobs.
Along with this, incentives should be specially geared for micro units in rural and semi-urban areas so that young entrepreneurs could not only make a living but also create a few jobs. The spiralling effect would help improve the economic environment which is what is absolutely necessary at this juncture.
Surprisingly, the neglect of the rural sector – obviously to run after growth and big industry – has been flawed idea of development. Nobody had the vision to point out that with computerisation, heavy and even medium industry has the potential to create increasing number of jobs to keep pace with demand.
In such a scenario, it is quite obvious that the disparities in income between the urban and rural sectors are widening as opportunities are more in cities and there is all-round poverty and squalor in the villages. Even if one considers the much-talked of city, Ayodhya (renamed from the earlier Faizabad), and compares it with that of Nagpur or Bhopal, the wide per capita income will be manifest. And Modi talks of setting up an airport without bothering to examine the condition of health facilities existing there.
What needs to be pointed out here is that some young politicians lately, including the Congress President Rahul Gandhi, have been focussing the disparity that exists in the country. It is now time not to harp on growth but to focus on inclusive development and follow our late President Abdul Kalam, who voiced the need for PURA (providing urban facilities in rural areas). How quickly this will become a reality remains to be seen so that livelihood conditions improve through enhanced earnings of the rural populace.
The focus thus cannot and should not be on growth per se but on real development that takes place at grass-root levels. The jugglery with growth figures does not impress the aam janata who are only interested to see the actual results and the course of real development taking place in the country, not just relating to the economically weaker sections but also the lower income groups.—INFA