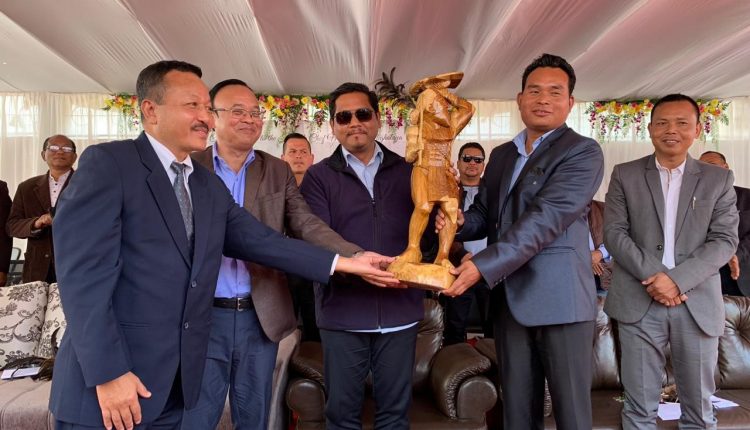 Chokpot to get community college, Baghmara hospital to be upgraded, says CM
22 Crores for tourism announced
TURA: Meghalaya Chief Minister Conrad K Sangma has announced that remote Chokpot region of South Garo Hills would soon get a community college while Baghmara civil hospital would be upgraded through an extension plan that the government is working on to include in the upcoming state budget.
The chief minister, who was on a two day visit to the remote South Garo Hills district, said on Thursday, that a total sum of Rs 22 crores have been earmarked for tourism in the South Garo Hills region.
Out of this amount, a sum of Rs 9 crore have been sanctioned to develop the pristine tourism sites at Siju, where the world renowned Siju Caves are located, and a further Rs 13 crore is going to be allocated for renovation and beautification of various tourist spots in Baghmara.
Addressing the crowds during a felicitation programme for him at Government Higher Secondary School playground in Baghmara, Chief Minister Conrad K Sangma expressed sadness that despite South Garo Hills generating the maximum revenue for the state, yet, it has not been given its due share.
"Our government is going to set up nine community colleges this year in different parts of the state and Chokpot constituency in South Garo Hills is one of them which has been selected because it is in the interior and in need of development," said Conrad K Sangma.
"These community colleges would be provided with adhoc grants and infrastructure by the government and it will go a long way in providing higher education for our students," informed the chief minister adding that the foundation stone for Chokpot Community College would be laid on February 2nd, this year.
To boost medical care in this remote part of the state, the chief minister stated that an extension plan is being taken up to strengthen facilities and services at Baghmara civil hospital. The hospital is the only large medical centre catering to the needs of people residing in distant  Rongara, Mahadeo, Maheskola, Siju, Sibbari, Rewak and other far flung areas.
The government has also decided to construct a new circuit house at Baghmara which will have more rooms and facilities for visiting officials, tourists and others, it was announced by the chief minister.
Highlighting his government's efforts in bringing much needed central funding for developmental works in the state, the chief minister mentioned that under the central government's PMGSY scheme funding has been raised from a meagre Rs 160 crores during the financial year 2017-18 to Rs 600 crores for 2018-19.
"Even the CRS scheme from the centre which was only Rs 60 crores for Meghalaya has this year been raised to 320 crore. The Rural Infrastructure Development Fund has been raised from 100 to 200 crores and the Mahatma Gandhi National Rural Employment Guarantee Act (MGNREGA) funding has been raised from 6-700 crores to over a thousand crores," said the chief minister.
He called upon all to work as a team and ensure schemes reach the people because Meghalaya state has received maximum centrally sponsored schemes.
"If we work as a team including the district officials, bureaucrats and political leaders transformation of the state can happen," said Conrad Sangma.
During the felicitation programme, attended by NPP MLAs Marcuise Marak of Williamnagar, Rupert Momin of Kharkutta and Rakkam A Sangma of Siju-Rongara, the chief minister was presented with a traditional wood carved garo warrior statue.