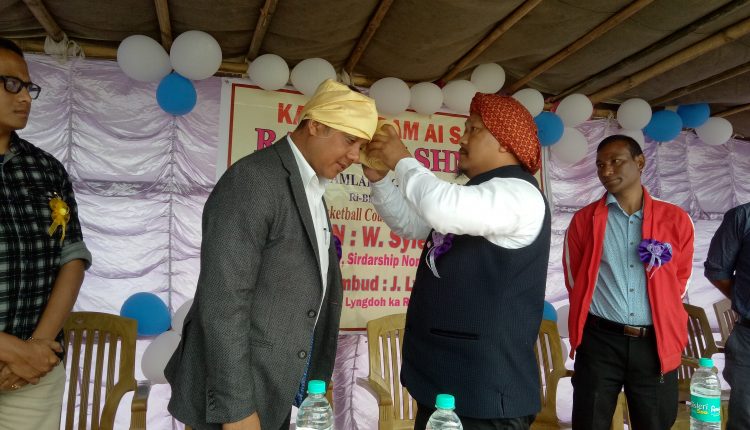 Newly elected headman Elaka Nongpoh conferred 'Sanad'
NONGPOH: The newly elected headman of Pahamlapong & Pahamsohthri, Matthew Kenneth Makdoh of Elaka Nongpoh was on Saturday officially given Sanad by the traditional head of  Pa'iem Wanphrang Syiem in a grand function held at the village.
"This is one of our traditions which have been neglected by the elected headman of several villages under the Elaka Nongpoh. I'm very happy that the new leaders of this village choose to preserve and revive our tradition which has been long gone. This is a very important aspects in our traditions which has been put into practice from time immemorial but as days and years gone by, we have forget it," Pa'iem Wanphrang said while lauding the initiatives of the newly elected leaders of the village.
The function held at the basketball court of the village also witness the presence of SR Syngkli, Myntri of Hima 12 Lyngdoh, Jedwin Lyngdoh, Lyngdoh of Raid Nongpoh, headmen from adjacent villages and the villagers at large.
Meanwhile, Matthew Kenneth Makdoh while addressing the villagers expressesed his sincere gratitude for electing him as the new headman of the village, and that this kind of function was organised in order to revive the rich culture and traditions of the area while also urging the people not to forget their identity.
He also said that as a headman, his main priorities were to bring about all round development for the people, maintaining of cleanliness and also to curb influx beside an accountability and transparent administration. He also urged the people to extend their cooperation with the newly elected village committee for their own benefit.