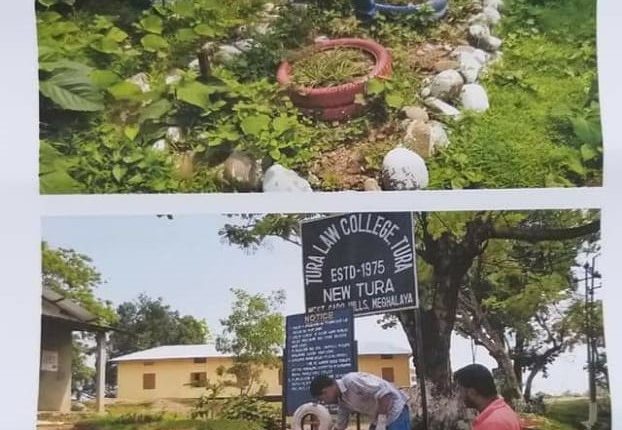 Tura on verge of facing malaria-Dengue outbreak
Abandoned paint cans and tyres filled with stagnant water
TURA: Hundreds of paint cans and old tyres filled with water abandoned across Tura town has become a major breeding ground for mosquito larvae that causes malaria and dengue, raising concern of medical experts.
People in several localities had taken part in a major facelift of the town in January sprucing up their respective areas with flowers and colourful decorations making use of old tyres and paint containers, among others.
In a shocking revelation, a team of Entomologists surveying different areas of the town found several localities where abandoned tyres, cans and other containers were left in the open had become a fertile breeding ground for mosquito larvae of various diseases.
An Entomologist is a scientist who studies insects and they have a very important job of studying insects' classification, its life cycle, distribution, physiology, behaviour, ecology and population dynamics of the thousands of insects including mosquitoes.
With the monsoon rains having set in, Tura appears to be on the brink of a major vector borne disease outbreak.
Headed by Garo Hills' very first Entomologist, Dr. Dringstone M Sangma, the survey team reportedly found in almost all the tyres and containers rain water collection and the presence of a high number of the 'Aedes' and 'Culex' mosquito larvae which are the carriers of the dreaded life threatening diseases Dengue, Chikungunya, Japanese Encephalitis, Fileria and Malaria.
"These have become a fertile ground for hatching of mosquito larvae and a serious health hazard in the town. The high number of mosquito larvae will develop into adult mosquitoes within a few days and will increase the chances of man-mosquito contact resulting in high cases of malaria, Dengue, Chikungunya or Japanese Encephalitis," a worried Dr. Dringstone Sangma has mentioned in his awareness notice to the public via social media.
He suggested that the quickest solution would be to prevent water accumulation by removing the old tyres and other containers, filling them with mud and sand or making holes to ensure water is seeped out to halt the breeding of mosquito larvae.
"To do this, community involvement will be needed. Let us remember that 'Health is wealth' and 'Prevention is better than cure'," cautioned Dr. Sangma.
It is worth mentioning that abandoned tyres and water containers in the open had become an eye sore for the town but unfortunately no effort was made to remove them despite various agencies at work on so called 'cleanliness' drives regularly.
To make matters worse, many tyre repair shops and garages are also at fault for leaving such items out in the open taking advantage of the lax government checks when it comes to enforcing the law and preventing disease outbreaks.