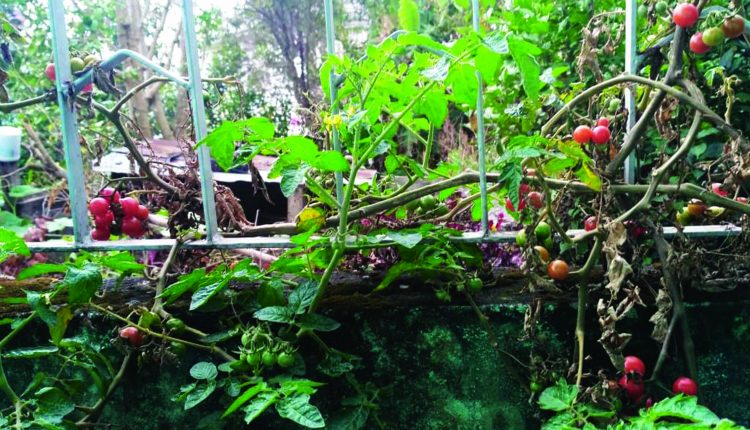 By Heather Cecilia Phanwar
Fresh, organic vegetables are a luxury in the city and one has to travel to the outskirts to avoid being duped for regular items containing chemicals. But some enterprising households are making an extra effort to grow their own vegetables at home in small spaces called kitchen gardens.
A kitchen garden, or potager in French, is a miniature vegetable farm usually in the backyard. However, concretisation of the hill city and shrinking living space have prompted many enthusiasts to innovate and use minimal space to nurture a garden.
There are, of course, a few lucky ones who still have the pleasure to own a decent plot for kitchen gardening.
As cooking is more a woman's métier, it is usually she who plays the 'urban farmer', nurturing her kitchen garden with love and care. Many like Barihun Lyngdoh Mawlong spend hours in their gardens, carefully choosing the seeds, sowing them and waiting eagerly for the plants to grow.
"I was always interested in gardening. So I thought of using up whatever space was there in my house for planting vegetables," says Lyngdoh Mawlong, who grows fresh beans, cucumber and spinach, among other things.

The vegetables grown in the kitchen gardens of urban settlements are of various kinds. What kind of vegetables will be planted depends on how much space a house has.
Luicy Rynjah, who started gardening in 1998, and Darity Phanwar, who takes it as a hobby, grow seasonal vegetables. While the former has a decent plot of land in the backyard of her house in Laitumkhrah, the latter uses foam boxes to grow a variety of vegetables at her residence in Jaiaw.
"As a child, I was always intrigued by the way my mother took care of our garden in the front yard. I would often help her. That space is still there and I take care of it and grow vegetables. Besides, I use thermocol boxes to grow vegetables in small quantities," says Phanwar, who spends two to three hours tending to her garden.
Plants like cabbage, peas, carrots, beetroot and iceberg lettuce are in abundance in their gardens during summer. In winter, cauliflower is a common choice.
Aparna Chakraborty, who lives in Nongrim Hills, also uses thermocol boxes to grow coriander and mint leaves, potatoes, chillies, brinjals and several leafy vegetables. An avid gardener, Chakraborty says the plants ornamenting her house are her life and she can spend hours tending to them.
"I had a proper garden in the house but after that portion was cemented a few years ago, I found an alternative and here I am with my boxes full of happiness," says the homemaker, who has been growing vegetables for the last eight years.
Some households in the city have flourishing kitchen gardens which can be neighbours' envy. For instance, columnist Patricia Mukhim's garden at her Umpling residence is a treasure trove. There are lettuce, parsley, kale, Rucola (rocket salad), mustard leaves, coriander, cherry tomatoes, cabbage, spinach, beans and cucumber plants.
Dr Phurtimai Dohtdong too can boast of her kitchen garden where one can find beans, pumpkin, cucumber, cherry tomatoes and mint leaves in May and mustard leaves from September to December. One can also revel at the abundance of papaya, plums, sugarcane, turmeric, soh iong, soh shang and even banana in her garden. Potatoes, beet, maize, radish and squash are also on the treasure list.
"We have always had a kitchen garden since I was a child. I am only continuing what my mother and grandmother had started with. Of course, after I shifted house in March 2014 I had to start everything from scratch… We have made terraces with bricks so that the rain water does not erode the soil," says Mukhim.
Dohtdong says despite her busy schedule, she makes it a point to spend an hour in the garden. "I love doing it and so it does not make me tired."

For B Nongbri, growing vegetables is more like a habit as "I am from a village where we would grow our food". He is among those wise and sensible men who want to ensure health for their families.
"When I shifted to Umpling 10 years ago, I continued growing fruits and vegetables. You will find turnips, fresh beans, carrots, salad leaves, beetroot, peas, mint leaves, jamardoh, spring onions, oranges, pomegranates, lemon and guava in my garden. They are very tasty," says the 56-year-old government employee. He takes care of his garden before leaving for office and also after coming back home.
Not an easy job
A well-maintained kitchen garden may be a pleasure to look at but it takes hard work to grow vegetables. For those who have a knack for gardening but face space crunch, finding the right place is the primary work
"And then you have to hunt for soil. Whenever I see a construction site in the vicinity, I go and ask for soil. Sometimes I take my daughter along with me to carry sack full of soil," quips Chakraborty.
Choosing the right kind of seeds is also important. Expert gardeners say it is important to know the season for every vegetable, fruits or flower. Some like Mukhim are particular about this and look up the Khasi calendar "which tells us when to grow what".
"For instance there is a Khasi scientific knowledge that says if we sow seeds during the full moon then the seeds will all be eaten up by worms. So we should sow during the new moon period and when the moon is waning," explains Mukhim.

Nongbri has planted tamarillo in the front yard as "this plant loves attention and grows well when put in a place where everyone can see it", he informs.
Lyngdoh Mawlong says whenever she visits a friend or relative who has a new variety of vegetable or flower, she asks for seeds.
Both Rynjah and Phanwar say they bought seeds in the beginning. Now, they collect the seeds after the season for a particular variety is over and preserve them for the next sowing. Some buy seeds from government farms.
Using the right manure is also important. Cow dung, leaf mould, organic kitchen waste and compost manure are commonly used in kitchen gardens. Mukhim says she does a lot of reading up to know which plants like what kind of manure. For pesticides, she uses tobacco leaves soaked overnight in water that she sprays on vegetables.
Lyngdoh Mawlong uses only cow dung because the soil here is fertile.
"Maintaining a kitchen garden means giving at least two hours of your time everyday to rake up the soil and pull out the weeds or to see that caterpillars don't enjoy your leafy vegetables at your expense. It's a tough call but it's satisfying and therapeutic as well," Mukhim asserts.
Why kitchen garden
With so much concrete around, kitchen gardens give the much-needed green relief. Also, "a kitchen garden ensures an inexpensive, regular and handy supply of fresh vegetables which are basic to nutrition".
"Green vegetables contain vitamins and minerals which protect us against diseases. It also solves our food problem," says Rynjah.
According to Mukhim, a kitchen garden means that "we get fresh, organic stuff to eat and that is healthy but it is sad that today people cement up their compounds and don't even grow shrubs, forget about trees".
Dohtdong feels it is a way of incorporating healthy food in daily diet. She ensures that the fresh produce from her garden is on the menu everyday.
While for some spending time in the garden is akin to meditation, some consider it as a daily dose of fitness. And for many, it is a sheer pleasure to see the plants grow. "It is a healthy hobby. A garden is like an oasis, full of freshness and beauty," says an enthusiast.
Many urbanites living in matchbox apartments often complain that dearth of space makes it difficult for them to grow vegetables or flowering plants. But Lyngdoh Mawlong believes that if there is a will, there has to be a way. "If you love greenery and are keen on gardening, then you can always find space. One has to innovate. Even I had a bigger garden in the past but a concrete house stands there today. This did not discourage me and I utilised whatever space I have now to plant vegetables and flowers," she says with conviction.
A kitchen garden not only adds to the beauty of a house but is also essential as one gets to eat fresh, organic vegetables. It is a supplementary source of the daily food requirement in a household and one can plant vegetables which are not readily available in nearby markets. As the soil is naturally fertile here, not much effort is required to maintain a small garden. Also, for today's nuclear families, a kitchen garden can provide adequate vegetables and is a perfect choice for health-conscious urbanites.
(With inputs from Olivia Lyngdoh Mawlong & Nabamita Mitra)