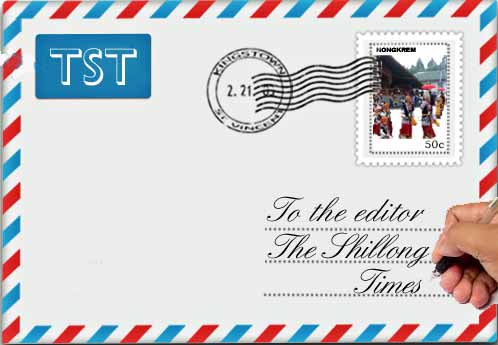 Editor,
I must congratulate Patricia Mukhim for her article on 'Overheated Tourism', the ugly side of it and how to deal with it. Here I would like to bring into focus some of the clean and the ugly sides of tourism in Meghalaya. Recently I happened to visit Mawphanlur and Nongkhnum tourist sites. Oh! what a difference between the two. Mawphanlur tourist site is well attended by the local people there but Nongkhnum, despite being the best river island in the North East is a forsaken and a pitiful place. Mawphanlur, though comparatively small is clean, tidy and well kept. It has tourist cottages and boats to row in the beautiful lakes nearby. Nongkhnum River Island on the other hand has about four forsaken, dilapidated tourist cottages which look like ghost houses with no one to take care of them. There are few toilets around but they are not useable because they are incomplete and stinking. Garbage, plastic water bottles, beer and whisky bottles are strewn around and you cannot venture into or tread on the off-sides of the footpaths or jungles. What Nongkhnum Island needs are (a) local stakeholders who will also be caretakers of the island. Nongkhnum belongs to the Nongsiej Clan of Sangriang village but at present they are not taking care of it though some of the families live in the Island near the tourist cottages.
I must also point out here that many of the tourist sites in Meghalaya are not taken care of because we notice a lot of garbage, plastic bags, plastic bottles and liquor bottles strewn around. This is abhorrent indeed. Someone has to take care of these important assets of the state.
Yours etc.,
Philip Marwein,
Via-email. 
Some practical suggestions 
Editor,
 Much publicity was given to the efforts of the government, schools, colleges, private parties etc to plant trees on June 5, World Environment Day. The effort is commendable especially if efforts are made to ensure the survival of those trees which had been planted. Apart from blowing our trumpets about how the number of trees planted how about making an effort to prevent the wanton destruction of trees, large or small, for use as props for slabs in buildings and for heating of the tar for use in road making and road repairing. Surely, substitutes can be found. In the former, bamboo or steel pipes could be used and for the latter, perhaps coal or gas could be used which although are not the best substitutes but are any day better than using life giving trees which are mercilessly cut down. Can we request the Forest Department to look into this matter and stop the use of trees for the above two purposes. This will go a long way in preserving our trees. Prevention is always better than cure.
Yours etc.,
D.M.Pariat,
Shillong
Wanted better traffic management
Editor,
Speed limit of vehicles/two wheelers must be restricted all over the city particularly during school/college/office hours. For example, movement of heavy vehicles comprising city buses, trucks and army vehicles should not be allowed on narrow roads such as the one from Fire Brigade to Nongrim Hills junction towards Jingkieng between 7.00 am to 7.00 pm. This is an important issue that needs to be addressed because in the morning and evening hours, students and office goers follow this route to reach their destinations. Any hindrance in their movement as pedestrians is undesirable. If any vehicle breaks down or an accident occurs there will be total chaos leading to unnecessary trouble for all concerned.
A speed-breaker of low height at the beginning of the junction, on way from Jingkieng, if erected, may be useful to control the constant traffic movement. This small road is mainly used as a short cut to avoid the main road leading to the same destination.
In the absence of any parking space one side of the road is used for parking while the other side is covered with stone slabs in some portions and the other half is a covered drain. There are chances of falling into the drain if pedestrians are not alert.
Although footpaths in some parts of the town have been constructed, their height at some places is quite high, especially for the infirm, elderly and disabled to negotiate. We need for pedestrian friendly footpaths.
Our roads should have zebra crossings especially at crossing points where there is heavy traffic. Every driver should respect this marking. Meanwhile, in many areas the zebra crossing paint marks have faded. They need to be given a fresh coating of paint. Traffic police should encourage pedestrians to cross only where there is a zebra crossing.
Coming to the nerve centre of Shillong – Police Bazar- there is no systematic way for pedestrians to cross the road which today are clogged with vehicles driving at snail's pace. During that interlude pedestrians cross the road! This unsystematic way of crossing the road has to end and the Traffic Police have to create a crossing for pedestrians. The Traffic Island nearby does not seem to serve any purpose.
Now who will take up the work and who will bear the cost of construction are questions that the Urban Affairs Minister should answer. But whatever the cost, the city should be developed and Shillong should be better managed.
Yours etc.,
L Deb
Shillong – 3
India's diplomatic ties
Editor,
The statement made by External Affairs minister S. Jaishankar on Thursday that India's stature in the world has risen in the past five years is true and this played a role in the NDA government retaining power for a second consecutive term. Speaking at a seminar here, he said that India would aim to enhance regional cooperation under the BIMSTEC grouping as there have been certain problems with SAARC. Bay of Bengal Initiative for Multi-Sectoral Technical and Economic Cooperation(BIMSTEC) is a regional organization comprising seven member states lying in the littoral and adjacent areas of the Bay of Bengal constituting a contiguous regional unity. The member states are Thailand, Myanmar Sri Lanka, Bangladesh, Nepal, Bhutan and India.
Jaishankar would be making his first trip to Bhutan on Friday and Saturday, where he will meet both the King and the Prime Minister. The visit shows the importance New Delhi attaches to ties with Bhutan that comes at a time when China too has been extremely keen too to strengthen ties with that country. Strengthening ties between the BIMSTEC nations will definitely boost economic growth as many products from India can be marketed to these countries with liberal import and export regulations being friendly to India.
China has shown much interest in Bhutan but Bhutan's orientation towards India is always steady and unwavering. Perhaps China's rigid policies and deliberate attempt to suppress the Tibetan liberation have always scared Bhutan. So, Bhutan's external policies would always be 'welcome' to India.
Unlike SAARC where Pakistan and Afghanistan are members BIMSTEC nations sans Pakistan and Afghanistan can interact upholding camaraderie and understanding among the nations. India's cooperation with BIMSTEC nations can surely boost our economy and regional development.
Yours etc.,
TK Nandanan,
Kochi -15