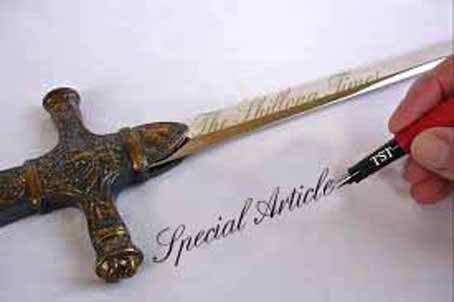 By Janet Moore Hujon
We have already lost our beloved Lum Shillong once and we cannot do so again.  So I totally empathise with Havenly Lyngdoh when s/he expresses shock at the State Government's plan to construct a 'link road' between Malki and Laitkor and an 'approach road' to Shillong View Point.  Lyngdoh's registration of horror is completely justified: "….U Lum Shillong will become barren….the scenic beauty of Shillong will be a past glory; all water sources will dry up and citizens of Shillong will face tremendous water shortage"…(Shillong Times, May 30, 2019)
What is it with Meghalaya governments and roads? On the one hand they routinely ignore city roads crying out for repair and yet are happy to dream up schemes to wreck pristine wonderlands in order to build new roads. Are these new roads really in the name of connectivity and tourism? Or is the underlying story the same old one?  That whiff of money turning our heads away from focusing on what really needs attention.
Synshar, Bishar, Rangbah Saidthma/U sur matlah u Sbai Rupa- (Rulings, judgements, exchanges intense/All blinded by the silver slime),
and
Khyndai Umdih baroh kin rngat – The nine clear springs will soon run dry–words directly referencing the life-sustaining waters of U Lum Shillong.
Thus wrote our beloved Soso Tham in 1936.  Tham however still hoped for a new dawn but increasingly all we can look forward to is environmental disaster. Four decades ago in his contribution to a collection of essays appropriately entitled Khasi Heritage, Mr RT Rymbai harboured the same sense of foreboding.  He is specifically referring to the Jaiñtia Hills but I am sure you will agree that he is speaking on behalf of the state as a whole.
"…Forests…are now vanishing…The greed for money in the minds of the father and the mother because of a craze to build new houses, to keep up with the Joneses, hastens the sale of primitive forests to the grasping forest contractors who reach every creek and corner of the land with their monstrous trucks to destroy what it had taken ages to build…This if not checked…will ultimately affect the economy of the Pnars…because it is these forests which feed their perennial rivers with water to irrigate their superbly terraced paddy fields"…
Did anyone listen?  Did anything change?
So well done Havenly Lyngdoh for pointing this out, for today more than ever we need reminding. The old fears need to be resurrected and fearlessly challenged.
I have long taken my mother tongue for granted and it is only the process of translation that made me realise how the natural world influences the way we express ourselves. Often to describe someone whose face is tender and glowing with health we say: "I um ka khmat". Tenderness, felt and perceived, is rooted in the word um–water. This simple solacing expression is packed with cultural significance.  It is part of the world-view of the Khasi for whom our rivers, our waterfalls and our springs have been sources of life and abiding joy.  Water is synonymous with freshness, with restoring, with promise and with life.  To be told we represent these positive virtues is a compliment welcomed in a way that the following contrasting assessment is not: "I tyrkong", which or who looks dry.  Randomly felling trees strikes at the heart of that Khasi reverence for the natural world, which is the only reason why our landscape has endured for millennia.
Confused thinking, thoughtlessness and a lack of vision seem to mark the official position. Other contributors to the Shillong Times have highlighted the contradictions underlying government policies including planting trees to protect the environment while planning the destruction of pines that have long been the guardians of our water resources; the abundance of rainfall and yet the lack of initiatives to manage this natural resource; needing time to consider whether fossil fuels should be a source of revenue in a Meghalaya where coal mining has already claimed lives and ravaged the Jaiñtia Hills; promoting tourism but paying scant attention to the negative impact tourist hordes have on the environment. The Eden that is Nongriat, is already being poisoned by plastic bottles and packaging littering the slopes leading down to the bridges.  What is the point of telling the world about the ingenuity of our people if we do not first respect why and how they were able to live in harmony with the environment.
It is time to stop fostering that 'been there, done that' mentality and to once again tell the story of ancient truths as it was once told by those who have gone before, who understood that Ka maw ka dieng kan dang kren briew, (Wood and stone still speak to man).  We need to revive the old narratives so that we do not merely seek the superficial view but learn to experience and respect – only then will roads really connect.  And where'tourism potential' is concerned let us focus on the kernel – potent – 'being powerful, being able' – in order to enable rather than disable. Let us walk the old ways with care.