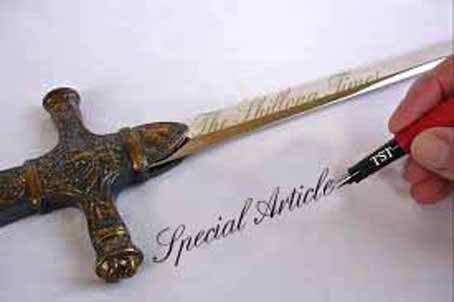 Despicable inside and outside Parliament
By Albert Thyrniang
On suspicion of theft a Muslim man identified as Tabrez Ansari was mercilessly beaten for hours before he succumbed to his injuries on June 22 in Jharkhand. In the video that went viral, the man was taunted by the mob and forced to chant 'Jai Shri Ram' by the attackers. This is the latest of numerous cases where the slogan, 'Jai Shri Ram' is used to commit heinous crimes and hooliganism. Earlier a Muslim man was beaten and forced to chant the same slogan on suspicion of carrying beef in Assam. In Gurugram a man was forced to chant, 'Jai Shri Ram' for wearing a skull cap. In Rajasthan too a Muslim man was repeatedly slapped and forced say 'Jai Shri Ram'.
In West Bengal, the latest epicentre of violence, of which the ruling dispensation at the centre is a part, 'Jai Shri Ram' is not only a mix of religion and politics but is strategically and intentionally used for hooliganism and to commit violence, spread hate and create divisions for political purpose. Such misuse of the religious slogan is despicable and highly condemnable.
Groups, outfits and even mobs get legitimacy from political leaders. The recent oath taking ceremony of the 17th Lok Sabha was an exhibition of sloganeering. MPs from the ruling party heckled Opposition MPs shouting religious slogans. It was least desirable in a secular parliament. In general the media were critical of the unbecoming incident. Some called it a spectacle, others viewed it was a brazen display of majoritarianism  and a deliberate attempt to institutionalise it while others questioned whether the Temple of Democracy was reduced to a playground for religious slogan shouting. One newspaper termed it as an unpardonable behaviour but the most appreciated reactions are left to the Twitterati who expressed dismay and ruled that it was an insult to parliament. Many also noted the complicit silence of top leaders in the saffron party, including the PM himself, Amit Shah, Rajnath Singh and others.
I watched the episode only on TV news channels. To me it was despicable. It was a harassment and intimidation of the opponents. It was taunting the rivals who happen to belong to other religions. It was a blunt rejection of and a total disregard for India's diversity. The promise of the Prime Minister on the eve of the oath taking ceremony of 17th Lok Sabha that the ruling party would go by nishpaksh (impartiality) and that the Opposition is very important, meant little to hecklers.
The PM's message that in parliament all should forget of 'paksh' (treasury) and 'vipaksh' (opposition), meant nothing because almost the entire Opposition had to face the 'wrath' of the large section of BJP triumphant winners. Sonia Gandhi of the Congress, Asaddudin Owaisi of the All India Majlis-e-Ittehadul Muslimeen, Shafiqur Rahman Barq and S.T. Hassan of the Samajwadi Party, MPs of Trinamool Congress and the DMK MPs were greeted with irksome slogans.
The victims were mainly the Muslim MPs. The slogans were "Jai Shri Ram", "Bharat Mata Ki Jai" and "Vande Mataram" –slogans that the saffron party used to not only evoke 'Muscular' Hindu nationalism but also because they know that these are not acceptable to Muslims as they go contrary to their faith. Sadly, Communalism was evident even inside the Lok Sabha.
The RSS, the BJP and the right wing 'parivar' still have an unforgiving grudge against Muslims. They still hold bitterness at what happened in history. They have not accepted the fact that the Mughal Emperors ruled India for about 200 years. More importantly they are still angry that Muslim kings 'forcefully' converted Hindus to Islam. While forced conversion might have happened but Muslim rulers in India were by and large tolerant and did not pursue a clear-cut religious policy. Political agenda was their main preoccupation.
Aurangzeb did make an attempt to pursue a religious policy but miserably failed. His policy actually contributed to the ultimate disintegration of the Mughul Empire. The present ruling government should learn a lesson from Aurangzeb that religious intolerance will lead to the disintegration of this religiously diverse nation. Gladly, a recent survey shows that 80 per cent of Hindus consider that India is meant for all religions. In this connection, the theory of 'one nation one religion' along with its implicit extensions of 'one nation one language', 'one nation one culture' and even 'one nation one election' must be nipped in the bud.
The Sangh parivar also still cannot get over the Partition of 1947 – that Pakistan was created for Muslims, that India was made a secular and not a Hindu nation, that millions of Hindus were killed and forced to flee Pakistan, that Hindus now have no way of governing that country, etc.
Another supposedly 'maltreatment of Hindus' by Christian rulers (British and French colonists) is still affecting the psyche of the Sangh. Accusations of conversion to Christianity and destruction of temples to be rebuilt with churches in their place, remains with the right wing groups.
No one denies that terrible things did take place in the past. Forced conversion by Muslim rules, demolition of temples, replacing with mosques might have happened over 500 years ago. The same might have been repeated by the European colonists and missionaries but does it help to live in the past? Is it worth trying to restore the past? What is the benefit in rewinding the clock? What is the point in rewriting history? Can mistakes of the past like demolition of temples be a justification for doing the same to mosques and churches today? Is 'Ghar Wapsi' a way forward? Does the malicious attempt to make Muslims and Christians declare that their ancestors were Hindus a progressive action?
Seventy two years ago the sub-continent, united by civilization and culture was split on religious lines. It was painful. Millions suffered on both sides of the border. It was a tragedy, no doubt.  But should the enmity and animosity continue? What purpose does it serve? Is not peace the best for both India and Pakistan's progress? Should not the citizens of both countries treat Partition as a distant historic event and move on as two strong nations? Should we not get over the bitterness of that experience and focus on building ourselves? Should we not put an end to wars and conflicts and fight against poverty, illiteracy, backwardness, religious bigotry and other common enemies? A conscious effort to move on is the best option. Remember and learn from the past but never be enslaved by it.
Religious slogans divide. West Bengal is now deeply divided, thanks to "Jai Shri Ram" slogan initiated by the RSS and the BJP. It is clear from the oath taking ceremony itself. The Opposition MPs responded with slogans of their own like "Jai Bhim", "Allahu Akbar", "Hindustan Zindabad". "Jai Maa Kaali", "Jai Bangla" "shloka", "Bismillah-i-Rehman-Rahim" and Khuda Hafiz". The new Lok Sabha Speaker has vowed not to permit religious slogans in parliament. If he does not keep his word, it will not be surprise if other slogans are coined and chanted. Christians lawmakers might say, "Praise the Lord" or even "Jesus is the Saviour". That would be a disaster but should the minority not assert itself, the slogan way though.
Another slogan the RSS, BJP and their offshoots are trying to force on everybody's throat is, "Bharat mata ki Jai". This is nothing but a defence mechanism to hide their non-envious history of patriotism and nationalism. The RSS had little or no role in India's Freedom Struggle. The father of RSS ideology, Vinayak Damodar Savarkar begged for mercy from the British Queen to be freed from Andaman jail and struck a deal with the foreigners not to participate in Anti-British activities. The Hindutva champions never unfurled the National Flag until 2002. Sardar Patel had to virtually force the RSS to accept the Tricolour as a pre-condition for lifting its ban clamped after Mahatma Gandhi's assassination.
It is time we reclaim nationalism from the ultra-nationalists and jingoistic outfits. Nationalism and patriotism is not reduced to chanting slogans. This nation does not belong only to those who shout slogans. Everyone is a nationalist unless proved otherwise.  It is time the vast majority of Hindus reclaim Hinduism from the 'Jai Shri Ram' sloganeering hyper active groups. They are doing more harm to Hinduism than good. It is high time to deal firmly with anti-national elements who use religious slogans to commit hate crimes and polarise the society.