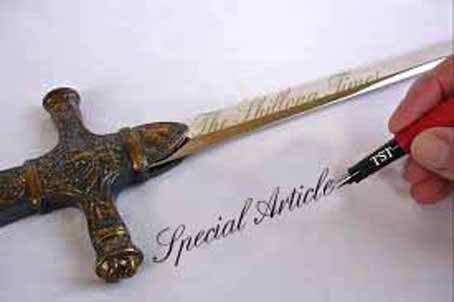 By Barnes Mawrie
The Central Pollution Control Board (CPCB), has come out with its latest report indicating that the number of critically polluted rivers in India has risen from 302 two years ago to 351 today. This is a dangerous trend in terms of preserving our natural environment especially our water bodies. In the perspective of the recent prediction that clean water will become a scarce commodity in the coming decades, the need to rethink seriously on this issue is most imperative. As a Shillongite myself, I have seen Wah Umkhrah and other streams in the city in the early years. The deformation that has taken place in these rivers is horrifying. The stream which runs through my locality Rynjah, used to have clear water and deep pools. Swimming and fishing were our daily hobbies. Believe it or not, today this stream has become a dirty "nala" (drain). Greedy people have encroached into the river, filling up mud and consequently, the river is going through a slow death. In my calculation, this stream will disappear altogether in ten years' time.
Another river dear to my memory is Umpling river which used to be a big and broad river with gushing waters and deep pools along its course. This river too has lost its former grandeur and today it is laden with filth and dirt dumped into it by insensitive and uncivilized citizens. While we were school boys in Mawlai about forty years ago, Wah Umkhrah was a great river with a huge volume of water flowing through it. The water was crystal clear and a variety of fishes were found in it. People from near and far used to come either to fish or to bathe and wash their clothes in it. Today Wah Umkhrah is a dying river transporting the filth of Shillong downward to Barapani. Those who have witnessed its former glory, will definitely watch it today with a deep sense of sorrow and regret. The same plight has also befallen Umshyrpi another big river running through the city.
Rivers are God's greatest gift to any country because they provide life-sustaining water. India is in fact blessed with a good network of rivers which crisscross this vast subcontinent. Unfortunately, we Indians lack sensitivity towards our natural environment. It is enough to look at the condition of our great rivers, the Ganges, Brahmaputra, Cauvery or Godavari in order to feel ashamed of ourselves. These great rivers holy as they are considered, yet in reality nobody cares for their integrity. Coming to our own city, our two important rivers, Wah Umkhrah and Umshyrpi are in a miserable condition. We have heard many talks about "clean river campaign" but so far nothing is done. Encroachment into these rivers is going on unchecked. Big buildings along Wah Umkhrah river are being constructed. Is it legal to encroach into the river course? How many times, the NGT orders to dismantle illegal structures along the river, are being openly flouted? I still remember that it was as early as during Mr. VS  Jafa's term as DC of East Khasi Hills, that an order was issued for dismantling all structures along the river. The action was initiated, but it died a premature death as political pressures were there to halt the order. Everyone is aware that there are hundreds of illegal structures along these rivers, but there is no political will from the part of any government to implement any evacuation drive.
The rivers and water bodies in our state are so vital for feeding ground water tables which in turn supply water to our wells and springs. The manner we destroy the green cover and the degree of pollution our rivers suffer, will eventually cause the extinction of these water bodies. What will happen to our posterity in the next century is everyone's conjecture. Our children and grandchildren are going to fight for drinking water which will become extremely scarce. Signs of water shortage are already evident. Many water springs and pools are drying up and the water volume in our streams and rivers is fast declining. We are all responsible for this man-made disaster and if we do not repent and act resolutely, we are all doomed. Can we still reclaim our rivers and streams? Yes we can if we decide to. There is need for honesty and political will on the part of the government as not to be blackmailed by pressure groups and selfish politicians.
Last year, two rivers the Yamuna and Ganges were granted "legal rights" implying that any harm done to them is punishable by law. New Zealand and some Latin American countries are pioneers in this environment protection drive. Probably it is time that the sensible citizens of Shillong should demand for "legal rights" for our rivers and streams running through our city. It is a relief to hear the Modi 2.0 Government pledging the "Har Ghar Jal" (water for every family) because this is the most fundamental basic need of man. However, the question is: how can we assure water to all families if we do not take care of our rivers? I hope that they will think of implementing a stricter law to guarantee the well-being of all the rivers and water bodies in our country. This should be understood by every Indian as a fight for survival and self preservation.