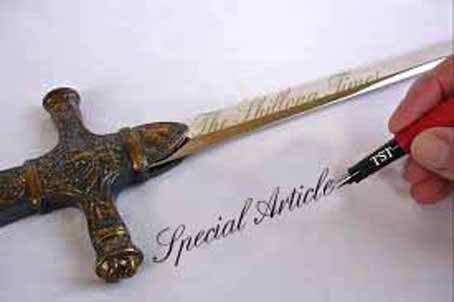 Will an altered J&K  usher in prosperity? 
By Dhurjati Mukherjee
Kashmir's dilemma is like Shakespeare's famous line 'To be or not to be, that is the question?' Unlike rest of the country, which has by and large welcomed Modi government's decision to abrogate Article 370 and bifurcate the State into two Union territories, the mood in the Valley is uncertain, given the unprecedented lockdown. It is anybody's guess how soon normalcy will return and whether time will ensure the end-result– amalgamation of Kashmiris into the mainstream, as New Delhi has envisioned.
The situation on the ground so far suggests it shall be a long overhaul. For instance, the first test at hand wasn't successful. A week ago, Modi had assured the people they wouldn't face any trouble while celebrating Eid on Monday last, but it wasn't so. Leave aside any festivity, prayers were held in smaller neighbourhood mosques, but were not allowed at major mosques in Srinagar. Too early, many would argue, and add that time is a healer, mindsets would change.
One is inclined to mention here that misgivings over Article 370 are not new. Many political analysts had attempted to justify the notion of differentiated citizenship as an alternative to what they regarded a majoritarianship. On the other hand, the arguments in favour of retaining the article were few as Articles 370 and 35A hardly qualify as keystones in a modern democracy. In fact, one can easily question whether these laws are equipped to build a just and inclusive society?
The opposition by the Kashmir leaders and Muslims it must be understood is because now with abrogation of the special status, migrants from other parts of the country will unleash demographic and ethnic change and dilute the religious identity of Muslim majority in the Kashmir valley. The fact is that neither Hindus of Jammu nor Buddhists of Leh, despite being State subjects of J&K have made any attempt to settle in the Valley in the last few decades. On the other hand, Kashmiri pandits, and Muslims have also moved in large numbers and settled in Hindu-dominated Jammu ad cities like Kolkata, Jaipur, Lucknow, Patna etc.
As is well known, the State had for years been affected by terrorist violence which, in turn, led to declining tourist arrivals, film shootings shifted to foreign or other locations and economy in doldrums. As there were hardly any employment opportunities in the State, a large section of the Kashmiri youth – even educated ones –took to insurgency. It has indeed not been surprising that there has been an anti-Indian stance amongst most Muslims residing in the Valley.
Undeniably, Article 370 has been an impediment in restricting private investment into the State. Though a study showed that from 2000-2016 the State received 10 per cent of all Central funds, despite having just one per cent of the population, private industries did not develop as people from outside were denied permission to buy land and settle in the Valley. With the abrogation of the Article, the present restrictions would go, which in turn, would help develop industry, allow doctors, engineers and consultants from other States to work in J&K. It may be mentioned in this connection that, according to reports, there is an acute scarcity of doctors, specialists in speciality hospitals and medical colleges in the State.
Importantly, industry leaders have welcomed the development as this would attract investments in J&K. The Adani group, the Mahindra group and many chambers of commerce predicted that there was scope for large-scale investments as Kashmir will now be an indistinguishable and inseparable part of our national community. Obviously, as soon as the political situation improves, which is bound to happen in a few months, the whole scenario would change for the better.
It would be worthwhile to watch whether a section of political leaders, mostly belonging to the Congress, who are opposing the move, would eventually have to eat their words. Remember, some prominent leaders of the party, including Dr. Karan Singh, belonging to the erstwhile royal family of J&K, has openly supported the move saying that "gender discrimination in Article 35A needed to be addressed as also the long-awaited enfranchisement of West Pakistan refugees and reservation for Scheduled Tribes".
And there is hope that 'things are bound to change with a pro-active Home Minister who is going to come down with a heavy hand against any misadventure of the Pakistan army from across the LOC in Kashmir.' Indeed, the screws have already been tightened on pro-Pakistan terrorists, who had a free run in the State all these years due to patronage from the governments run by the Valley-based parties.
And while it's understandable for Pakistan to oppose the present development in J&K and for China in Ladakh, the justification advanced by our national leaders is overriding and is convincing. It is a well-known fact that hundreds of jawans and even citizens have laid down their lives due to terrorist moves. No more, is the message and that Pakistan bringing down diplomatic ties with India or even closing trade ties will hardly have any effect on our country.
In fact, the revocation of the special status for the State was very much needed for its own development and also for integrating it into the mainstream of the country. If now there can be all-round economic development and other religious communities settle down in Kashmir, tourist activity would increase and the whole demographic scenario is bound to change. If, as expected, terrorist activity gradually reduces over the years, there is bound to be economic growth in the Valley and earning levels of the people would go up steadily.
It cannot be denied that in the guise of autonomy, it had deprived its people of women's rights, of political reservation of dalits and tribal communities and infrastructure upgradation. Now that the discriminatory law has been revoked, one can hopefully expect people from all communities to visit, live and work in Kashmir.
As our former Foreign Secretary, Nirupama Rao, recently wrote that the challenge in Kashmir is to overcome threats to security and building trust and conviction for "a brighter future of development, good governance, respect for fundamental rights" etc. Thinking optimistically, one may conclude that the process of integration would alter the scenario in Kashmir for better days to reign in.—INFA