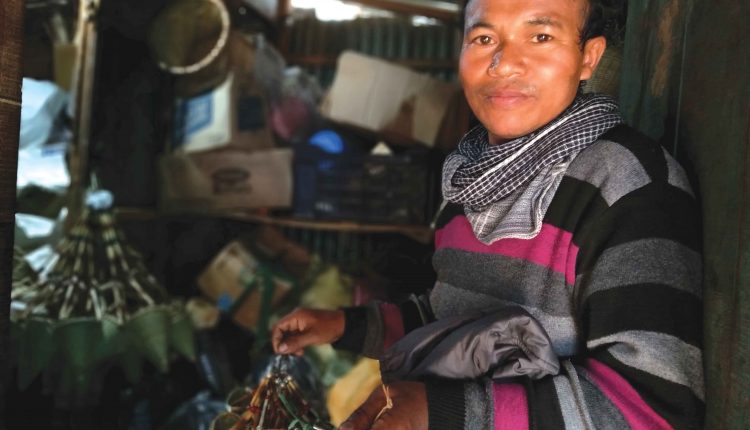 The small workshop in Madan Laban has little space to move. But Precious Lyngdoh comfortably adjusted himself on the floor and stooped down to fix a bamboo showpiece. Cane, bamboo, pines and other paraphernalia for Lyngdoh's handicrafts lay scattered in the room. Inside, some unfinished work waited for attention.
Lyngdoh is originally from Nongkynrih village and is an expert in bow and arrow making. He was trained by none other than Woodran Khongsngi whose arrows are used even in national events. "He is my uncle. I started learning (how to make bow and arrows) at 15. That is my primary work in handicrafts," said the 43-year-old craftsman. It was quite early in the morning for him to entertain a guest in the workshop.
"My friend is waiting for me. But I have some time so please tell me what you want to know," he said politely to make the visitor understand his busy schedule.
Lyngdoh is cordial and can start a conversation with strangers with ease. The first meeting with him was in Rilbong when Lyngdoh was coming back from Bara Bazar. He was accompanied by his 14-year-old son.
For a long time, Lyngdoh assisted his uncle in his village workshop. Later, he took training in making murra (short stool made of cane) and other handicrafts from a private centre.
Now, Lyngdoh, who has been living in Laban with his family since 2000, supplies murra and other bamboo and cane showpieces to Bara Bazar and other shops in and around the city, he informed as he readied the articles which were to be supplied.
The sun was bright even at 8am. Lyngdoh offered a murra just outside the workshop to sit under the sun. The cane murra had a leather seat. On enquiring, he said the murra was made in his village but he makes similar ones. He did not sit. But he was ready to talk about himself.
The artisan has participated in several exhibitions outside the state, including the North East Expo in Delhi four years back. He has another workshop in Nongkynrih village where Khasi knives are made. Lyngdoh sells these knives to shops in the city.
"For my bamboo handicrafts, I procure the raw material from Cherrapunji. Transportation costs are there but the bamboo is good," he said.
He took out three bows and a few arrows from the dump of inventories. "These three are different. One has comparatively lighter string and can be used by women. The one with the strongest string is for professionals. You can feel the difference in tension if you pull the strings," he explained the differences.
The bows and arrows are sold for teer competitions in the city. There are replicas too which are sold as souvenirs. Lyngdoh said he collaborates with a friend and does value addition to his products. His children, two sons and two daughters, help him in the workshop.
Every year, five youth come to his workshop for training. The students are chosen by the District Commerce and Industries Centre in Shillong. The trainees get Rs 500 as stipend and the master gets a monthly honorarium of Rs 1,500.
Lyngdoh has trained more than 50 youth so far but he said not many are interested in handicrafts as earning is meagre. "The cane baskets, especially the small ones, take a lot of time to make as the work is intricate. Sometimes, one basket takes up the whole day. It is sold in the market for only Rs 100. This is a person's day's work. So how can one survive? Instead, taking up work as a daily labourer brings more money," he said.
But Lyngdoh will continue to do what he does best. "I am into handicrafts since my teens and I have worked hard. I wish more youth learn the craft so that we can keep alive our tradition. I will do my bit to save the culture," he ended the conversation as it was time for him to leave.
~ NM