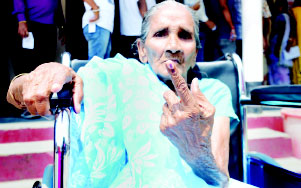 Assam records 73 pc voter turnout in phase 2
GUWAHATI: Heavy polling was reported in Assam with an average of 73.32 per cent polling reported since it began in five Lok Sabha Constituencies – Nowgong, Mangaldoi, Silchar, Karimganj and Autonomous District (Diphu) on Thursday in the second phase of Lok Sabha election, according to information provided by the CEO office.
The final polling percentage is likely to go up as reports from some remote polling stations were being still awaited.
Nowgong has recorded highest 75.71 per cent polling, followed by 75.07 per cent in Mangaldoi, 71.79 per cent in Silchar, 71.41 per cent in Karimganj and 69.51 per cent in Autonomous Districts.
Polling in the constituencies got underway in Assam at 7 am on Thursday along with the rest of the country.
The second-phase polling was held across 8,992 polling centres set up across the five Lok Sabha constituencies that continued till 5 pm, officials added.
A total of 35,968 polling personnel were deployed under phase-two of the polls to ensure that everyone can cast their votes freely.
A total of 69,10,592 electorate including 33,55,952 women and 180 belonging to third-gender were  eligible  to exercise their voting rights on Thursday.
There are 50 candidates including 18 independents in the fray for the five Lok Sabha constituencies.