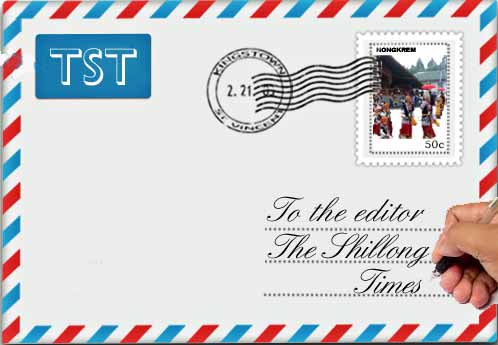 Meghalaya moves at snail pace
Editor,
Meghalaya is a snail in every aspect. This letter particularly focuses on the delay of seat allotment for the MBBS course through the State quota. Medical institutions across the country commence their first academic year in the first week of August. But here in our state, it is a noted trend that the ranking list is usually released in the third week of July and in the previous year, screening of eligible candidates was done on July 31. In the rest of the country, by July 31, the students who are selected to pursue MBBS studies are already present at their respective colleges. This past year, seat allotment was done on August 21 and by the time our students joined their respective institutes, they had already missed nearly a month's classes. Medical studies as we all know are a tough call. It is essential for a student to be present from day one. It is during the first few weeks of classes that a student is introduced to each and every subject and the where the basics of each subject are taught. But owing to the unnecessary delay, our students have to struggle to learn on their own what they've missed out. In a busy medical college, it cannot be expected that the teachers begin each subject from the start. There is difficulty in coping up and the first terminal exam is usually held in September. This may lead to a higher probability of failure only because of the delay caused by our administration. In Assam this year, 23,108 candidates appeared for the NEET exam and just a few days back, the ranking list was released. Perhaps two weeks later, seats would have already been allotted. In Meghalaya only 2515 candidates appeared for the exams and yet we are so slow in publishing the results. Why can't we keep pace with the rest of the country?
As an addendum, it is also suggested that the number of medical seats through the government be increased. It would be of significant help to many aspirants and to the state too.
Yours etc.,
N Lyngdoh,
Via email
Make better use of Parliament's time
Editor,
The recent oath taking ceremony for the 17th Lok Sabha witnessed several members affirming their oath in different regional languages while assuming their position. The day-long event saw all members reading the transcript of the oath presented in the presence of the pro-tem speaker. The event witnessed many first time members setting foot into the August House as parliamentarians but the entire day was wasted without any business. The day was reserved only for the oath taking ceremony, which holds no relevance in today's busy world and resulted in wastage of tax payers' money. The archaic oath reading ceremony could have been replaced by mere signing of the papers through necessary parliamentary procedures and the business session could have started from day one itself.
As there are many crucial amendment bills pending in the Lok Sabha which require sufficient time for necessary discussions before being passed, the Hon'ble Ministry of Parliamentary Affairs should now ensure that unwarranted and archaic procedures including oath taking ceremonies are dispensed with so that sufficient time is given to the House to discuss important issues.
Yours etc.,
Varun Dambal,
Via email
Doctor's strike
Editor,
At last doctors have called off their week-long strike in West Bengal as thousands of patients went through a traumatic time. Healthcare services were severely hit across the country on Monday as doctors wearing helmets and forming human chains went on a strike in solidarity with their protesting West Bengal colleagues. The Indian Medical Association called for a nationwide shutdown withdrawing non-emergency health services after junior doctors in West Bengal went on strike over a brutal attack on their colleagues by the relatives of a patient who died during treatment.
Patients were at the receiving end with scheduled surgeries postponed in many government and private hospitals. It is not known how many patients died due to non-availability of treatment during the strike in West Bengal. It is true that the doctors' strike has caused untold miseries to people especially the patients and a strike like this should not be resorted to in the future. Assault on doctors is the rarest of rare cases and the doctor community declaring strike without thinking about its aftermath is highly unwarranted. Since doctors deal with the life of patients, they must know that they are last resort for patients, who in turn look to doctors with much expectation and trust them implicitly. Doctors resorting to strike cease to be doctors and they become like the fence (The fence is erected to protect the crop.) which gorges on the crop.
Yours etc.,
TK Nandanan,
Kochi -15
Ethnocentric mindset
 Editor,
On Saturday June 15, the Congress MLA Ms Ampareen Lyngdoh exposed her narrow parochial mindset by proclaiming,"Today being Khasi alone is not important and we have to make sure that no external forces try to divide us and we need to stick together" Are the people of Meghalaya known only as Khasis or by the all inclusive term of Meghalayans? The latter aptly defines us the people of Meghalaya which is a lot more embracing. Let's get out of this mental rut of putting one's tribe or community, 'First'. This ignorant way of speaking has been expressed by far too many in the past. We, in this state need to think Meghalayan and build an inclusive people .
Yours etc.,
Tyrone D'Brass,
Via email