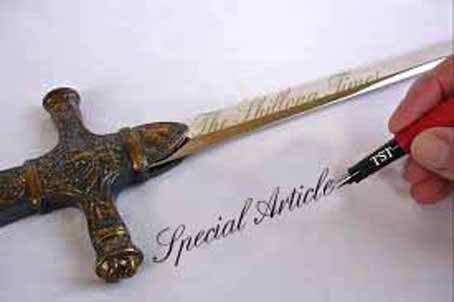 Kashmir Unhinged
By Poonam I Kaushish
The air in J&K is thick with a sense of jamais vu. By abrogating Article 370 and bifurcation of Jammu & Kashmir State into two Union Territories, Ladakh and J&K, Prime Minister Modi and Home Minister Shah rearranged the State geographically leaving in its wake an uproar of appreciation from across the country and silence and dread in the Valley under unprecedented blanket of security.
Undeniably, in the short- term, the security environment in the Valley will not result in dramatic transformation. There is a possibility that violence might erupt in the coming months as restrictions are gradually removed. The deployment of a large number of forces is indication the Centre is not taking any chances.
In fact, there has been a pattern of cyclical violence after every period of radicalization or what Kashmiris perceive as unpalatable. Recall, terrorist Burhan Wani's killing in 2016 which sparked widespread stone-pelting in the Valley. Protests could recur as supporters of Article 370 conjure up frenzy of Kashmirayat being compromised and try to radicalize the youth.  
Alongside, Pakistan has upped its ante of fomenting trouble by scaling up jihad to intensify its proxy war in the Valley, stopped bilateral trade, recall of envoy, notwithstanding US, China and Russia refusing to meddle. Its military establishment has made plain "it is prepared and shall go to any extent to fulfil their obligations to the Kashmiris" and warned of Pulwama-like attacks.
Modi has announced various measures to amalgamate Kashmiris into the mainstream. Extended reservation in jobs in State Government posts to socially and educationally backward classes and in educational institutions etc would help eradicate the discrepancies suffered by them, along-with allowing people the right to vote or contest in nagar palika, panchayat and Assembly elections.
Besides, plug Kashmir deeper into the Indian economy and create more broad-based stakeholders in the Valley who will benefit from greater economic interactions with the rest of India. Urgently, put in place developmental projects. Towards that end an investment summit is scheduled October.
With the ban on outsiders living, working and buying property lifting, Kashmir could usher greater business investment like IT to relocate to the region, promote world class tourist facilities and build new infrastructure for modern industries. Bollywood, Telugu and Tamil film industries could return to the region thereby ushering a new era.
Also the Government needs to explaining the benefits of abrogation of Article 370 and deal sensitively with protesters. Of course, a lot depends on intensified movement of people for business and investment from across India once normalacy returns.
However, this hinges on the Government's ability to restore peace in the Valley. Second, given that the social and economic indicators of J&K are actually much better than say UP, Bihar and other States, it will require sophisticated interventions to leapfrog development if and when the situation settles down.
It remains to be seen if the people will be appeased by the promises of development as growth is not the biggest grievance of Kashmiris. It is the unacceptable heavy-handed tactics of the Indian security forces wherein it could be difficult to win the people over.
More than more of the same, money, men and muscle what Kashmir needs is an emotional package, a parcel that will allow Kashmiri agitators to give vent to their grief and frustration, their anger and even their hatred. A wrap up which will treat them with respect, restore their dignity and try and heal the accumulated humiliations. Healing, by itself, will not be a solution, but it will be a beginning. The need of the hour is for India to connect with Kashmiris.
Towards that end all Parties who have large student wings which should send delegations to visit Kashmir and spend time with Gen Next listening to them. Despite provocation by Pakistan and its agents to ensure the emotional connect does not take place. Certainly, there will be bad eggs, but one hopes Kashmiris will not spurn a genuine hand of friendship or treat it with violence.
For the medium term the Government needs to put in place an educational package, not only formal but educating people of Kashmir's reality. An example: Azaad Kashmir or Pakistan-Occupied Kashmir, Pakistan has sold the idea that Azaad Kashmir is really azaad. But this is a lie. 
The Hurriyat Conference now bereft of Pakistan's tacit support and funds has been rendered toothless. But its leaders will have to be kept on a short leash so that they do not incite locals, mobilize stone pelters and anti-national elements at will and create mischief as was happening earlier.
Clearly, New Delhi needs to be deal with the unfolding situation sympathetically. The Centre needs to set up a Delimitation Commission to  rationalize Lok Sabha, Vidhan Sabha and Panchayat seats by adopting a fair/uniform criterion in delimitation of constituencies in the State proportionate to the electorate so that inequities and injustice could be plugged out and laying a platform for a stronger and cohesive J&K.
Think. Kashmir accounts for 15.8% of the area and 54.9% population, Jammu for 25.9% area and 42.9% population while Ladakh has 2.2% population but 58.3% area. However, when the State Constituent Assembly was constituted Sheikh Abdullah arbitrarily carved out 43 seats for Kashmir, 30 for Jammu region and two for Ladakh. Presently, in the defunct State Assembly 46 seats were allocated to Kashmir, 37 to Jammu and 4 to Ladakh. 
Underscoring, the stark anomalies in the size of constituencies for the Vidhan Sabha and Lok Sabha. The average number of voters and area per seat in the Kashmir region is far less than that in Jammu and Ladakh. Thus, the delimitation process will increase the number of constituencies in Jammu which will now have a greater political say and play in J&K politics.
Time for Modi-Shah to arrive at a Modus Vivendi with locals by gathering lost threads from the baggage of chequered history and keeping ones ears to the ground. What would be the stake and role of J&K and Ladakh in the immediate? The answer lies in the womb of future. The need of the hour is imagination, innovation and impetus.
One way out as the Prime Minister asserted is for J&K to regain its Statehood once the situation there normalizes giving people the opportunity to elect a Chief Minister and MLAs in a fair and transparent manner.
Remember, Kashmir is not a place where destiny seems to shadow events like a madman with a razor in his hand. Nor a toy to be frittered, twisted, discarded or dumped. It is a national issue, which transcends political planks, ideology, philosophy and thesis. Modi has to leave no 'stone' unturned to further its national interests and make Kashmiris' truly feel they belong to India. The Kashmiris' too need to rise to the occasion.
In his radio address Modi promised to abide by his slogan Sabka Saath Sabka Vikas Sabka Vishwaas and deliver jannat in Kashmir's paradise, he needs to take the leap of faith and connect with Kashmiris. It remains to be seen if he can get the cherry blossom to truly bloom again and  make the Kashmir dream a reality. It is a long dreary road. —– INFA