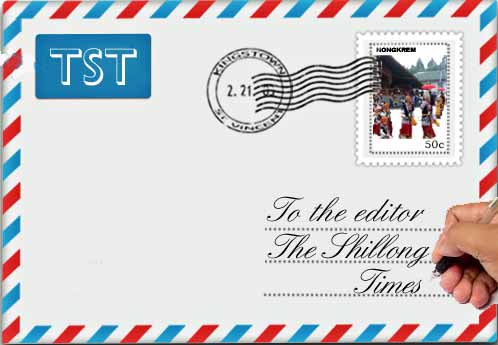 Violation of midday- meal scheme 
Editor,
Through your esteemed daily, I  would like to draw the attention of the concerned authorities  about illegal collection of money  by the Secretary,  Ramkrishna Upper Primary School, Umsohsun, Shillong  from the parents of the  students while distributing rice and lentil (both uncooked) to the students under mid-day meal scheme. On August 9, 2019 the school management distributed rice and lentils to the students and collected Rs. 50 from each student as transportation cost without issuing any receipt/acknowledgement. This is in  gross violation of the guidelines issued by the Ministry of Human Resource Development, Government of India. As per the guidelines, Central assistance is provided for management, monitoring, evaluation, transport (subsidy) and cooking to implement the scheme. It has been revealed on enquiry by the parents that the amount was collected on the direction of Secretary of the School Managing Committee. When transport subsidy is being provided by the Central Government, under what authority is the Secretary collecting money for transportation? Such action on the part of the Secretary is a blatant violation of Midday Meals Rules 2015 and needs urgent intervention by State Steering-cum-Monitoring Committee (SSMC) for Mid-Day Meal Scheme which is mandated to supervise implementation of the scheme at State level as per Rule 6 of Midday Meals Rules 2015.
We would therefore, urge the authorities particularly the SSMC to immediately look into the issue and take appropriate steps against the errant persons.
Yours etc.,
Abbas Khan
Shillong -2
Why is HM avoiding Kerala?
Editor,
Is the BJP indulging in politics of favouritism, partisanship even while distributing funds to flood-affected states? The answer seems to be in the affirmative going by the BJP's recent approach to the flood-affected states. Last year the Centre released Rs 3,000 crore as relief package to Kerala, which witnessed Rs.10,000 crore losses due to floods, whereas Uttar Pradesh  where there were no floods, was given Rs 200 crore  last year as flood related funds while Assam got just Rs.250 crore even though  it is affected by floods year after year.
Presently, nine states of the country-Kerala, Karnataka, Maharashtra, Assam, Bihar, Gujarat and Punjab are under the grip of heavy and consistent rainfall and are affected by floods. Kerala and Karnataka are facing a grim situation and death toll in Kerala alone stood at 76 as on August 12, 2019.
What compounds the grief of the Keralites is that Union Home Minster Amit Shah had carried out an aerial survey in Karnataka and in Maharashtra on Sunday leaving out Kerala where casualties due to flood were severe. Yet, all is not lost. Rahul Gandhi had just flown in from Delhi and is now camping in Wayanad and coordinating relief operations. His presence in Wayanad has provided much moral strength to the people who are going through trials and tribulations at this time of natural calamity.
What is sauce for the goose is sauce for the gander. If Union Home Minister carried out aerial survey in the neighbouring Karnataka, he should have visited the most flood-hit Kerala too especially in Wayanad and Malappuram where many people were buried alive in the landslides. Unfortunately, what justification or explanation does the Union Home Minister has in this regard even while he is curiously watched by millions of people.
Yours etc.,
TK Nandanan,
Via email
 A defiant Pakistan
Editor,
As expected, Pakistan is again poking its ugly nose unnecessarily in the internal affairs of India. They have not learnt any lesson so far even after suffering so many defeats in the hands of India. In fact, instead of Kashmir which is an integral part of the Indian Union it is high time for Pakistan that as a substitute of flaunting on Kashmir and drawing unwarranted attention of the world it should better divert its attention from Kashmir towards its own province of Balochistan and the areas of Baltistan and Gilgit. If they are still sluggish and not showing sincere concern for the area and the people, as above, then it may prove to be perilous. One fine morning they might find to their surprise that those regions are no more part of Pakistan.
Indifference and lack of concern has a limit and thus there are chances that the people concerned may raise their voices louder and come out of the clutches of cruelty and unresponsiveness exhibited by the national leaders of Pakistan towards them and that too for decades. The advice here for the Pakistanis is that they stop worrying about Kashmir and go and save their own nation which is suffering from instability.
Yours etc.,
Bibhash Dhar,
Via email