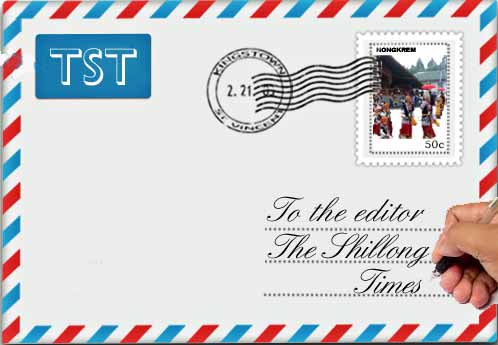 Nepotism in allocating medical seats
Editor,
It deeply pains me to inform the readers of your daily about the shocking and shameless disparity inflicted upon meritorious students of the state who have cleared their medical entrance tests. I am aghast at the manner in which aspiring medical students have been allotted their seats. In the list declared by the Health Department, Govt of Meghalaya, students with top ranks have been allotted colleges which completely disregard their hard work and efforts. It is the dream of every medical aspirant to study in a college that is well established and one which excels in medical studies. For reasons completely unknown to us, the student at the bottom  of the list, namely  Jeremy Marbaniang ranked 23rd on the merit list has been  allotted the best college i.e., Maulana Azad Medical College, New Delhi. Fideta A Massar ranked 15th was allotted VMMC & SH, New Delhi, and Raphylla W B Syiem ranked 21st was allotted VMMC & SH , New Delhi . This complete disregard for merit reeks of nepotism. Will the Health Department care to answer as to why people  at the bottom  of the list are being given top ranking colleges, while those who truly deserve good colleges have to be content with sub-standard institutes? What influence is at play here? Is it political or a mere money game, where the highest payer is awarded the better college? This haphazard allotment of colleges must be investigated, because it is more than evident that no process has been followed for the same, and merit has been thrown down the drain. The Health Department, Government and all authorities concerned must come out and explain to us how this bogus list was formulated, or be ready to face legal consequences.
Yours etc.,
Name withheld on request )
Why this ambiguity from MPSC?
Editor,
After a wait of over a year or so, the Meghalaya Public Service Commission (MPSC) has informed the concerned candidates via notice that the Meghalaya Civil Services (Mains) Examination will be held in the month of January 2020. However, it is surprising and very clumsy of the MPSC to have not declared the dates for the examination in question. Why can't they provide candidates with the stability and surety that they deserve? How can the MPSC notify an exam of the stature of MCS Mains without even setting the dates in advance? This is no lottery game. The Union Public Service Commission (UPSC) always notifies the examination dates well in advance for the Civil Services Mains Exam. Why can't our MPSC follow suit and emulate this good procedure? Is there a hidden agenda that we do not know of? The state government keeps on complaining that we do not have enough MCS bureaucrats to deal with the large amount of pending work at the block and district levels, but who is to blame for this if not the government itself? Through this letter, we urge the Chairman and Members of MPSC to take some pro-active steps and to declare the dates for the Mains Exam. At least do something to save the image of this autonomous institution from ridicule.
Yours etc.,
Name withheld on request
Church for whom?
Editor,
Apropos the front page caption, "Hek meets Puri for church land", (ST Aug 20, 2019) I am amusingly critical of such issues resurfacing after the model code of conduct had come in prior to the 2019 Lok Sabha elections. It had vanished from the esteemed paper for quite a long time to give me a sense of great relief that our pastors after careful analysis might have shelved the idea of purchasing land in Delhi. I am a bit wary of coming in here but my conviction does not allow me to remain silent. I am a nominal Presbyterian, not from Shillong Synod West but I just wish to throw in some facts. It is not the question of the health of the Shillong Synod west exchequer that really bothers me, but whether a church in Delhi is really necessary. Rather I would call upon the Synod to please look at our Robert's Hospital which really needs a total upheaval. By the grace of God the Hospital is slowly recovering and getting back to its past glory. About the Shillong Synod West from where huge sums have disappeared I wish to say that the alms (Sunday collection) are collected from all the faithful. Hence if any decision on financial matters are pending then a general consensus of all the faithful has to be taken, for every donor has his /her own purpose in donating money to the church.
There are only five to six Presbyterian regular Sunday morning church goers in the Free Church in Delhi where the faithful of all denominations assemble and for many years it has grown from strength to strength. If a Presbyterian Church is built, the non- Presbyterians would find it very difficult to join in, despite the best attempts of the faithful to resolve trivial differences. So to book the A320 Airbus for five passengers is, according to my little understanding, illogical and one which we may later regret. A big thank you, though, to Mr Hek.
Yours etc.,
Khyriem,
Shillong- 14.