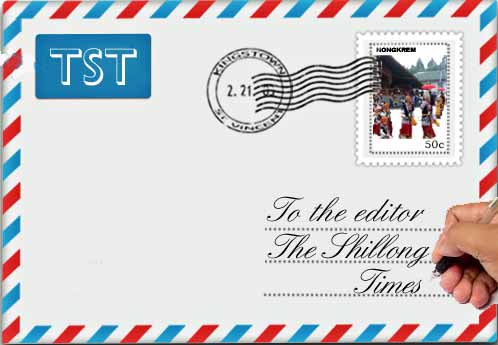 Editor,
Much has been highlighted about the failings of NEHU in newspapers and elsewhere but things do not seem to have improved. This time NEHU has once again disappointed in its handling of Students Union Elections.
In this respect it would perhaps be appropriate to draw attention to the Supreme Court approved J M Lyngdoh recommendations regarding the maximum prescribed age of would be the office bearers which clearly states as follows, in rule 6.5.2 : "For Post Graduate Students, the maximum age limit to legitimately contest an election would be 24-25 years "
However, the Election Committee for the upcoming Student's Union Election in NEHU  comprising of NEHU teachers, in its wisdom (mis) interpreted that students who have exceeded the age of 25 years but are yet to attain the age of 26 years are still  eligible to contest the Union elections and has also accepted the candidature of such candidates. This is astonishing since we know that applications for jobs in NEHU of candidates who have exceeded the maximum prescribed age of 27 years (in case of General candidates) and 32 years (in case of S.T candidates) by even one day have been summarily rejected.
We fail to understand the double standards adopted by NEHU. As concerned students, when we went to discuss the issue with the members of the Election Committee, they showed the attitude of "We know better," and obfuscated the issue one way or the other.
Here we would like to observe that it is rather mystifying that even University Teachers cannot decide on an issue based on simple Arithmetic. We suspect that perhaps they want to accommodate their favourite candidate. Or, perhaps, these teachers, having delved deeply into profound subjects have simply forgotten the basic principles of simple Arithmetic.
 We hope that this letter will draw the attention of higher authorities of NEHU and we also hope that things will be set right by them.
Yours etc.,
Name withheld on request
Indo-Pak war imminent?
Editor
It is indeed terrifying to discern the aftermath of a possible nuclear war between India and Pakistan, which could kill in less than a week 50-125 million people, more than the death toll during all six years of World War 11. In this regard, the study published in the journal Science Advances by researchers from the University of Colorado Boulder and Rutgers University examined how a hypothetical future conflict would have consequences that could ripple across the globe.
The researchers said India and Pakistan each have about 150 nuclear warheads at their disposal now, and the number is expected to climb to more than 200 by 2025. Brian Toon, a professor at the University said, "An India and Pakistan war could double the normal death rate in the world. This is a war that would have no precedent in human experience." He further said, "Such a war would threaten not only the locations where bombs might be targeted but the entire world."
The researchers found that India and Pakistan are rapidly building up their arsenals and that the combined population of these two countries total around 1.5 billion plus and these huge populations are being threatened by these arsenals. Exploding nuclear weapons could release 16 to 36 million tonnes of soot-tiny black carbon particles in smoke-that could rise to the upper atmosphere and spread around the world within weeks and the soot would absorb solar radiation, and heat up the air, boosting the smoke's swift rise. In the process, the sunlight reaching the earth would decline by 20 to 345 per cent, causing the planet's surface to cool by 2 to 5 degrees Celsius. Also, rainfall across the world may also reduce by 20 to 30 per cent.
At present, nine countries have nuclear weapons including India and Pakistan and what is worrying the world is their reckless attempt to rapidly increase the arsenals. Pakistan has been trying to upgrade their arsenals and adding more to their stockpile, thereby necessitating that India also increase its stockpile of weapons. Thus, a silent arms race is on, and where the race will lead to is anybody's guess. Another disheartening problem is Pakistan's craze for war as it never talks about peace. If a war is breaks out between India and Pakistan, its after-effects will not confine to Indo-Pak region but it will spread to other areas of the world causing unimaginable destruction to the environment and the disappearance of millions of people due to sudden and slow death. Like the wearer alone knows where the shoe pinches, those who have experienced war fervently pray that such a war should never happen.
Yours etc.,
TK Nandanan,
Via email
India's ODF certificate
Editor,
The Government of India recently declared urban India being 'Open Defecation Free' (ODF) as a global benchmark and the same has made the headlines alongside 'Swachh Bharath Abhiyaan' and Single Use Plastic ban enforcement effective October 2. It is welcome to know that the government has wholeheartedly chosen October 2 as a symbolic day to engage the citizens and promote a crucial social and environmental cause-with single use plastic ban now being added to the list.
While a proud citizen appreciates the efforts to declare India as ODF nation, there is an urgent need to monitor such environment programmes through extensive awareness, campaign management and effective program implementation. ODF status requires one to maintain high level of tidiness of the premises round the clock, adequate supply of water and timely upkeep by trained personnel. Unless there is a high level of cleanliness and hygiene ensured, ODF will only remain as a symbolic achievement.
Also Indian citizens aren't quite used to cleaner public restrooms as practised in other countries and a clean sanitation remains confined only within households or establishments and is typically not followed in public spaces. ODF program should now have a mandate to provide adequate and clean access to public restrooms so that people can make use of the facility provided in a public space. Such a change should lead to a high impact on people's otherwise casual approach towards clean sanitation practises and also improve personal hygiene especially in a public space.
Further the government should strictly monitor ODF program implementation ideally through a Nodal agency or a new department affiliated under watchful eyes of a Ministry. Unless cleaner spaces are assured to access the public restrooms in both urban and rural spaces, ODF will require a much greater push to achieve a complete success.
Yours etc.,
Varun Dambal
Bangalore 560072