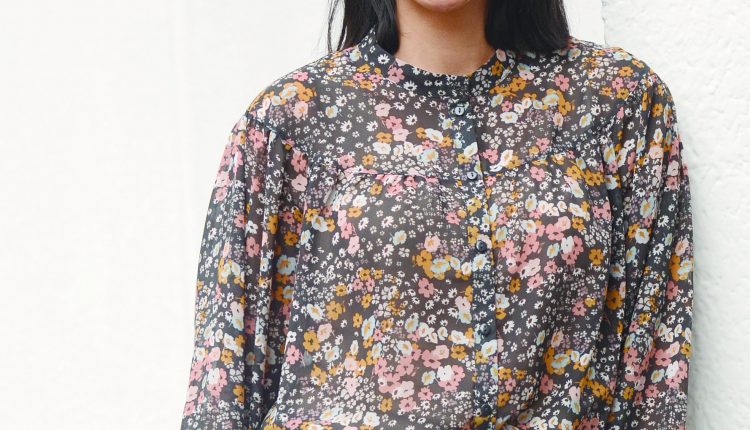 'I want to be a performer and not a diva'
After earning appreciations for her acting in Love Sonia, actress Mrunal Thakur went on with two big Bollywood films, Super 30 and Batla House, last year and began 2020 with her maiden project on digital platform, Ghost Stories. In a candid interview with IBNS-TWF correspondent Souvik Ghosh, Mrunal speaks about her journey so far.
In your last interview with IBNS, you had said that 2018 was your achiever's year and 2019 would decide whether you have passed or failed. So after Super 30, Batla House and Ghost Stories, how do you assess your career right now? Have you reached your goals?
I feel honestly acting is such an art which can never be enough for an actor. An actor learns something or the other through the process of each project. Also I feel like there is no full stop when it comes to learning. People being able to connect with the characters I have played onscreen and not as Mrunal is a big achievement for me. I think I am in a stable condition (smiles).
Your latest project on Netflix, Ghost Stories, was not a conventional horror story. How did you react to the script initially?
When it comes to Ghost Stories, I was really excited because this is something which I had not done before. When it comes to horror as a genre, I prefer not to watch it as I really do get scared. In order to break those inhibitions, I wanted to do a project, especially Ghost Stories. I don't know whether people were scared after watching Ghost Stories or not but I was definitely scared while shooting it. I am happy that I had at least explored that genre. Also I got to work with Karan Johar and the entire team. What more important was to play that character in those particular days without any workshop. I am happy to play my character 'Ira', a common girl who is frustrated because she doesn't know what superstitions her husband or her family is following. So sometimes it is more mental. So that is the reason why I could connect to (the film) and wanted to do this.
Was Karan Johar one of the reasons behind working in this film?
Yes of course. I wanted to work with him. He was on my bucket list. Being with Karan Johar, I wanted to know so many things about film making as a process. He also used to share several stories about Shah Rukh (Shah Rukh Khan) or other actors. It was another experience.
At a time people are talking about nepotism, would like to know how being a part of commercially successful films matters to actors without filmy background like you to progress in career?
I think the entire logic of understanding a commercial film is wrong. We have to get it right of course. Batla House has done tremendous market in the box office. Commercial success does affect an actor or a director. There are many directors like Tabrez Noorani who did film like Love Sonia whose subject was so important. I feel heartbroken when I see such films get recognised and appreciated by the entire world but not by this country. Such things break my heart because directors like Tabrez Noorani are the aspiring directors who want to make films. So an actor does not want to begin his career with an art film rather start with a comedy or romcom. People don't want to risk their careers.
Even I was asked by a couple of actors not to start my career with a de-glammed role (in Love Sonia). They had said my career would sink before even taking off. Trust me, I am just working. I don't care whether films are commercially hit or not. I think one must believe his instinct. I really felt that it was important for me to get out of that television zone and to perform because that is what I was very keen on. I wanted to prove to myself that I can be a good actor. I want to be performer and not a diva. When people appreciate my performance, I feel happy to realise that people at least thought my art was genuine enough. So when people ask me about commercial cinema and all, I get really confused because I have still not understood the definition and concept behind it.
Do you think film like Love Sonia helped you to mature as an actor very early in your career?
Love Sonia did allow me to mature faster. It made me an aware person. I didn't know what sex trafficking was all about (before doing Love Sonia). Also, I was more skeptical about the kind of roles I was getting. I realised that after Love Sonia, it was very important for me to not play a village girl because then I would be stereotyped. That's what Bollywood does. It puts an actor in a bracket. So I just want to make sure that when I do a project, I just get out of my comfort zone and keep doing something that I have not done before. At least, this is my effort. I don't know whether I will be getting roles of a "silly girl".. (smiles).. but if the script demands and if it is something really exciting that touches my heart, I would want to do it.
Do you think the digital platform is a scope to look for good contents? Is it like a breather to you?
I feel obviously the digital platform allows one to watch films and dramas whenever he wants to and not wait for the release. So that is an advantage. It is a platform for directors and actors to showcase their talents. Sometimes, good films do not get released at theatres. It is a fact. Also, Love Sonia went through two years of delay because we had no money to do the publicity and nobody wanted to invest in it considering it as a dark film. So thanks to the digital platform for providing content-driven film.
You had earlier said deadline is a challenge on television. What is the biggest challenge on digital platform?
Digital? Ah! I don't think there is any challenge. It was very smooth. Ghost Stories was my first digital film with Netflix. Within seven days, I had shot my segment of Ghost Stories and went back home. It was very smooth and quick. I think the horror genre was challenging for me. Horror is definitely not my space.
Would you like to reveal a bit about your characters in upcoming films Jersey and Toofan which will release this year?
I am sure people must be aware of Jersey because it is a remake of a Telugu film (with the same title). I am playing Sarah's character which is again very close to my heart because the emotional journey she goes through is not easy. I am really looking forward for the audience to watch it and not compare me with Shraddha Srinath who had played Sarah's role in the Telugu film. I want to make it different yet the emotional journey should be felt by the audience. As far as Toofan, the poster is going to be launched soon. So I can't wait for the audience to see it.