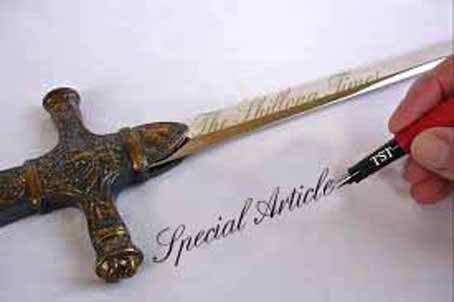 Consequences of hate speech in a communally fragile society
Patricia Mukhim  
We in Meghalaya are no stranger to the goings-on in Delhi since December 2019 after the Citizenship Amendment Act (CAA) was passed. Social media keeps us abreast of events in the national capital. We feel the trauma and pain of families that lost their loved ones in the violence in North East Delhi bordering Uttar Pradesh on February 23-24 last. The mob that created the mayhem, it is believed, came in from Uttar Pradesh; hence the sealing off of some of the routes leading to that state, post the violence. Hate speeches fomenting aggression were made by no less than the leading lights of the BJP such as Kapil Mishra, Anurag Thakur, Parvesh Varma and Abhya Verma.
The West Delhi BJP MP Parvesh Verma had earlier called anti-CAA protesters in Shaheen Bagh "rapists and murderers." Kapil Mishra had threatened the Delhi Police that if the protestors at Shaheen Bagh were not cleared then he would unleash his own brand of violence after US President Donald Trump leaves India. A Public Interest Litigation(PIL) filed by former civil servant Harsh Mander in the Delhi High Court was taken very seriously by Justice S Muralidhar who berated the police for not filing FIRs against the hate-speech mongers. The Delhi Police who were literally caught with their pants down were to give their replies in Court on Thursday but that was not be. Justice Muralidhar was promptly transferred, thereby leaving no doubts at all that the perpetrators of violence were being protected by the very Government that literally stood by and watched while Delhi burned and many of its citizens lost their loved ones, their homes, property and everything they held dear.
The CAA has its share of supporters. They claim that there is nothing in the Act which threatens Indian Muslims. What they don't say is that it debars illegal migrants who are Muslims and have been in India up to December 2014 from being granted Indian citizenship. The argument is that Hindus are persecuted in Pakistan, Bangladesh and Afghanistan and that India is their natural destination and the mother country.  This is fine but what does this do to the word "secular" in the Constitution. Why should citizenship in a secular country like India have a religious clause? Isn't this an insidious attempt to make India a "Hindu" nation by populating it with more Hindus? Is the systematic assault on Muslims that has been going on since 2014 not an attempt to squeeze them into a corner where they would have to live as second class citizens? And why this? Because a narrative has been created that waves of Muslim invaders have oppressed Hindus from time immemorial and now is the time for revenge since India is under the charge of a right wing Hindutva Government. Many wonder why Hindus that are 80% (966 million) of the population should fear Muslims that constitute only 14.2 % of the 1.3 billion Indians. And people of other faiths are a minuscule 6% of India's population.
All talk of economic growth and of the economy going south are forgotten in the heat and dust of the CAA protests which have been erupting in different parts of the country. Unemployment which is a huge cause of concern in a country that talks of a youth dividend is no longer discussed. Our attention is now diverted to nationalism and its definition. After 2014 this country has seen a sharp rise in the number of sedition cases. And sedition was left undefined even after 1950 when India adopted its own Constitution. The Indian Penal Code defines sedition (Section 124A) as an offence committed when, "any person by words, either spoken or written, or by signs, or by visible representation, or otherwise, brings or attempts to bring into hatred or contempt, or excites or attempts to excite disaffection towards the government." The sedition law is a legacy of the British law during their rule in India. In fact the sedition law violates the very principle of democracy which (a) guarantees freedom of speech and expression (b) gives citizens the right to protest against acts of the government which are perceived to be anti-people. The government is not a benign creature that will operate within the rules of democracy. What happens when government indulges in large scale corruption and citizens wish to call that out by using all means at their disposal? Under this present regime that could well be construed seditious and people sent to jail. The sedition law is today being used to intimidate citizens because when the cases do come up for trial, convictions are rare.
Now while Delhi is burning and while even noisy members of the opposition Congress have been astutely restrained when talking to the media because all want the bloodlust to cease, we have a Governor in Meghalaya with a penchant for tweeting ridiculously generous doses of sermons to different people who he believes are his avowed fans. On Wednesday, Tathagata Roy tweeted, "Remember Tiananmen Square, Beijing in 1988? And how Deng Xiaoping handled it? Perhaps there is a lesson there on how to handle the engineered disturbances of NE Delhi! I'm sure all comrades will agree!" Roy later deleted this tweet. Like many of his ilk in the RSS, Roy attributes the protests in Delhi to left wing liberals and is suggesting that they be given a taste of their own medicine, since that was how Deng Xiaoping, the Communist ruler tackled protestors against his Government in 1989. The army massacred about 800 people (the numbers are much higher though as claimed by foreign observers).
Before this, in December 2019 after the CAA was passed and certain pressure groups in Meghalaya had begun protesting against the Act, Roy tweeted that anti-CAA protestors should go to North Korea. The implications are that the totalitarian regime ruling North Korea would not tolerate such protests. At the time the anti-CAA agitators had gheraoed the Shillong Raj Bhavan and demanded that Roy be recalled. Things would have escalated if Roy had not left then. But Meghalaya being what it is, the anti-CAA protests tapered down during the festive season and everything was forgotten. Roy returned to Shillong on January 25 and was quiet for a while, tweeting more in Bangla. But old habits die hard. The tweets started flowing thick and fast.
Evidently Tathagata Roy believes in handling everything with an iron hand. Probably he is in the wrong country. His tweets suggest that he monitors developments in North Korea and China better than he does his own backyard. Any sensible, mature individual would not want to add fuel to the raging fires of Delhi. Besides, Roy is the Governor of Meghalaya and should be more circumspect about his constitutional position which demands that he leaves his political-ideological baggage behind. Above all, the post of Governor demands a certain decorum which Governors appointed by the BJP (barring a few honourable exceptions) don't seem to be familiar with. Roy's twitter handle and his visiting card reads, "right-winged Hindu socio-political thinker, writer and ideologue. Also Governor, Meghalaya." He operates in that same order; Governor of Meghalaya being the least of his priorities.      
 The RSS draws much of its ideology from Veer Savarkar's (in) famous slogan: "Hinduize all Politics and Militarise Hindudom." We are seeing this project being meticulously executed by the Modi-Shah duo today. The people of India are being viciously polarized by this venomously partisan project. The question before all of us who continue to believe in the ethos of the Constitution and the inclusive idea of India is, how do we resist this juggernaut. Hatred has become the idiom of the Government at the centre and this hatred has become the incubator of violence. How far can we allow this to spread its ugly tentacles? Do we have an answer?