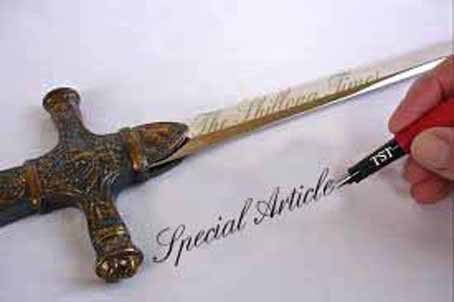 By Janet Moore Hujon
To honour Laban's first MDC the late Ragland Singh Lyngdoh Mawlong, the Shillong Times reported the unveiling of a bust in his memory. (September 23, 2017) The photograph taken on the occasion says the bust is at 'Laban Batting Bazar parking lot'.  This area now demoted to a mere parking lot was never ever a batting bazar.  It was Laban's 'batti bazar' – open for business after office hours and therefore a lifeline for local residents who could not always make their daytime way to Iewduh (Bara Bazar). 
We know that the Hindi word batti has nothing whatsoever to do with batting but is associated with light – this busy little market place was a perfect oval of light created by the flames of dongmusa (flambeaus), their fierce roar guarding each stall owner's territory.  Visits to the market were rewarded by the sight of fresh produce – from colourful fruit and vegetables to the glint of silver-scaled fish – all neatly laid out on green banana leaves.  While there was the expected cacophony of haggling, both good-natured and not, the market was also a place where greetings were exchanged, old connections renewed and new ones made.  I have no doubt that trade flourished because places like this sustain connections and underscore the meaning of the expression – 'word of mouth'.  The word was spread with a lively immediacy totally absent from today's vast borderless universe of online shopping.It is only the word batti that can bring back to life these vibrant memories of a Laban that once was.  So let it not be forgotten. 
As I continue on the subject of naming I am aware that I will be sailing into controversial waters as I questionthe origins of the locality -'Lum Ka Tik' or'LumKartik'.  In his article 'Sorry plight of the Oldest Town in Shillong', (Shillong Times, September 12, 2013) Bah River Wahlang tells us that Ka Tik was a Khasi lady – who sold a sizeable area of land for "the princely sum of Rs. 20".  Now isn't that a perfectly told story! I will readily admit that as a woman and a Khasi I delight and mourn in equal measure to discover that once upon a time a Khasi woman could and did sell almost an entire hill for that sum.  
However an article 'Shillong: What's in a Name?' by Rajib Roy published in the Meghalaya Times throws up a different explanation.  This article states that Lum Kartik (Road) was named after a wealthy Bengalee landowner named Kartik Bose who owned properties in the Laban Hills.  Perhaps both Ka Tik and Kartik have equal validity- I leave it to the local historian to verify the truth.  But as far as I am concerned, Bah River's account is the more plausible one.
He informs us that Laban was originally a small farming village that for a time became 'synonymous with dkhar, the outsider', when Indian government servants from East Bengal arrived and bought land from local Khasis who, wary of the outsiders, left the locality.  So although her name may not have graced any written documents of sale, this explains why Ka Tik lives on in the collective memories of those who lived before and during the glorious days of batti-bazar Laban.  Since Laban began life as a Khasi locality, then surely Lum Ka Tik must predate Lum Kartik.   If this were not the case then why as children were we not taught to say Lum Kartik instead of Ka Tik? That would not have been any more difficult than saying batti bazar. 
Bah River then goes on to say that when the initial 'irrational fear of outsiders subsided', Khasis returned to live alongside the newcomers. So I grew up hearing the rhythms of different tongues and appreciating the descriptive accuracy of a non-native phrase. Of course we do have the name Iewdak (Iew-market, dak-mail?) which is still used to refer to the former batti bazar.  Dak implies that perhaps there once was a Post Office in the area so in a way Iewdak can be seen as a composite of the local and the 'foreign'.  But for vivid impact it can in no way compete with batti bazar.
While I would not change batti bazar to anything that might sound more Khasi, I do however experience a thrill when I say 'Lum Ka Tik', and positively burst with cultural pride to know that Sohra has been rescued from Cherrapunjee and restored to its rightful place in our hearts and our imaginations.  While the answers as to why that reclamation took so long are culturally painful, it is important to recognise undoubted linguistic resilience for despite the imposed name, the word Sohra never ever dropped out of use. To the Khasi ear Sohra has the authenticity missing in Cherrapunjee.  Sohra belongs in a way Cherrapunjee does not, and that is why it will always be voiced with love. 
In the course of writing this article I have realised how much growing up in multi-cultural and multi-faith Laban shaped my world-view.  On the one hand I distinctly recall the pangs of sadness I felt at not possessing that cohesive Khasi identity which seemed to belong to Khasis living in the Khasi neighbourhoods of say Jaiaw, Mawkhar and Mawlai – I wanted to have a less fluid identity, to be 'whole' like them.  Yet, I was also quietly protective of my own fractured sense of self because that was who I was and of course still am.  And today I am grateful for this dual perspective because while it provides the rooted sanctuary of the old, it also allows me to look out through windows opening into new worlds.   It is my Laban experience that allows me to step outside rigid dividing lines and to challenge or accept both the old and the new. I remain grateful.