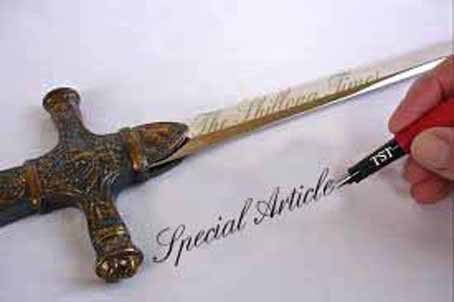 By Shivaji Sarkar
It is great news for West Bengal. It has won the paternity of India's savoured sweet dish rosogolla's geographical indication (GI). It might mean little for the rest of the country but could open up a war on the international arena marked by trade related intellectual property rights (TRIPS), patents and GI.
Now it is to be seen how Bengal can lead the move to create an international rosogolla market with the new tag. This would require an aggressive campaign to sell the newly authenticated dish.
Undoubtedly, that is the positive aspect of a simple tug of war between Bengal and Odisha, which claims rosogolla originated therein at the Central Government's patent office. Countering this Bengal went to the Chennai-based GI registry to prove the delicious sweet belongs to it and was invented by a famous sweetmeat seller Nabin Chandra Das in 1868.
Pertinently, vacuum-canned rosogollas are exported across the globe from Kolkata, Nagpur and some even from Nepal. It earns millions of precious dollars given that export growth otherwise is stagnated in a critical world situation.
Certainly, there are many other dishes across the country which have and can claim such GI status. Karnataka's Dharwar pedha, Andra Pradesh's Tirupathi laddu, Rajasthan's Bikaneri bhujia, Hyderabada Haleel, Bengal's Joynagar moa and Madya Pradesh's Ratlami sev have the GI tag.
Now, as some other countries have started selling their tea as Darjeeling tea, the GI tagging of Darjeeling and Kangra tea as agricultural products have saved the Indian brands.
Besides, many agricultural products including  79 farm items  have got this tag which includes Basmati rice, chillies, orange/ mandarin types like Nagpur, Coorg, Khasi and Arunachal, a variety of bananas, spices, Tripura's pineapple and Madurai malli jasmine. Add to this Kolhapuri chappals, Kashmiri pashmina, Pochampalli saris which too have the GI tag.
Does having the tag help? Yes, as it aids in maintaining the brand and locational value. An example: The quality of Dehradun basmati rice and what Pakistan claims as basmati is different. The aroma is not the same and the confusion was hitting Indian exports. Hence, the GI label helps keep the ownership as under WTO and TRIPS the member nations have respect for geographical indications.
However, the basmati war is on and after much negotiations India and Pakistan have decided to get a joint GI for the fine-grained aromatic rice. Recall, the talks came to a halt after the 26/11 attack in Mumbai. Now Bangladesh also wants to share the tag. Meanwhile, some countries like Philippines are selling their rice as basmati in the EU and US despite the fact that this rice is native to the Indian sub-continent.
Notably, measures have been taken to prevent violation of GI rights wherein the custom authorities have powers to seize bogus products. If a product enjoys GI status in a member nation, then no other member nation can grant a trade mark for any other product of similar nature.
Even Indian haldi (turmeric) said to have special therapeutic properties has benefited. A variety of haldi from Kandhamal in Odisha has got a separate GI for its properties even as the State's battle for rosogolla continues.
The GI prevents counterfeiting and protects the original producers' market. For example, Darjeeling tea has got GI under Indian law. So if someone inside the country sells fake Darjeeling tea, he could be jailed or fined. But if a Sri Lankan company fakes Darjeeling tea and exports to Germany nothing can be done in India. For this a separate petition has to be filed in Germany or the Central Government has to pursue it through the WTO. To prevent such problem, a fresh move has to be made for GI status European Union's office for "Protected GI" (PGI).
Moreover, there is another problem. Once a GI is granted by a country, the WTO informs all member nations. But this has not been given the status of a registry. So it is treated as information but has no legal status.
Additionally, multilateral registry is still not in vogue. Thus, getting a GI in one country is not automatically protected across the world. Presently, multilateral registry is being insisted by the EU as it would save duplication of efforts. However, China and Hong Kong want this system to be compulsory for only those countries that agree to participate in it.
Further, countries which are faking products are opposing one-registration across the world. As it helps these nations export their products under false identity and rake in profits. To prevent them or make them liable for legal offence numerous registrations have to be done. This is expensive and a time-consuming cumbersome process. The counterfeiters benefit for this legal loophole.
Conversely, lobbies of different products are resorting to different methods. The powerful European wine and liquor business groups have managed to get WTO to negotiate for multilateral GI register for wine and liquor. This has helped them save their brands and even penetrated sales across the world, including India.
Importantly, GI rights are given to an association of persons, producers, organisation as a community right. The concept is that such indications are not build up by one individual but by a community of persons. So the community, in the case of Bengal's rosogolla is protected.
Indeed, if a sari made somewhere else is sought to be sold as Banarasi, it would not only be considered a violation of GI but also considered punishable in India. But for any other country a separate process has to be adopted.
Certainly, there is an apprehension that powerful nations or lobbies can create fake identifications. If such are granted registration, it could create a chaos in the world trade system. Think. India had to fight in the US to get neem patents deregistered after a prolonged legal battle. Even on various agricultural issues the Doha agreement has yet to be agreed upon.
Similarly there is yet no unanimity of non-agricultural market acess (NAMA). There has also not been any agreement on a free market for the labour. Add to this another lacuna in the system. A GI is not a one-time achievement. It is valid for ten years and has to be renewed after that.
In sum, notwithstanding WTO and globalization the world is at war in the trade front. A nation has to be innovative and aggressive to save their brands to rake in the maximum profit. India has the advantage that its various scientific organisations like the CSIR, science and technology department, industry, handicraft and agriculture are continuously making efforts to protect our heritage and cultural specifications.
Remember, this war will not end soon. The one who remains alert will win it. —- INFA