Will take 'fight' to a higher court: Anjali Daimary
Court verdict might affect peace process: NDFB chief's sister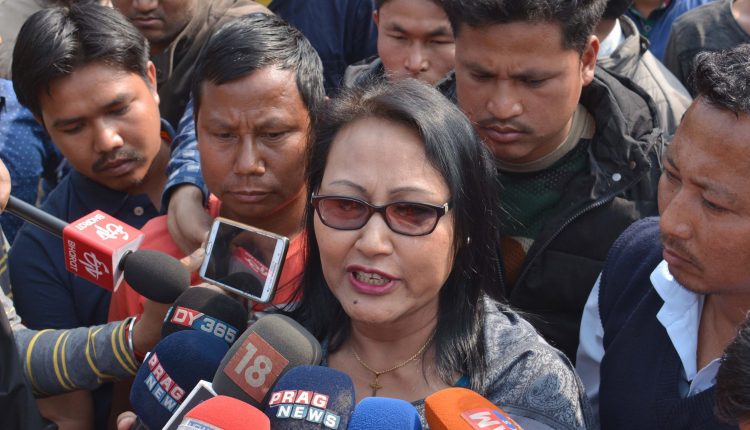 GUWAHATI: Anjali Daimary, the sister of National Democratic Front of Bodoland (NDFB) chairman, Ranjan Daimary, has asserted that the "fight" against the conviction and life imprisonment of her brother would continue in a higher court even as she apprehended that the verdict might affect the ongoing peace process with the militant outfit.
"We will keep on fighting. We will go to a higher court. At the same time, we would appeal to the government to ensure that the hard earned peace process between the government of India and the outfit is not derailed by the verdict," Anjali, a rights activist, told the media as she came out of the CBI special court here on Wednesday afternoon.
The court had sentenced the NDFB chief and nine others to life imprisonment in the October 30, 2008 serial blasts case. Three others convicted in the case were sentenced to five years' rigorous imprisonment. Eight-eight lives were lost and around 500 were injured in the blasts.
Two factions of the NDFB – NDFB (P) led by Gobinda Basumatary and NDFB (R) led by Daimary, are involved in peace talks with the Centre. NDFB (S) led by B Saoraigwra is against holding talks under the constitutional framework.
"There are several militant organisations in Assam. If the court here has convicted and imposed punishment on NDFB chief, Ranjan Daimary, the heads of the other militant organisations should also be convicted for their activities," she said.
Anjali however disclosed that her brother now "hoped that the long-pending dream for a separate state, Bodoland, would be created while he served his sentence of life imprisonment."
Meanwhile, several supporters of the NDFB chief had anxiously waited for the verdict outside the court premises at Chandmari and later raised slogans such as 'Long Live NDFB', 'NDFB Zindabad', as the convicted persons, made their way out of the court.
Daimary, the prime accused in the case, was arrested in Bangladesh and handed over to India in 2010. He was released on bail in 2013 and was re-arrested on January 28, 2019.
Meanwhile, Kabin Kalita, the father of Samarjit Kalita, who was just 16 years when he died in the incident, said he was happy with the court verdict.
"He was my younger son. Though it has been an agonizing wait for over 10 years now, I am happy that life sentences were given to 10 convicted in the case. I would have preferred capital punishment though but at the same time, we have to respect the honourable court's verdict," Kalita, who was waiting in front of the court since 10am, told The Shillong Times.