Feeling lazy to leave your blanket and cook on a Sunday morning? You have enough reasons not to leave your bed until evening. But hunger just does not die. So why not have some lip-smacking easy-to-make snacks? Toshali Mandal will tell you how to enjoy the Sunday evening with egg chops, oops, the Devils!
Devilish Eggs
Ingredients
For the potato mixture
4 medium sized potatoes
2 tablespoons of vegetable oil
1/2 cup of chopped onion
1 tablespoon of ginger and garlic grated
1 teaspoon of chopped green chillies
1/2 teaspoon of turmeric powder
1 teaspoon of roasted cumin powder
1/3 teaspoon of garam masala powder
Salt to taste
1/2 cup of chopped cilantro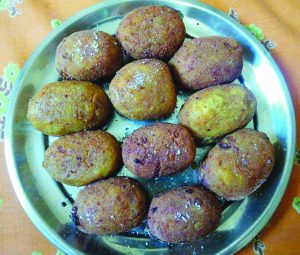 For the batter
5 lightly beaten eggs
1/2 teaspoon of crushed peppercorns
1/2 teaspoon of salt
Other ingredients
Hard boiled eggs — as many devils you want to make. I have used 15 eggs
1/2 cup of all-purpose flour (maida)
2 cups of bread crumbs
Sunflower oil for deep frying
Black salt for sprinkling on the Devils
Direction
Make the potato mixture first. Take potatoes, peel them and boil in a pressure cooker. Let the potatoes cool down and then mash them. Make sure there is no lump in the mashed potato. Now heat oil in a pan and add chopped onion, ginger garlic, green chillies and fry till it becomes light golden in colour.
Add turmeric powder, roasted cumin powder and garam masala powder to the pan and sprinkle some water to prevent the spices from getting burnt. Add salt to taste. Fry for a few seconds and then add the mashed potatoes and mix with the masala mixture well. Fry the mixture for 10 minutes, stirring constantly. After 10 minutes, turn off the heat and let the mixture cool down to room temperature.
For the batter, take all the ingredients in a bowl and mix well. Add little water, like a tablespoon, at a time to make a smooth batter. The batter should be smooth but thick like pancake batter. So add water as much as you want to make the batter. For the Devils, check whether the potato mixture has cooled down. Add the chopped cilantro to the mixture. Take a whole egg, now cover with the potato mixture and shape it to a full one. Make rest of the devils just like this.
Now it is time to arrange the flour on a clean plate and the bread crumbs on another plate. Take each devil shaped egg, first roll on the flour, shake the excess flour, and then dip into the egg batter and finally roll into the bread crumbs. Make rest of the devils in the same way.
Keep the bread crumb coated devils in an airtight container and keep inside the refrigerator overnight or at least for four hours.
Heat enough oil in a deep frying pan. The oil should be smoking hot. Just remove 3-4 egg devils from the container and add to the hot oil carefully. Fry till golden brown and take them out of the oil and place on a paper towel. Serve hot by sprinkling some black salt on the Devils and serve with ketchup and chopped cucumber and onion.