The Oracle
Hidden behind the flailing shopfronts, past the narrow gulley through a consenting orifice, through the dusty lanes with billowing juniper and dung plumes, beyond the staccato sheds of mud plaster and hollow bricks, a leap across the canal carved out of the Indus for sustenance and amusement, like a vagrant whisper a flat-roofed tenement betrays a quiet hum of activity.
Choglamsar is like a gnawing laceration on the face of Leh. On the Manali highway a few miles south of downtown Leh, abutting the model village of Saboo, Choglamsar is a bottleneck before the pit stop of Karu and Upshi. It is more Saharanpur than it is Leh. Amidst the detritus of truck-sized boulders left behind by the flash floods that thundered down from Saboo one night after a ten-minute cloud burst and tore apart everything that came in its way, a contiguous chain of wood and mud plaster buildings jostle for space with glass and chrome upstarts flanking the sides of the highway for about a mile. Not an inch has been spared, not an elbow room given. Here, the old world does not meet the new, they sneer, gnaw and confront each other, where each trying to outwit the other, appear to be caught in a time warp.
Each of this macabre congregation of building blocks of varied shape, size, colour and architecture; houses and stores selling everything from motor spares to goat meat and alcohol to plastic mugs. When the wares on display cannot be contained in the cubbyhole shops, they spill over the doorways and rest on the pavement, proudly flaunting the innards of the store. The pavement and the road is a heave and swell of frenzied shoppers, honking cars, bejeweled women, and dazed and contented jaywalkers. It is as if everyone is out for a doomsday bargain, everyday. The gut-wrenching come-ons of food stall owners and bleating goats straining to escape the butchers knife add to the revulsion that Choglamsar easily engenders without much of a fuss. In the land of high passes, it is here that for once, even the mountains bow to human intervention.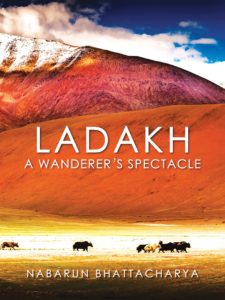 Five O'clock in the evening, two hours before sundown, the expectant assortment of men and women who had assembled under the square awning in the courtyard of the tenement has grown in numbers. The deep aquamarine entrance to the inner quarters frames a fierce looking Buddha and is firmly bolted from the inside. The bounded courtyard swept with white clay, which can hold at most twenty odd people, now looks crowded. People have spilled over from under the tarpaulin awning and have occupied every available space, making an effort not to stamp on each other's toes; while the luckier ones, mostly women and children, sit on their haunches in one of the projections of the irregularly shaped yard. In Ladakh, almost everybody has a nodding acquaintance with each other, or knows someone who is a mutual friend or a relation; civility therefore comes easy. While the men and women engage in small talk, the children attempt to run around or play Tag, only to bump into someone's back or topple over an extended foot, fall flat, get chided, sit still for few uneasy seconds and repeat the drill with the same diligence. It has been a long and uncomfortable wait, yet none of the men and women betray despondency; no one even looks at the entrance for it to open, let alone anyone even thinking of jumping queue, for there is no queue in the first place. A lot of people here have come from far off places, even as far as Phyang and Taroo, a lot of them from Hemis, Stakna, Thiksey, Matho, Murtse and all the three Chuzot villages, quite a few from Leh; travelling most of it on foot, carrying apple-cheeked children over their shoulders.
Every minute of delay would bear like a cross on their shoulders on their return leg. Even if they can afford it, finding a wheeled transport after dusk would not be easy. Yet, even after a wait of two hours, it's a cherubic gang that greets Ayu Lhamo as she walks into the courtyard from the narrow lane by the canal, apologizing profusely for the delay in a sing-song, whispery voice. Apparently, it was a stubborn spirit in her neighbour's house, which she had gone to exorcise, that was to blame for the delay. She looked tired and was already half panting, only to find herself with a courtyard full of seekers to attend to in the failing light, each with their unique afflictions, problems and propositions.
(Excerpt being published with permission from the publisher)
Book: Ladakh:
A wanderer's spectacle; Author & photographer: Nabarun Bhattacharya; Publisher: Niyogi Books; Pages: 146; Price: Rs 595