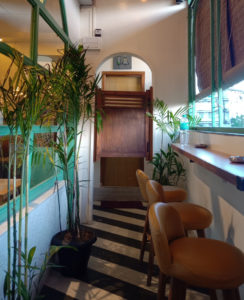 The sprawling township Laitumkhrah which is generally known as the education hub of Shillong, is today the most popular destination for the foodies.
One can easily see a new brand of entrepreneurs from the Khasi community who are coming forward, fearless in expressing and patiently dedicating their lives in building a distinct foodscape in Shillong, one that continues to evolve with time.
Get to Know your Food Spaces
First up, meet Déjà Vu, started by Mark Lyngdoh, a restaurant known for its Chinese cuisine. The manager is Dinanath Kumar, originally from Bihar and working in Shillong since 2000. He spoke of how Laitumkhrah is centrally located and one of the busiest parts of the city with premier schools and colleges, coaching centres and student hostels, making it an important student zone. It makes sense then to have a restaurant that caters to the youth who spend so much time exploring food as a way to relax from the rigours of academics.On enquiring about a dish that is special to this restaurant, he said their smoked pork ribs is to die for. The other cuisine is seafood – they keep lobster, crab and octopus – Déjà vu speciality dishes, adding how seafood is not easy to find here. Alcohol is served as well. Delicious is an understatement!
A little ahead of Nazareth Hospital, one can spot a quiet café called Comfort Food and its true to its name. The place has completed five years in September this year. The manager, Ms. KercySyiemlieh said how Laitumkhrah is a main point of the city and that has definitely shaped the decision to open this café here. She said that students come here to eat their starters and momos.
Location plays an important role in business. Had Laitumkhrah been a quiet neighbourhood, it may not have seen the birth of so many eateries. Being a space of non-stop hustle and bustle, different business ventures, big and small co-exist, but it is food that is adding a dash of contemporary, as we see it unfold.
Another place that has consistently been a hit with the youth of Shillong is The Grub, café and bakery. Run by a couple Mac Oliver Rynjah and Banri Bee, the food here offers a different cuisine – a mix of Italian and American – and away from the usual, predefined menu. In other words, what is expected is either Indian or Chinese. Mac said, "For years it's been but a toss-up between Chinese or Indian. And we as consumers have lived with this two-item variety and gladly embraced it as a norm as to what food offered, especially here in Shillong. But like technology, even our menus and food culture got an upgrade". When asked about the name of the café, he said that it's a wordplay between food that can be grabbed and the grub one loves. The youth, in particular, has an understanding of what flavour means, and anything new, is always welcome not just to the taste buds, but also the eyes. Innovation is important where food culture is concerned.
Gone are the days when eating out meant family diners where you ate, paid the bill and left soon after. Eateries and cafes are spaces where people can spend hours chatting with friends or working on their laptop. One could say that for the Netflix generation that lives on a steady diet of web series and TV shows, this is a welcome change. One such eatery is Roma Eatery which is the newest pizzeria in town, opened on November 8. A sister branch of the oldest café in the city, Swish Café, Rida Tariang and Sahil Majaw opened this place keeping in mind how the crowd is experimental where cuisine is concerned. One look at the menu and interesting names stand out. BTS lovers in the city could try out K-Pop Wings. They also run Grove Eatery in Police Bazar and Poinisuk in Laitumkhrah. We spoke of how Shillong is no longer just limited to Chinese and Indian cuisines. Unlike Grove Eatery, famed for its Asian cuisine, and Swish Café where English Breakfast is popular, this place has a more continental vibe. The music and the décor are a beautiful mix of traditional and urban – the wall is adorned with words like Stay Woke and Khublei. Our conversation shifted to the challenges of opening business in the city. She spoke of how risky it is because of social unrest and challenges of infrastructure. She hopes for a change in this regard. The Tariang sisters are changing the food culture of Shillong with their innovative ways. Mary Tariang, sister of Rida look the plunge with Swish Café, already 17 years old, and ushering in the café culture.
They are also instrumental in organizing the Hills Festival in the state, a two-day festival of music and food, with a view to promoting local/indie talents. Their Facebook page mentions that it brings to the fore, the "Spirit of Meghalaya". Live music, brews, food and different fun activities are all set in the outskirts of Shillong.
One of the more popular places is Keventers. Sunday Shillong spoke to Samar Hajong, originally from Mawsynram and in Shillong for 10 years now. He is the manager of this place which opened in March 2019 and is known for its shakes and sundaes. Slightly different from the usual cuisine is a food hub that is known for its Indian cuisine. Meet Manuel Badwar, the face of Inequale Food Hub in Don Bosco. It has completed a year. Three of his friends are partners – Freddie Wallang, AibanlangWallang and Samson Marbaniang. He narrated how Freddie Wallang's father owned a shoe shop. The four friends decided to keep the name in the memory of his father. As we spoke, he stressed on social harmony and the importance of integration in our beloved city.
A Taste of North-East Indian Cuisine
Echoing Mr. Badwar's sentiments, KordorKharmalki, a resident of Nongrah spoke to Sunday Shillong. We had a lovely conversation on food and what it means for Shillong as one of the best food destinations in our country. Say hello to CiciJadoh, a quaint café that is intimate and welcoming to all who are food lovers. It is a family run business and named after his wife, Mrs. CiciLiawarshong. Their children – Eliezer Jacson, Fidilia and Rophidor – run this space, and are themselves students.
What is so special about this place, you ask? It serves authentic Khasi food.More importantly.it's a venture of courage as its just three months old andperhaps, the newest addition to a growing café culture in Laitumkhrah. Mr Kharmalki said, "Most people were afraid to start business, but we saw this as an opportunity", adding how they were discouraged by a few people, considering the Pandemic and the costs of a start-up. However, they were not deterred.The other thing that makes this café popular is how cheap the food is. A plate of Dohjem, including rice is just Rs 40. When asked where they see themselves in five years, Mr. Kharmalki said that they plan to employ more staff, give the best hospitality to everyone and have more branches in the city.
Jadoh, an older restaurant that serves Khasi food is nearly 14 years old and has seen the place transform. The manager, Ms. Bahunlang Lyngdoh who resides in Jingkieng looks at this change as a positive outcome from the tourism perspective, in particular.
For the Naga food enthusiasts, there is a quieter place, run by Jacob Elah. He migrated to Shillong as a young Commerce graduate in Raid Laban College in 1991. Originally from Phek in Nagaland, he decided to stay here and opened Naga Food. Catering to students, this place offers Naga food. He said that true Naga food is boiled, and not cooked in oil or spices. This place has been here since 2011. Pork thalis are a hit here with the young crowd.
Gen Z on Café Culture
SundayShillong interacted with Clyde Thangkhiew, a young media graduate from St. Anthony's College, and a regular at The Grub. A bright Gen Z in this city, he considers himself to be a citizen of the world, adding how café culture is positive and inclusive in spirit – cafes are for everyone and no one is judged on the basis of their race, skin colour or language. He says that the youth need more cafes as spaces of expression. An avid photographer, he can spend hours, observing and interacting with people or being creative. He stressed on how mental health is important, and the youth have embraced the booming café culture as spaces of belonging.Sachin Sharma, a young entrepreneur in Shillong spoke of howcafes offer more variety. He also mentioned how we need more exclusive food cafes that strike a balance between pricing of food, variety of cuisines and quality of food, adding how various offers builds a strong rapport with customers.
Check these Spaces because…
Jordan, Emieka, Omargh and Emilie, young resident foodies of Shillong said how café culture in essence, makes hanging out more spontaneous.Food hopping is no longer just a casual pastime; residents of Shillong take it seriously. The youth are happy to see Laitumkhrah develop beyond Café Shillong, famed for its momos, among other dishes.It is a paradise for foodies and serves the cosmopolitan culture of Shillongin a plate, lovingly prepared by the entrepreneurs of the city.