State joins nationwide vaccination drive
A historic moment in fight against COVID-19 pandemic: Conrad
SHILLONG, Jan 16: Along with the rest of the country, the COVID-19 vaccination drive was launched in the state on Saturday.
Chief Minister Conrad Sangma launched it at NEIGRIHMS, which is one of the 10 sites in the state selected for the drive.
Sangma told journalists that 100 health workers were to be vaccinated at NEIGRIHMS and 832 in other districts. He described it as a "historic moment" in the fight against the pandemic. "We all have suffered for long but the people in the country and the world may now feel confident about defeating the virus soon,'' the CM said.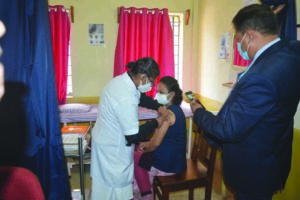 Given the large number of people to be vaccinated, he said the drive might continue for six to eight months or even a year and hence, it is not the end of the fight.
"We should always remember that the fight against COVID-19 will continue. It's not that this vaccine will immediately take the virus away and everything will be normal tomorrow. It will take time to complete the vaccination programme," Sangma said.
He said South West Khasi Hills and South Garo Hills districts will be covered under the programme by tomorrow.
NEIGRIHMS Director P Bhattacharya, Medical Superintendent Suvamoy Chakraborty, nurses and sanitation workers were among the first few to take the shots.
"I don't feel anything different and I am happy to take it as I have been waiting for a long time to get the vaccine," said Sharleistin Susngi, who was the first to get vaccinated. He recalled how people like him were stigmatised during the pandemic which forced them to spend their nights in hospitals.
Bhattacharya said he and Chakraborty took the shots to send across a message that the vaccine is safe. He urged people not to circulate negative remarks through social media about the vaccine. Chakraborty said he felt absolutely fine after being vaccinated. "We have gone through difficult times as we have been exposed to COVID-19 for the past one year. Now that the vaccines have arrived, we took the shots to protect ourselves," he said.