A trio formed Northeast Edit, a garage gallery initiative to showcase the art, craft and design from North-east India.
Art curator Priti Rao sought a gallery space in Shillong for an artistic experience. She created one with Samya Deb and Aaron Ian Lyngdoh.
From southern India, Rao grew up in Mumbai and worked with a design innovation consultancy in San Francisco.
Deb, from Kolkata, has no formal training in design. But he spent a decade leading creative studios known for being disruptive and innovative. His last gig was contributing to the development of Airbnb in the Asia-Pacific region.
Lyngdoh was away for 15 years, having left Shillong in 2003 for his graduation. He worked with the India Today group as a stylist and entertainment anchor before moving to Wion news channel. He came back home in 2018.
The three got together through a mutual friend and realised they share a love for the arts. Northeast Edit (NEE), a garage gallery initiative to showcase the art, craft and designs from the region, was thus born on March 5.
Deb handles the storytelling aspect of the collective, Rao works closely with the artists involved and Lyngdoh is the project manager.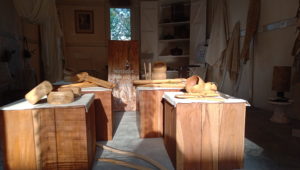 The Journey Begins
Rao first came to Shillong in November 2018 with her team primarily to take a break. "I was intrigued by the North-East and had never come to Shillong. We wanted a different experience and be inspired," she said.
She met Ibalarihun Mallai, a fashion designer from Ri-Bhoi known for the earthy KINIHO collection, during that trip. Mallai's creations would go on to find space in NEE.
She also met Khasi Blooz, Meba Ofilia and a few other musicians. She did a fundraising campaign for them but the lack of spaces for artistic expression and curation in Shillong disheartened her.
Fate would eventually, bring her back to the Meghalaya capital.
"Art from North East India is very modern, interesting and different. I felt that this should be shown on national and international platforms," she said. As she met artists and designers, she felt that an art gallery would be the right platform to showcase their work and give them a voice.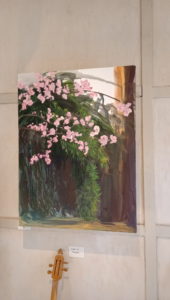 Art Here
Rao finds that art from the region is connected with nature.
"A recurring theme in the works of the artists is nature and it shows in their creations. The younger generation has a very contemporary vibe and is also rooted to the earth," she said.
She also finds the art and designs to be very material-driven rather than being philosophy-driven. "Artists here do not impose a particular philosophy on the material. The approach is to make the most of the material available and with as little wastage as possible. This shows the deep regard for nature that artists and designers have", she said.
For Lyngdoh, returning to Shillong meant looking at home from a new perspective. "People here are so talented. Am in awe of them. It is unfair to see their creations remain in one corner of the world," he said, hoping NEE – "a labour of love" – will help the artists of the region become visible.
Art from this region draws from traditions and folklores but the interpretation of creativity is subjective. Some artists have formal training in art and design from institutes such as Shantiniketan and the National Institute of Design. The artists who have no training intuitively express themselves through their art.
Rao is drawn to minimalism, something that she has seen here. "I am drawn to the minimal aesthetic of the art from the North East, compared to what we traditionally see from the craft perspective. Perhaps, I have unknowingly chosen some of the designers who convey a minimal design language," she said.
The thought pattern of art in the North-east is also very personal in the sense that identity and community are celebrated. The ceramic sculpture titled "Dream" by Marbor Marbaniang, for instance, reflects on his dream to study music which was broken.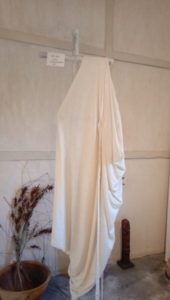 "A Drop in the Ocean"
Rao says NEE is "a drop in the ocean" and they have a long way to go. As curators, the team focuses on the backstories of the art and the artists. "Our role is to give them visibility so that they can share their stories with the world," she said.
Lyngdoh said the process of any artistic creation is fascinating and this is what NEE aims to showcase. For this purpose, they want the gallery to be a space where artists get to know each other. "Conversation is important," he said.
The initiative has three components – art gallery, cultural journal and creative collective.
Rao alluded to a bamboo installation by Kriya Rynjah from Ri-Bhoi district. Baa, in Khasi, is a specific type of bamboo and it took Rynjah two years to complete her project.
Rynjah initially had tableware in mind, but when they began to make collections around her work, they soon realised how different interpretations exist.
As a gallery space, NEE aims at a dialogue between the artists and the audience. "A physical space can be beneficial," she said, underlining the need for artists in Meghalaya to collaborate.
"Yes, a few have gained prominence through their work, but there are those who quietly work in their basements. Hopefully, this changes," she said.
Cultural journal is NEE's online blog and Instagram handle. Here, they focus on the presentation of the work. In other words, it is curated story-telling. They have plans to document folklores from the North-East. Oral culture is a defining element here.
As a creative collective, they are building detailed profiles and catalogues of the artists. This will have a niche audience and is not meant for mass consumption.
Rao also touched upon the risk of artworks being made too exotic.
The collective is conscious in trying to showcase the work that is true to the maker and gives justice to the art. They want the gallery to be a space where artists can externalise their thoughts.
"We are not claiming that this space summarises the whole of the north-eastern region; rather it should push boundaries where artists can take risks. We are a gallery, not a shop," she said.
"Currently, art from this region is seen as a craft object without much focus on the unique identity that shapes the art. While the business side remains, what about the individuality of each creation?" she added.
NEE is more about giving a platform that can inspire people to seek and learn from each other, Lyngdoh said.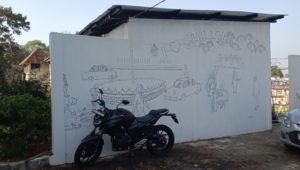 Artists' Response
Daisy Momin, an artist from Tura, feels NEE has started a new journey for the artists. "Her team is really working hard to promote local talents. Her garage gallery is very unique and simple where we have an opportunity to not only showcase our items but also meet each other, share and exchange our ideas," she said.
She further stressed the importance of exposure and how that can mould the artists, designers and craftspeople.
Rynjah called Rao a keen listener interested in knowing "our stories behind the scenes". That someone is interested to know about the process, the ideation and the inspiration goes on to show that NEE is a wonderful start, she said.
"As an artist, this is just what I seek – a space that allows me to tell my story," Rynjah added.
The other thing Rynjah feels is important is how NEE reaches out to artists working in remote villages that have never had their works showcased or understood.
Daniel Syiem feels that the garage "is an entirely new concept of space, especially in our city where artists, designers, musicians and filmmakers can voice out their works; something that is much needed for our locals".
Featured artists like Ibalarihun Mallai, Margaret Zinyu and Andrasphera Kharmawlang echo the same feelings – that an art space is necessary because the talent here is unreached and unappreciated. They feel that many a time, talent goes to waste because there is no platform.