SHILLONG, Jan 17: Chief Minister, Conrad K Sangma on Monday said his government will look into the allegations of illegal mining of coal and its transportation in South Garo Hills.
Earlier, several NGOs had written to the state government demanding actions against the activities.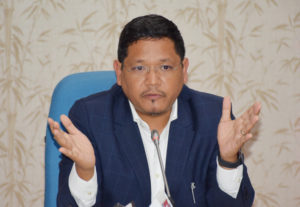 Sangma said the government has issued instructions to the Deputy Commissioner (DC) and the Police department to ensure that nobody indulges in illegal activities, mining or transportation.
"No illegal mining and transportation should take place. Only trucks and organisations with proper legal documents will be allowed," the CM said.
The All India Trinamool Congress tweeted on Monday that party leader Mukul Sangma had inspected a coal dumping ground in South Garo Hills and found evidence of illegal coal mining and transportation.
Recently, the A'chik Holistic Awakening Movement (AHAM) had sought the intervention of Chief Secretary, Rebecca Suchiang for action against government officers allegedly facilitating the transportation of coal extracted illegally in South Garo Hills.
In a complaint submitted to her, AHAM chief George Prince Ch Momin alleged the officers of the departments of Transport and Mining & Geology and the DC of South Garo Hills are illegally allowing M/S Jaimaa Coal Private Limited of Guwahati and others to transport coal from Nongal Jadigittim area of South Garo Hills.
Similarly, another NGO, Constitutional Rights Forum, had claimed about illegal extraction of coal in South Garo Hills and demanded that it is immediately stopped. The forum had alleged that the illegal activity is being allowed by the district administration.