Coal mining can't be stopped completely, says Kharlukhi
'Politicians who do nothing while in power criticise when in the opposition'
SHILLONG, Jan 23: National People's Party state president and Rajya Sabha member, WR Kharlukhi said coal mining cannot be stopped completely and all politicians of the state are to be blamed for the mess it has caused.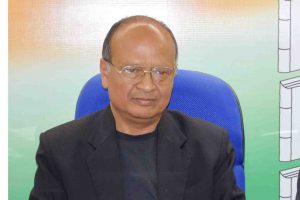 "All the politicians have been in the government, (whether of) Congress or other parties. I accept that we politicians are to be blamed for this and not the people who support the economy of the state. We are not helping them to find a way out," he said Sunday.
Kharlukhi took a swipe at former Chief Minister, Mukul M. Sangma for going hammer and tongs about illegal coal mining and transportation in the state after joining the All India Trinamool Congress.
"He was CM for eight years. He should look back at what he did (about illegal mining) during that period," he said.
Stating that he is not saying the Opposition should not raise the issue, Kharlukhi said, "Politicians are to be blamed for not doing anything. When in the opposition, they turn it into an issue and when ruling, they do nothing. So, we need to discuss and find a way out."
He felt no one should stop people from earning from an area and environmental hazards are cited to stop people from mining. Similar is the issue of pollution associated with the coke plants, he said.
Asserting that he is not supporting illegal activities, Kharlukhi said the generally poor people of the area thrived after the discovery of coal. But the sudden ban without any alternative livelihood spelt disaster for them, compelling them to do what they think is right to eke out a living.
The NPP leader stated coal mining cannot be stopped completely. "The government, NGT (National Green Tribunal) and the people should sit together and find a way out. It is very easy for people in the city to say cry illegal or pollution and not find a solution for the survival of the people," he said.
"Our people will accept if you come with an idea and give them a proper alternative solution. It is easy to give an order but the impact of the order on the lives of the people must be assessed first," Kharlukhi said.
He pointed out that people who used to benefit from all kinds of trades associated with coal mining are now suffering. "We have to see the reality on the ground and make a decision," he said.
Kharlukhi said everyone has been talking about scientific mining and policy. "Research has to be done on the feasibility of mining beyond rat-hole and come out with a policy," he added.