Offline classes are necessary: Rymbui
Government to review COVID-19 situation frequently for decision
SHILLONG, Jan 25: Education Minister, Lahkmen Rymbui said the state government will review the situation frequently to decide if the atmosphere is conducive for resuming regular offline classes in the Shillong agglomeration.
He said the Education Department had on Monday issued a notification to allow offline classes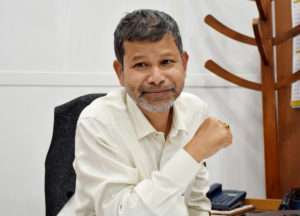 from Class I to Class XII in the rural areas and online classes in the Shillong agglomeration as of now.
"But we will again review the situation in a few days for resuming offline classes in the Shillong agglomeration. I hope that we will be able to start regular offline classes soon," Rymbui told reporters on Tuesday.
He said when all normal activities have started there was no reason why the schools cannot.
"Children need offline education. Classroom teaching must return. I think we need to learn to live with this COVID-19 in the next few years. What I see is that children are now psychologically prepared to go to their classes to learn and not to be the prisoner of the pandemic situation in the state," Rymbui said.
He also observed that people used to question earlier about the lack of vaccines.
"But the response to vaccination is still very poor even though the vaccine for 15 years and above is now available," he said.
Rymbui said the state government has clearly specified the role of the district administration and the governing bodies on all aspects of COVID-19.
On Monday, the Education Department had made a slew of recommendations to the district authorities to consider. The DCs have been empowered to assess the risk locally and decide on reopening of schools, online or offline, taking into consideration COVID-19 cases and in consultation with the district health officials.
According to the recommendations, a task force committee headed by the DC may be constituted to monitor the resumption and safe operations of schools. The task force has been empowered to assess the COVID-19 situation and the feasibility of schools or college reopening.
In another notification, the Education Department said March 12, 2022, will be the end date for the academic session 2021 for Class I to Class XII and the entire syllabus should be completed accordingly.
It also said the assessment for all levels will be based on the entire syllabus.
Rymbui said examinations to be conducted by the Meghalaya Board of School Education will be held as scheduled.