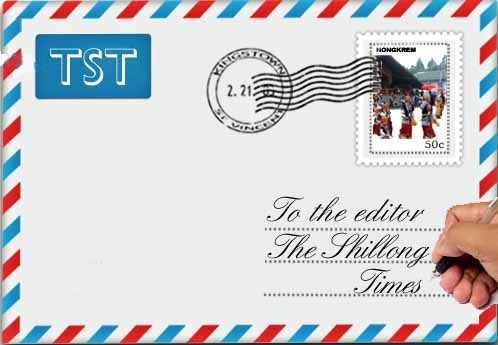 Editor,
Apropos of the editorial "Giving the devil his due" (ST Match 22, 2022), it is plain truth put forth by the editor on the border differences between Assam and Meghalaya that "the leaders of the Hill State Movement and those succeeding them have to shoulder the blame for not paying due attention to the matter before the State was carved out of Assam". Truly the vision of these leaders was missing. Could it be that they were too excited they got the State and subsequently power? I have with me a copy of the letter No.60-PMO/79 dated New Delhi January 5, 1979 written by late Shri Morarji Desai, Hon'ble Prime Minister of India which was addressed to the Hon'ble Chief Minister Meghalaya, late Darwin Diengdoh Pugh wherein the Prime Minister of India advised the Chief Minister thus, "In your case it should be easier still as most of the disputes relate to physical demarcation of the boundary in accordance with accepted survey maps. The services of the Survey of India could be utilized by you to get the boundary demarcated clearly on the ground. Any other assistance you may need from us in this regard will also be made available". If Mr Pugh had taken follow up action on the advice of the then Prime Minister, the so called border dispute that we are talking about today could have been solved 43 years ago. But politicking ensured that Pugh's APHLC led government which lasted only for 1 year 57 days from 10 March 1978 to 6th May 1979 was brought down by none but an APHLC leader himself on May 6, 1979. The matter ended there without any further action but eventually was followed up by as the Editor put it by "Several rounds of talks held at the level of the Chief Secretaries of Assam and Meghalaya but with little or no outcomes".
This reminds me of Ayn Rand a Russian-born American author and philosopher in her book "Atlas Shrugged" when she said "The bureaucrat's tool is fear and fear of the unknown while the businessman's tool is an incentive and an economic value".
Having extensively toured the lowlands of of West Khasi Hills contiguous to Kamrup District specifically in the Rambrai-Jyrngam region from 1996-1998 when the NEC contemplated to study the feasibility of linking Rambrai by an inter-state road to Chaygoan in Kamrup District, Assam and between 2012 and 2021 for political purposes, I would vouch for the statement of the editor "Border residents usually prefers to have amorphous boundaries that allow them to take advantage of opportunities from both States. Border residents as much as anyone else in the far flung areas of Meghalaya want better roads so they can market their farm produce more efficiently. Meghalaya should have used soft skills to give border residents the necessary identity documents but as some residents have themselves stated, it is always more difficult to get their Aadhar cards or EPIC from Meghalaya side whereas Assam facilitates that process". I agree hundred percent with the editor that " Border issues should stop being a political football and politicians should stop making political capital out of human misery which is what the residents at the borders face".
The MDA government led by Chief Minister, Conrad Sangma deserves applause for the initiative he has taken to get the border dispute with Assam resolved amicably when all the past leaders be it the APHLC, Congress, HPU and UDP failed miserably but entrusted the task to, in the words of Mary Clark, Economist, UNIFAD, "God in a small Kingdom", without any outcome for the last fifty years.
Conrad's government has been transparent and accommodative to consultation with stakeholders in trying to get over this big headache which he inherited from the past for lack of action then. I hope under his stewardship the borders are finally and properly demarcated by ensuring that 12.18 % of the geographical area of Meghalaya under differences with Assam is secured in the interest of peace and development along the 885 KM border with Assam and for a good neighbourly relation with the people of Assam. I wish him well in his endeavour. It is heartening that his government has earmarked Rs 5 crore for the development of inter-state border areas of Meghalaya contiguous to Assam. However this amount needs to be enhanced to Rs 100 crore in the years to come. Further, the government of Meghalaya should also engage consultants who can prepare viable schemes and projects for infrastructure development for the people residing in the border areas of Assam-Meghalaya.
There is no dearth of fund from the Government of India from Non-Lapsable Central Pool of Resources(NLCPR) and the 10% Gross Budgetary Support(GBS) of 54 Ministries of the Government of India which is meant for the development of the NE Region. The kind of resources from these two sources annually is to the tune of Rs 60,000 to 70,000 crore. This money should be tapped by having in place good economically viable projects for development of border areas which will give a boost to the rural border economy.
Yours etc
V.K.Lyngdoh,
Via email
PUC Certificates
Editor,
Pollution under Control (PUC) certificate is an important document that any vehicle owner should have, along-with valid car registration and insurance documents. However, getting a PUC certificate (PUCC), which is required every six or twelve months, is not easy in a place like Shillong, Guwahati, etc. The PUC certificate issuing stations are very few, compared to the vehicle population in these cities. For the convenience of the law- abiding citizens, the following few suggestions are offered for acceptance by the State and Union Governments: (1) Those who are otherwise regular in updating/getting PUC certificate, but unable to get the latest one on time should not be penalized, but should be directed to get the PUCC at the earliest. (2) Vehicle owners may be allowed to get a PUCC certificate in advance, but the PUCC can be considered effective from the next due date (just like in car insurance) for a fresh PUCC. (3) A grace period of 21 days may be allowed from the last due date to get a new/fresh PUCC. (4) It would be even better if getting PUCC is done away with, and random checks are introduced to check pollution emitted by vehicles.
Yours etc.,
D Bhutia,
Guwahatia