Shesher Kabita and Brookside
Uma Purkayastha waxes eloquent on a classic novel by Nobel laureate Rabindranath Tagore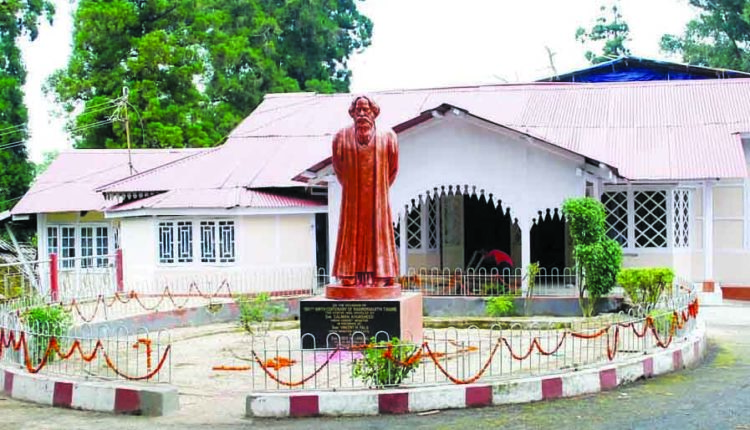 Shillong, specifically Brookside Bungalow plays an important role in Shesher Kabita, a classic novel by Nobel laureate Rabindranath Tagore.
The bungalow finds no mention in the book but its natural surroundings – the eucalyptus and pine trees – mentioned in several chapters riding the sweet and tragic memories of Amit and Labanya, the lead characters of the novel.
One of Shillong's landmarks, Brookside is an isolated bungalow situated on a zig-zag road, surrounded by hillocks and with the cool, meandering and gurgling Umshyrpi flowing past. The serenity of the area creates an atmosphere of meditation for philosophers and thinkers. No wonder, Tagore was captivated during his first visit to Shillong in 1919.
Tagore's love for nature and the solitude that Brookside offered rejuvenated him and lessened his agony during his three-week stay. In the poetic environs of Shillong, he regained his lost youth and created the romantic 'Shesher Kabita' that travels from love at first sight for the hero and ends in a tragic farewell.
During that time, Tagore did not compose any new novels, dramas or poems. But it is more than certain that he sketched the entire plot of Shesher Kabita in Shillong. The English version of the book, translated by Krishna Kripalini in 1956, is titled 'Farewell, My Friend'.
Here are some excerpts from the book:
'Amit Roy, a very smart and stylish England returned young Barrister from Calcutta, came to visit Shillong to enjoy the solitude of the hills. His father was also a formidable Barrister in Calcutta who left enough patrimony. The family was over sophisticated with which Amit could not compromise.
Amit had two sisters whose pet names were Cessie and Lissie; from head to heel they were absolutely the latest brand… Amit maintained a gulf of difference with them in his style and smartness.
'Being disgusted with city life, Amit reached Shillong to spend the days in idle fancying and sight-seeing, etc. He was a born philosopher and poet, and a great lover of the Sanskrit poet Kalidasa.
While Amit was driving his car through a zigzag road, on the Shillong hill, reached a blind curve and suddenly saw a car rushing up the opposite way. There was no room to pass. Amit pulled the brake but before it could work, there was a big collision! But no catastrophe!
'The other car jerked back a little and came to rest against the mountainside. A maiden stepped out of the car and halted. She was clad in a white sari. Amit saw a rare vision! A unique serene beauty! Against the sombre background of imminent death, she flashed like a figure etched by lightning-luminously isolated from the surrounding gloom.
'Leaving his hat inside the car, Amit came out and stood before her, speechless like one awaiting punishment. The maiden seemed touched by this pose of helplessness! At last, Amit managed to mumble, "I'm sorry, I bungled".
'She laughed. "No bungling. Just a mishap, and I started it"… By way of apology the girl added,
Though the car had not been seriously damaged, it would take some time to get into running order; and Amit humbly proposed to reach the girl to her destined place; she agreed after mild hesitation.
'That was the first introduction and the girl named Labanya requested Amit to visit their place sometimes.
'Here is the first meeting of Amit and Labanya, which led to the rapid romantic development of the couple, but cruel destiny could not unite them.
'Amit became a regular visitor to Labanya's place. Yogamaya, aunt of Labanya, her guardian also heartily liked Amit for his refined, gentle smartness and for his wise literary discussions in particular.
Though Labanya was very reserved and limited in her emotional expression, she cherished a good respectful love for Amit, the philosopher. Yogayamaya inspired her not to disregard such a genius as Amit.
'Gradually, the relation between Amit and Labanya became closer, their reciprocal address was shortened to 'Mita' and 'Banya' which were confined to them only; and a day came Yogamaya, overwhelmed with joy taking Labanya's right hand and placed it over Amit's hand, blessed "May your union abide". Amit and Labanya bowed to Yogamaya. It was settled that the wedding would take place very shortly.
'While Amit was floating upon joy and imaginations on new, new, colourful plans and ideas to make their wedded life something special, a great disaster was brewing! Amit's sister Cissie and her friend Katie Mitter, hurried to Shillong to enquire about Amit. Amit reported it to Labanya and uttered, "My paradise is lost! Farewell to my unfurnished heaven!'
'Katie and Cissie paid a surprise visit to Labanya's house and there was some misunderstanding! The ultra-modern unmannerly ladies showed a very indecent and insulting attitude towards Yogamaya and Labanya. Yogamaya felt embarrassed! At that critical moment, Amit reached there, could study the situation; and ignoring his sister and her friend, entered inside to take Labanya in his clasp, introduced her to Katie and Cissie and declared that they were going to be wedded by the next month. Here is the big collision!
'Blood rushed to Katie's head, her eyes became red and she felt like kicking the very ground under her feet. Actually, long back Amit had an affair with Katie and he presented her with a gold ring as a token of their love.
'Amit could not make it clear to Labanya that long years back, the person on whose finger he had put the ring, and the person who flung it back today – are not the same! There was a gulf of difference with which Amit could not compromise! Amit could find his dream life partner in Labanya which he could not part with.
'Labanya could realise the pain in Katie and she could not compromise with Amit's argument, rather advised him very coolly to attend to Katie and Cissie and to take them for a week's trip to Cherrapunjee to keep Katie amused. Labanya, all through, advocated in favour of Katie's womanly sentiment, which, she felt, was ignored by Amit. Labanya appealed that the inner bond between them (Amit and Labanya) did not wait for any token or proof, it was something heavenly and immortal! 'Let my love be untainted by any external mark or shadow'. She exclaimed!
'With the fullness of her love, Labanya requested Amit to accompany his sister and her friend.
Amit returned after seven days from Cherrapunjee and rushed to Labanya, but found the house was closed! Everyone had left! There was nothing to indicate where they had gone. Amit stood under the familiar Eucalyptus tree; with a bleak heart and began to pace to and fro. The familiar gardener came and saluted and asked, "Shall I open the house? Would you like to go in?"
'Yes, replied Amit, after a slight hesitation.
'He went into Labanya's sitting room. The table chair and shelf were there, but the books were missing. A damp emptiness filled the room, unable to answer his questions, held in a trance that would never be broken. Amit could find solace nowhere! He wrote his last words to Labanya:
'Invisible, your image unchanging
in my eyes, In the unseen chamber
of my heart, you abide forever.
I've found the stone that turns
all into gold, The void in me
you yourself have filled,
Dark was life when I discovered
you in the heart's shrine
The lighted lamp you had left
as your parting gift.
Separation, like sacred fire, revealed,
in the glow of sorrow
Love's image divine'.
Mita
Ultimately Amit was married to Katie. Amit says, "What binds me to Katie, is love, but this love is like fixed water in a vessel; which I shall daily draw and use; but the love which enchants me towards Labanya is boundless and vast as an ocean which cannot be brought indoors… my heart will swim there eternally'…
'After a few months, Amit received an invitation card of Labanya's marriage, along with a letter in verse from Labanya, addressed to Amit, as (only the last few lines, original in Bengali):
Dear friend, can you hear
the wheels of time?
Rolling in ceaseless motion.
These ruthless wheels have
Torn me from your side
And flung me far away,
Across a thousand deaths,
The supreme truth of my being this,
My Love, death-conquering, My gift to you imperishable, unchanging Immortal! Let me be borne away by the changing tide… The gift remains. My friend, farewell!
What I gave you was your own gift.
Fuller your acceptance, the deeper my debt!
Farewell My Friend, Farewell"!
Banya
The story ends here with the poet weaving their immortal love through separation.
Shesher Kabita was completed and published by Tagore in 1928, but there is no doubt that the germination of the novel happened during his stay in Brookside Bungalow nine years before. The description of the blind curve where Amit and Labanya met during a collision fits Rilbong's Zigzag Road to a T.