By Priyan R Naik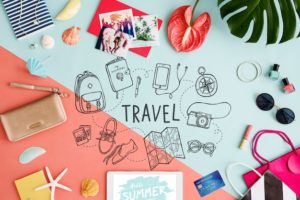 I had always wanted to visit Dawki for its Umngot river, touted as the cleanest river in Asia, a waterbody so clear and pristine that even rocks, pebbles and fish swimming in it can be seen clearly.
Covering the 100 odd picturesque kilometres to Dawki, I reached in the afternoon. Shortly,a friend of the driver got into the taxi. Initially, I thought he was  hitching a ride but later when he began a conversation,I learnt he was a boatman. Not too bad, I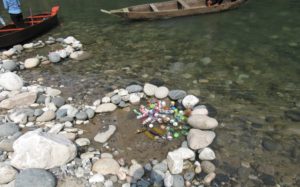 thought to myself, as I wanted to do some boating anyway and he sounded as proficient as any other.  The driver, meanwhile, was looking excited, pointing towards the verdant Bangladeshi plains and exclaiming "Pakistan,Pakistan!". Desperately needing a lesson in history, I left it to the boatman to teach him how East Pakistan was now Bangladesh, the other Bengal that got separated from India during Partition.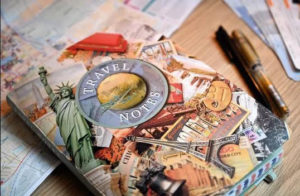 The Umngot river flows between the Jaintia and the Khasi Hills, forming a separation between the two. I realised that Firstborn, my oarsman, belonged to the East Khasi Hills boatman fraternity and operated under the Umngot River Tourism & Development Society. He made me get down a very steep bank with an oversized staircase that had temporary ropes tied from end to end, which one needed to hold onto for their dear life. After taking me to a pay point and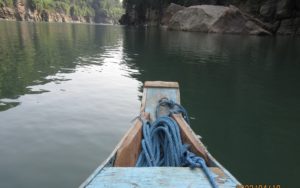 assigning a boat chosen from several colourful contraptions bobbing on the waterfront, we were ready to set off. The boat had water in it but I was assured the boatman would scoop it out periodically and there was nothing to worry about. Our boat did not have any life jackets either, but since I've been a fine swimmer all my life, I didn't insist on demanding one.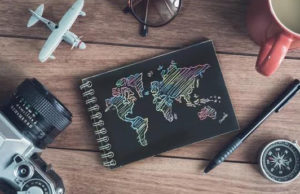 Boating in the Umngot was enchanting. I could see the bottom of the lake. This mountain-fed water body is rich blue-green and looks like a translucent emerald glistening in the sun. The boats passing by seemed to be floating on a glass surface. Occasionally, the waterbed looked murky, when the boatman explained that only winter mornings are ideal for the clearest view of the bed.  A single-span suspension bridge built in British times joined the hill ranges. Going under the bridge and looking at the suspended girders from below was thrilling.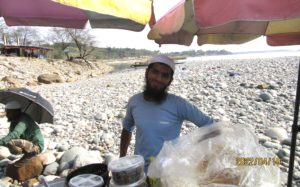 Firstborn too was enjoying himself, stripping off his shirt, rowing bare bodied and he began humming a Khasi folk song.  After a  short ride upstream, we landed on an island  with hawkers lined up selling Bangladeshi biscuits and wafers. What a treat, I thought!
The Dawki road leads to Bangladesh's Tamabil and even further on to Sylhet, the northeastern district of Bangladesh. I could spot a number of BSF personnel at the border checkpoint and barbed wire fencing everywhere.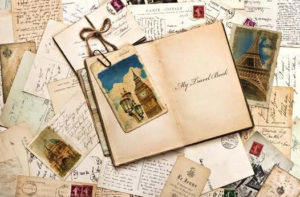 At the rival boating point sponsored by the Jaintia hills society, I could walk down the river bank to a long arch of Bangladeshi hawkers equipped with umbrella stands hawking spiced puffed rice or jhalmuri and berry pickles. There were no boundary lines or fences on this highly porous border. One bearded man got talking, "Each morning we come from a neighbouring Bangladeshi village and yes, we accept Indian currency". Our cordial banter made me feel like an ambassador of Indo- Bangladesh friendship!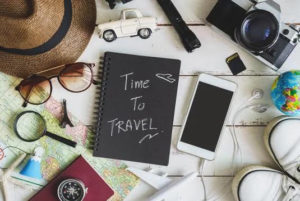 At one point during my boatride, as I peered into my (digital) watch I found that time on my watch was half-an-hour faster than what it should be. It was only recently that I had got my watch repaired and now upon my return to Bengaluru, I would have to go claim a warranty. For a moment, I had ceded all faith in technology only to realise much later that my watch had automatically adjusted itself to Bangladesh's local time. On my way back from Dawki, the watch resumed to local time in Meghalaya once again.
Like the Dawki Lake, Bengaluru too has the Ulsoor Lake, only one would dare not call it pristine. Constructed during the 17th century, it was a source of water supply to the city. Be it wintry mornings or even the best of conditions, the Lake's murky green waters would never permit you to see the lake bed !
                                                                   *************
Priyan R Naik is a columnist and a freelance journalist living in Bengaluru, India. His work appears in the Deccan Herald, Ceylon Today of Colombo, Hindustan Times, The Hindu, Hindu Business Line, Times of India, Navhind Times and the Daily Star of Dhaka.