Drug abuse among Shillong, Tura kids alarming, says CM
Conrad Sangma announces a five-point action plan for combating substance abuse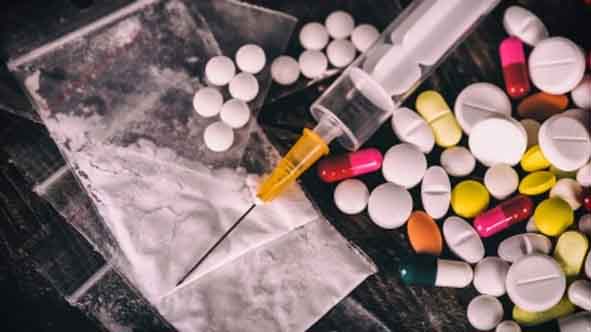 SHILLONG, June 25: Chief Minister Conrad K Sangma on Saturday said Shillong, Tura, Jowai and Baghmara have been identified as Meghalaya's most vulnerable towns in terms of tobacco and heroin abuse among children.
Opium is the most abused substance across the state, he said.
"The government intends to wage an all-out war against drug abuse in collaboration with all the stakeholders and stringent punishment will be meted out to drug smugglers, peddlers and traders," Sangma said in a message read out at a programme marking the International Day Against Drug Abuse.
"It is high time to take effective and resolute steps to stop the availability of these drugs in the state through vigil on the borders through joint operations by the state police, BSF, Customs and Narcotics Control departments and other agencies," he added.
The Chief Minister said the government is committed to increasing and improving surveillance around schools and colleges to ensure tobacco-free educational institutes. Out of a target of 14,744 schools, 10,311 have so far conducted 49,723 campaigns to become tobacco-free, he said.
"To tackle opioid abuse, the government has set up harm reduction and OST (opioid substitution therapy) centres in East Khasi Hills, East Jaintia Hills and West Jaintia Hills. Currently, there are seven OST centres running in the state, and satellite OST centres will be set up in the civil hospitals of Nongpoh and Nongstoin," he said. "We expect the roll-out of these centres by September this year," he added.
Admitting that tackling detoxification without rehabilitation could lead to further substance abuse, Sangma said rehabilitation without detoxification has rarely been successful.
"There are 11 rehabilitation and de-addiction centres in the state, and five detoxification centres are working through the civil hospitals and MIMHANS, Shillong providing OPD and IPD services. Additionally, the government is providing grant-in-aid to 31 NGOs for carrying out multiple and diverse activities under the campaign against drug abuse for 2021-2022," he said.
He said the existing centres for counselling, de-addiction, harm reduction, and outreach and drop-in will be strengthened along with the setting up of a de-addiction centre each in Jowai, Nongstoin and Mawkasiang. Detoxification centres with IPD services would start in Baghmara, a vulnerable district.
"We need to make sure that our war against drugs starts with awareness, consolidates itself with the strengthening of drug supply reduction strategies and reaches its objective through total community participation," Sangma said.
The CM also said the state government has come up with a comprehensive five-point State Action Plan and is constituting a Group of Ministers to implement it.
"For the effective implementation of Meghalaya Drug Abuse Policy 2020-21, I have recently chaired a meeting with all the departments concerned," his message read.
He said the government is appointing a woman IPS officer as the state nodal officer for leading the efforts under the campaign by coordinating with all departments and agencies concerned.
Stating that the government will also create a state corpus fund to avoid procedural delays in the immediate launch of the plan, Sangma said: "Community-led institutions will be promoted in vulnerable districts to ensure that the aspirations and the concerns of the community are reflected and worked on to alleviate issues in their localities and towns."
"We will also promote grassroots-level research on the issue of drug abuse and develop a robust mechanism for the implementation of innovative ideas and practices for the fight against drug abuse," he added.