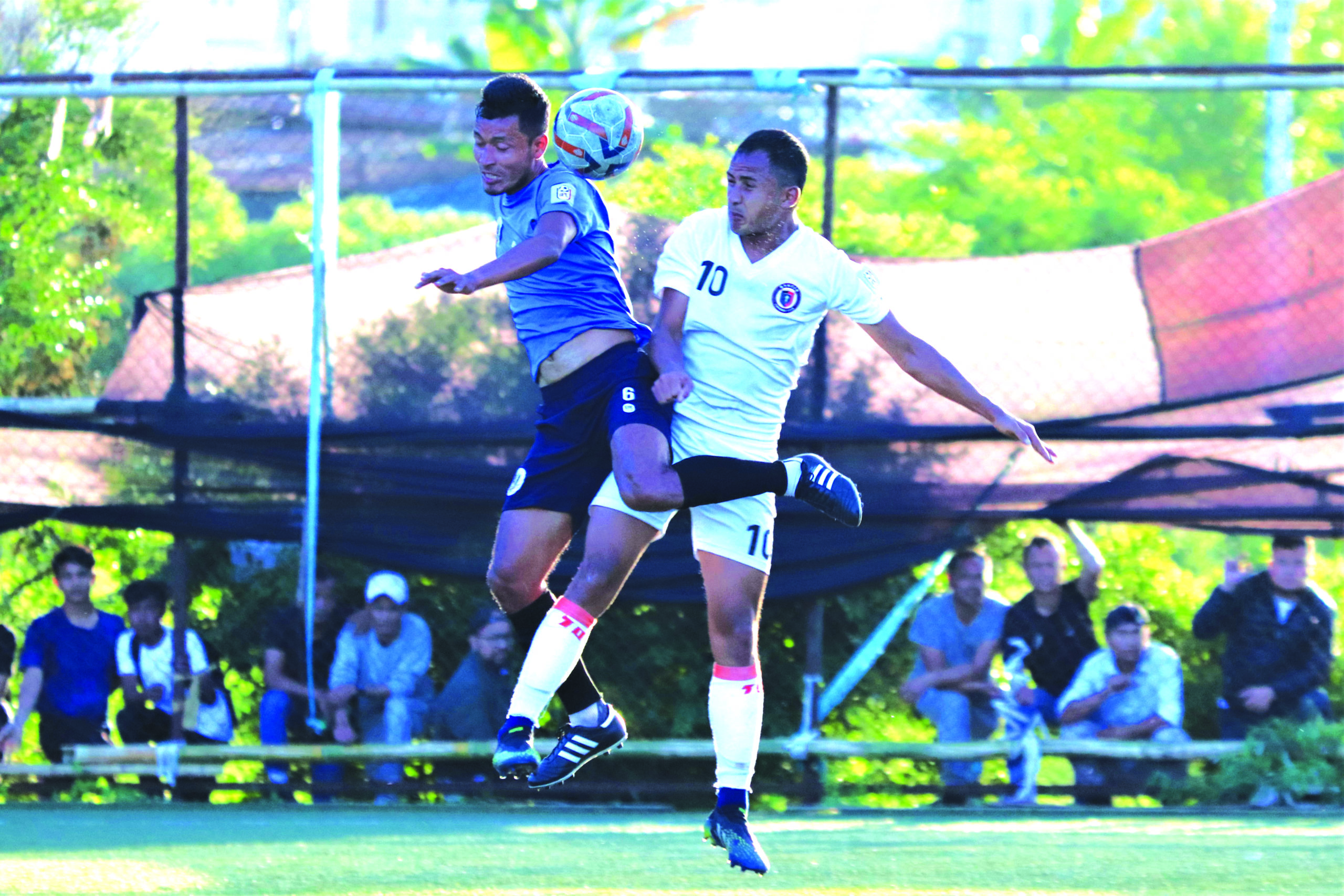 By Our Reporter
Shillong, June 25: Rangdajied United FC managed to dish out a narrow 1-0 win over Ryntih SC in the eighth match of the Shillong Premier League 2021-22 at Third Ground, Polo, on Saturday.
The match between the two sides was the last of the second round.
Rangdajied's Donboklang Lyngdoh scored the fastest goal of the season so far in only the fifth minute before finishing with a 1-0 result.
Ryntih had won their opening match against Malki 3-0 while Rangdajied drew their game against Mawkhar 1-1.
RUFC started aggressively, with Chesterpaul Lyngdoh striking the side netting in the fourth minute with an attempt to lob over Ryntih's goalkeeper, Eric Nongkhlaw.
A minute later, Donboklang benefited from a ball given away by Ryntih, found some space for himself at distance and, with Nongkhlaw slightly off his line, was able to crack the ball into the back of the net.
Ryntih then responded with attempts of their own, with three for Badon Kupar Marbaniang in the space of five minutes, but all of these were off the mark.
After a frenetic start, the match began to settle down a little thereafter, though a couple of good chances were created by Rangdajied, with Chesterpaul in the thick of the action on both occasions – he provided a cross on the run in the first but Donboklang went high and the second saw Chesterpaul head over the crossbar.
It was Ryntih who threw everything they could to get a goal in the second half but, in fact, Rangdajied had the better opportunities, including four back-to-back corners early on.
Several different RUFC players had a go on goal – Knerktilang Buam, Atlanson Kharmaw and Raikutshisha Buam – but none were on target.
Wanlamsuk Nongkhlaw produced a solid strike on goal but Ryntih defender Restom Khriam threw himself into a slide to put the ball out.
Ryntih also drew a few gasps from the crowd, with a Robert Khongjoh attempt blocked by the opposition goalie Banshanlang Sten in the 61st minute.
At the end of the game, Khongjoh produced a scintillating cross but substitute Bickyson Kharkongor could not convert, with yet another Ryntih shot missing the mark.
Rangdajied fought hard to scrape through with a less than convincing win, but also allowing them their first three points of the SPL 2021-22.
On Monday, Mawlai will be up against Langsning at 4pm in the first match of the third round.