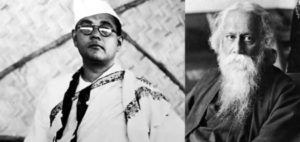 Netaji Subhas Chandra Bose and Rabindranath Tagore, the two towering personalities of India principally shared a formal relationship, otherwise fond and affectionate of each other. Tagore's literary works had touched and inspired Bose deeply and would recite them in his school in Cuttack.
Awaiting the perfect time, while Bose was a student at Presidency College, Calcutta, he went to Shantiniketan for a rendezvous with the great poet. After an initial debate on ideas of liberty of the motherland, Bose was somehow discouraged by his thoughts. Rabindranath advised him to devote his youthful energy to the development of villages rather than acting out of impassioned energy in the name of emancipation of the motherland, which would only invite degradation to the future generations.
Even though Bose did not outrightly reject Tagore's ideas, he was not entirely convinced either with the Bard's principles.However, within a short period, circumstances compelled Bose to revolt against Prof. Oaten of the Presidency College who had made disparaging remarks on Indian students derogating their forefathers. This incident had hurt and offended many students deeply, especially the young and fiery Bose.
Based on his ideology of passion and action, Prof. Oaten was battered by the aggrieved students under the leadership of Bose; and as a result was expelled from college. This incident sent shock waves in college and disturbed the calm ethos within the Institution. Many deliberations took place among thinkers and the intellectual elites of the city, who opined and declared it an inexplicable occurrence. Even the bard extraordinaire, Tagore commented:
"No crime is more heinous than assaulting one's own Teacher! But if a teacher committed a sacrilege of insulting the student's motherland, the student has every right to consider it a greater duty to be loyal to his motherland and take suitable action against the teacher". (Ref:- Modern Review, April 1916)
Tagore, an otherwise strict disciplinarian, did not morally support the ugly incident of assaulting a teacher; but he heartily appreciated the noble spirit of patriotism behind the incident, and pleaded for Bose boldly.
Tagore's remark aided in relieving Bose from the expulsion order, which was moved by Sir Ashutosh Mukherjee, then Vice Chancellor, Calcutta University 1916.
Bose gratefully acknowledged Tagore's contribution; but could not concede to the bard's principle of non-violence for his future activities.
After qualifying the Indian Civil Services (ICS), Bose submitted his resignation letter to the British Government on April 22, 1921, followed by the heinous incident of Jallianwala Bagh Massacre (1919), and cherished a great disgrace against the British Government. The photograph of the original letter is given below:-
Collected from Google
The letters reads as:-
16 Herbert Street,
Cambridge
22.4.1921.
Mr, Right Hon.E.S Nconligue MP,
Secretary of state for India
Sir,
I desire to have my name removed from the list of probationers in the Indian Civil Services.
I may state in this connection that I was selected as a result of an open competitive examination held in August 1920.
I have received an allowance of £100 (one hundred pounds only) up till now. I shall remit the amount to the Indian Office as soon as my resignation is accepted.
I have the honour to be Sir,
Your most obedient servant
  Subhas Chandra Bose
It is mentionable here that during the British period, it was a mandatory practice to sign off with  'Your most obedient servant' for any official letter, otherwise they would not be accepted.
For the determined person as he was known to be, Bose had resolved never to serve under the British Government, but cleared the I.C.S only to keep the promise made to his parents.
Bose's resignation was criticised immensely, many who called it 'a whimsical decision' but Tagore appreciated Bose's decision and intent. He offered Bose his sincere congratulations for having resigned so bravely from the I.C.S.
Since the very day of his resignation from I.C.S in 1921, the British Government enlisted Subhas Chandra Bose as their arch rival and accordingly, he was first arrested by the British on Christmas Day of 1921, for successfully organising a boycott against the visit of the Prince of Wales to India, and was thereby sentenced to six months of imprisonment.
This was followed by another arrest in 1924, in an attempt to stop free movement and activities, and this time to Mandalay Jail, in far away Burma (now Myanmar) to avoid local agitation against his arrest.
Bose's health deteriorated in Mandalay owing to a poor diet and unsuitable atmosphere. Incessant fasting resulted in him losing 20 pounds of his weight but despite weakness, he joined the hunger strike to protest against the humiliation they faced and demanded for legal rights. Bose became seriously ill due to prolonged malnutrition; and contracted tuberculosis. The British Raj eventually released him under surveillance for proper medical treatment, and it was then that Dr. Bidhan Chandra Roy advised Bose to go to Shillong, a beautiful natural sanatorium to regain his health.
On June 12, 1927, Bose came to Shillong to recuperate and spent more than four months in 'Kelsall Lodge' (present Oakland) Shillong, till his physical recovery.
It is very interesting to mention that during the same period Tagore also visited Shillong during June 1927, and spent a good number of days in 'Solomon Villa', Upland Road Laitumkhrah Shillong; but there is no record of meeting between the two great leaders. It seems there were political restrictions which could not be ignored; but it is also believed that Tagore prayed for Bose's speedy recovery.
Things took a turn in 1928, when Tagore strongly opposed Bose's agitation in the City College Hostel, Calcutta over religious rights of the students performing Saraswati Puja in the college complex.
  Tagore's opposing views against Bose's movement was published in the Modern Review; which was not received well by Bose, who countered them with strong logical arguments. This in turn outraged Tagore, which caused a dent between the two.
Politically poles apart, Bose shared great regard for the great poet in every step of his dreadfully adventurous life. He was most inspired by Tagore's song:-
'Jodi Tor Dak Sune Keu Na Asse
Tobey Ekla Cholo Re'….
i.e 'If no one answers your call,
Then walk alone,
(be not afraid) walk alone my friend.'
   With an age gap of 36 years between the two, the bond shared was rather unpredictable to most. In 1938, when Bose resigned from the Congress Presidentship due to unfair political drama of Gandhiji, Tagore grumbled, and strongly argued with both Gandhi and Nehru in favour of Bose.
Tagore was deeply hurt by the conspiracy of Gandhiji towards Bose and expressed his whole hearted solidarity with him by writing a letter:
"The dignity and forbearance which you have shown in the midst of a most aggravating situation has won my admiration and confidence in your leadership. The same perfect decorum has still to be maintained by Bengal for the sake of her own self-respect; and thereby to help to turn your apparent defeat into a permanent victory".
  Following this incident, Tagore wrote his article, 'Deshnayak' in January 1939, where he greeted Bose as the leader of the country. In his words:-
''Subhas Chandra,
I am a poet of Bengal. On behalf of Bengal, I greet you as the 'Leader of the leaders' of the country! You have shouldered the sorrow and distress of the country as your own! Liberty is advancing carrying the crown and glory for you''.
[Translated from 'Deshnayak' Rabindranath Tagore 1939]
It was on January 16, 1941, that Bose, under house arrest at his Elgin Street House, Calcutta, mysteriously disappeared! An ailing Tagore was deeply shocked. He expressed his worry to Sarat Chandra Bose over a telegraphic message, and conveyed his sympathy to his mother, especially. Within seven months Tagore passed away.
Though Bose and Tagore seemingly shared a strained relationship pertaining to political affairs, otherwise, they were affectionate and loved each other. Bose even admitted that though on his first meeting with Tagore he was dampened by his advice on liberty, he realised the potency of his advice much later.
Tagore also realised the intense patriotic spirit in Bose; from the very start of his college life and cherished it, even though he maintained his own dignity and principle, externally.
The mutual affection between two national heroes was obvious at the time both of them succumbed to serious illness. When Tagore fell ill in New Haven, Connecticut, United States in 1939, Bose sent a telegraphic message :
'City of Calcutta is anxious about your illness. On behalf of the citizens I wish speedy recovery and a safe return home.
Subhas'
Tagore was overwhelmed with Subhas Chandra's love, and wired back.
   'Thank you Subhas. I feel much better.
              Rabindranath'