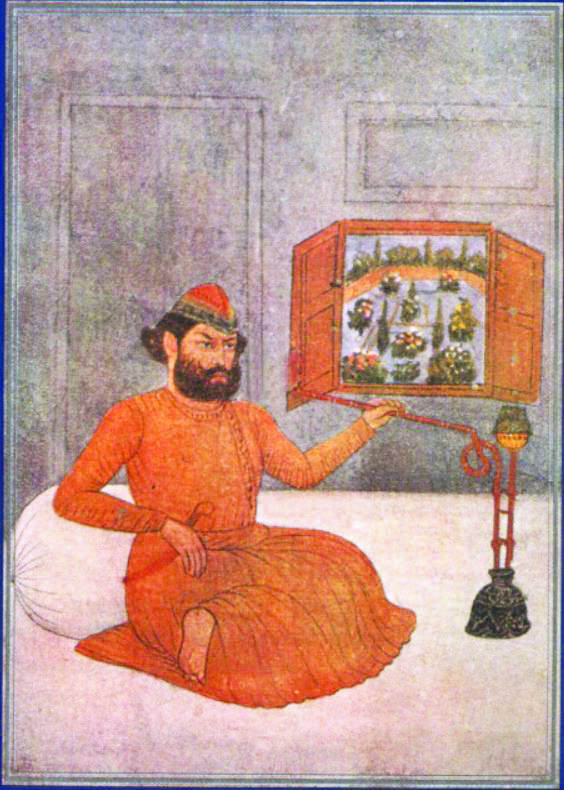 By Vikas Datta
Whenever lyricists of Bollywood or Lollywood seemed stuck for the beginning of a song, they could always turn to Mir. One of his most famous ghazals Patta patta boota boota haal hamare jaane hain was used in both Chirag Jalta Raha (1962, starring Mohammad Ali and Zeba) and Ek Nazar (1972, starring Amitabh Bachchan and Jaya Bhaduri) — though with different lyrics after the first couplet.
That was the intrinsic — and enduring — talent of Mir Taqi 'Mir', who was a poet both for, and ahead of, his times.
Born in February 1723 — though the date is not known — making this his 300th birth anniversary, he was an undoubted pioneer of the development of the Urdu language and various forms of its poetry, with a major part of his life being spent in both its hubs – late Mughal Delhi and Nawabi Lucknow.
Along with this, he also fashioned a modern ethos for Urdu poetry — one recognising the diversity of his land and its people, of principles of faith transcending outward appearances and rituals, and of the centrality of the individual in the framework of the natural universe and human organisation.
If all this was not all, Mir displayed an ingrained and refined aesthetic sensibility in depicting various facets of the human condition — especially love and beauty — and mysteries of existence, with a restrained melancholy, but a rhythmic cadence which bears comparison with Shakespeare and Omar Khayyam.
Us ke farogh-e-husn se jhamke hai sab mein nur / Sham-e-Haram ho ya ho diya Somnath ka is an 'illuminating' and eloquent evocation to the intricately entwined strands of the Ganga-Jamni tehzeeb, but 'Mir' gives us much more in this vein, and sometimes, more daringly subversive.
Kis ko kehte hai nahi main jaanta islam-o-kufr / Dair ho ya Kaaba matlab mujhko tere dar se hai, Labrez jalwa us ka saara jahan mein yaani / Sari hai voh haqeeqat jaave nazar jahan tak, or Dekhi hai jab se us but-e-kafir ki shakal 'Mir' / Jaata nahi hai jee tanik islam ki taraf.
And then there is 'Mir' ke deen-o-mazhab ko ab puchte kya ho un ne to / Qashqa khiinche, dair mein baithaa, kab kaa tark islam kiya but also Kiska Kaaba, kaisa qibla kaun haram hai kya ahram / Kuche ke us ke bashindon ne sab ko yahin se salaam kiya.
Some of these couplets, as per critics Khurshidul Islam and Ralph Russell, "deliberately calculated to outrage the narrowly orthodox, but their real intention is to assert as forcefully as possible that true religion, including true Islam, demands the love and worship of beauty as an aspect of the love and worship of God".
And while most of his poetry is about love – and for a variation, warnings against getting caught up in it, Mir also sought to inspire humans about their potential and purpose: Mat sahal hamein jaano phirta hain falak barson / Tab khaak ke parde se insaan nikalta hai, Ab aise hai ke sana ke mizaaj upar bahm pahunche / Jo khaatir khwah apne ham huye hote to kya hote and Ilahi kaise hote hai jinhein hai bandagi khwaish / Hamen to sharm daman geer hoti hai khuda hote.
His poetry was praised by his celebrated successor Mirza Asadullah Khan 'Ghalib' with Rekhta ke tum hi ustad nahi ho 'Ghalib'/Kehte hai agle zamane mein koi 'Mir' bhi tha.
They, however, differed on a cast-out lover's fate! Mir confessed Yun uthe aah us gali se ham/Jaise koi jahan se uthta ha and Ghalib complained Nikalna Khuld se Adam ka sunte aai hai lekin/Bohot be-abru hokar tere kooche se ham nikle.
Mir was also more prolific in his 87-year-life span, with over 1,900 ghazals, like the memorable Ulti ho gayi sab tadbeerein.., in six voluminous diwans which also have a significant number of masnavis, rubais, qasidas and more (Ghalib's fame rests on 234 ghazals in his 72 years)..
Then in Persian, there is more poetry, Nukat-us-Shura, a biographical dictionary of contemporary Urdu poets, Faiz-e-Mir, containing stories of sufis and fakirs, meant for his son's education, and Zikr-e-Mir, an autobiography — which is not a very reliable account of his life as it conceals more it reveals but gives a good feel of turbulent 18th century North India, where the once-mighty Mughal empire was powerless, and invaders — internal and external — looted and massacred Delhi with impunity.
It also paints a colourful view of Asaf-ud-Daula's Lucknow — which gave him refuge but not the entire reverence he sought. It ends with a collection of anecdotes — some of which are rather racy and salacious!
But it in his ghazals that Mir holds his own, with a sense of agency and identity in them keeping them contemporary.
Ever heard of his ghazal beginning Faqeerana aaye sada kar chale? It found a hauntingly beautiful use in a Bollywood film too – as Dikhaye diye yun ke bekhud kiya (Bazaar, 1982) — with the opening couplet being actually the sixth or seventh sher of the ghazal, and the film version then going on to use the next two shers and the one before Dikhaye diye…!
And in his poetry, Mir stands equal with many illustrious counterparts across various ages and differing cultural traditions and languages. Does his Nazuki us ke lab ki kya kahiye / Pankhudi ik gulab si hai pale before Shakespeare's From fairest creatures we desire increase / That thereby beauty's rose might never die (Sonnet 1) or For nothing this wide universe I call / Save thou, my rose, in it thou art my all (Sonnet 109) or Robert Burns' O my Luve's like a red, red rose?
Was his Mir janagal tamam bas jaave/Bin padhe hamse rozgar ae kaash any less than Omar Khayyam's Ah Love! could thou and I with Fate conspire/To grasp this sorry Scheme of Things entire,/Would not we shatter it to bits — and then/Re-mould it nearer to the Heart's Desire!
Want to read more Mir but don't know Urdu? Rekhta.org and Columbia University's Frances W. Pritchett's comprehensive site provide transliterations.
Shamsur Rehman Faruqi's magisterial four-volume Sher-e-Shor Angez is not translated yet, but Khurshidul Islam and Ralph Russell's Three Mughal Poets: Mir, Sauda and Mir Hasan can give a feel. Mir's memoirs can be found in English (translated by C.M. Naim — and for a fictional view, there is Khushwant Singh's Delhi.