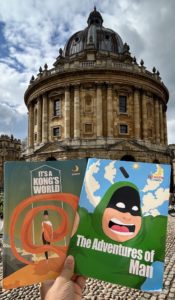 "As a child, I loved reading comic books such as The Adventures of Tintin, Garfield, Calvin and Hobbes, most of the DC Franchise, and not to forget, Tinkle." says Allen Thangkhiew, illustrator at 'Half and One'. These names echo through rooms at the mere mention of the word comics. In a quest to change this narrative, presenting a local viewpoint on art illustrations through comic graphics, Babatdor Dkhar's brainchild Half and One is here to create ripples. Engaging with Sunday Shillong on their journey through ideation, story narration, and display of local identities, Dkhar along with his illustrators, Thangkhiew and Damehi Laloo set off many aspirations at once. Let's find out how.
Representing itself at the Comic Con in Bengaluru in November, 2022, Half and One displayed their works at a popular forum that is hailed for its creative pursuits among the youth in India. A comic con or a comic book convention is typically a day's event more widely known as the comic-con. It is a fan convention with a primary focus on comic books and comic book culture, in which comic book fans gather to meet creators, experts, and each other.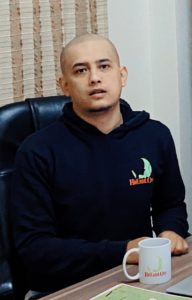 As Dkhar shares his afterthoughts from the event, "We had a soft launch at Comic Con Bengaluru in November of last year. That we were able to sell our comic books at Comic Con Mumbai in February after the main launch is a pretty big deal."
Narrating his experience at the event, Dkhar says, "Talking about the comic books, about its script and art, Shillong and Khasi Hills to a diverse pan-Indian audience who was interested in comic books was a highlight. Sharing space with global entities like DC (DC Comics, Inc. is an American comic book publisher and the flagship unit of DC Entertainment, a subsidiary of Warner Bros.) Sony and Microsoft and newer but well-funded comic book publications and startups was wonderful. We learnt a lot."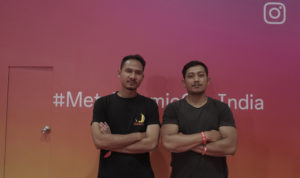 Comic books 
The Adventures Of Man and It's A Kong's World are the first two comic books from the Half and One stable. Babatdor is the writer and creator of the comic books. Allen Thangkhiew, a graduate of the Picasso Animation College in New Delhi and Damehi Laloo, a post-graduate from NEHU are the illustrators of The Adventures of Man and It's A Kong's World respectively.
A third title is in the works.

Both the comic books have been close to three years in the making. The Adventures of Man is in the mould of the early Archie comics. And It's A Kong's World has a rather literary feel. 

As far as representation of our culture and way of life is concerned, the two comic books have different approaches. It's a Kong's World is a more direct one and The Adventures Of Man is subtle.
The illustrations that Damehi Laloo and Allen Thangkhiew create also accentuate that.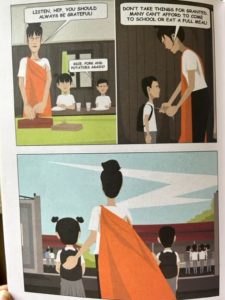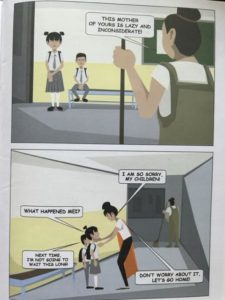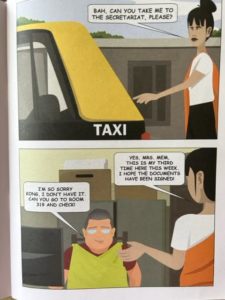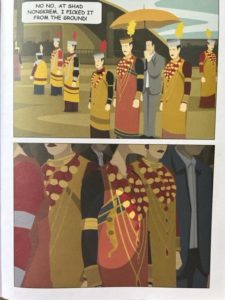 Thangkhiew and Laloo play vital roles. The worlds that they are able to create is their ingenuity. Their illustration, their artwork, their abilities to take Babatdor's ideas and storylines and make it their own is immense. The Adventures of Man and It's A Kong's World would not be without their originality and their creative ways of bringing to life and colour my ideas and storylines.

Both these comic books are meant for a wider global audience. They're not necessarily restricted to the state and/or region.
Adventures of a man 
Based on a fictitious story of a school going boy with visible examples of being defiant of orders and disobedient towards authority figures such as the teacher in class and the principal, Adventures of a Man oscillates among the varied roles of men in society. Through social scenes, family, and in obligatory scenarios of assumed and enforced masculinities, the graphics and characters take the readers through a joyful ride, leaving much food for thought.
As perceptions vary, the script writer, Dkhar was asked about the message that he wanted to convey through the comic book. To which he said, "The Adventures of Man is a fun and colourful story. The primary objective isn't to be preachy or anything like that. It's to tell a fun story. Man is a kid and the world that we've created is pretty neutral. It's here and everywhere."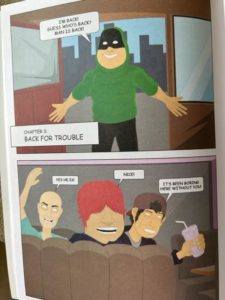 There are many parallel stories about different men and 'man' the protagonist in the story. Shedding light on the intersection of the roles reflect on society at large, Dkhar  explains,
"Calling him Man is wordplay, of course. It's a love note to Khasi names in the subtlest of ways.
I think the characters and the way they've been written is layered and these layered characters will reflect the world around them. Are they intentional, the instances of societal reflection or commentary? I don't think so."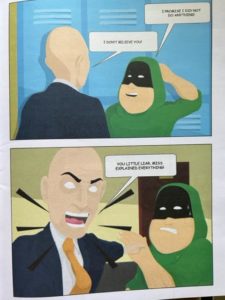 The story begins with the chapter, 'it's a man's world' and so, on asking Dkhar whether he believes that it's a man's world, he says, "The first story is called It's A Man's World, yes. Again, that's the writer's sense of humour. The other comic book is called It's A Kong's World and there is a story called 'The Adventures of Kong'."
A Kong's world 
The plot for this is on the struggles of a woman shuttling from being a mother, homemaker and a professional and the challenges that come forth in each. This comic makes for a strong case of the Khasi identity, a common citizen's relationship with the points of authoritative civic bodies, as well as the struggles that were presented with the covid induced lockdown.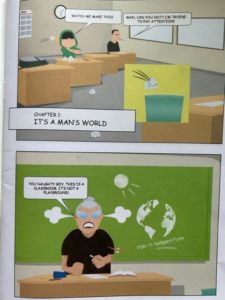 As Dkhar appropriately puts it, "It's a Kong's World has a more grown-up tone and The Adventures of Man feels young and takes you back to your teenage and school days."
He further adds, "The idea for It's a Kong's World actually came out of a pencil drawing that Damehi presented to Babatdor  when he asked him to come up with a character and a setting for a comic book. The Adventures of Man is a product of endless discussions for hours on end. It started as a cartoon and they realised that they could put Man in these different situations without any of it feeling forced, so they decided to make it a comic book."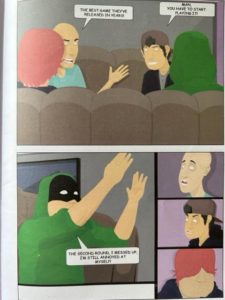 As for the illustrator finding his inspiration and the depiction of real life incidents in the two books, the team at Half and One conveyed that the illustrator, Allen Thangkhiew enjoys sitting and observing people and the surroundings. He tries to study behaviours. The way people walk and talk, tiny little quirks. When he's settled on a commonality or a pattern, he starts with the rough sketches. He adds and exaggerates certain attributes. This is true for both the comic books are definitely inspired by the world around.
Half and One – the team 
Half and One is a space for cartoons and comics, journalism and narrative non-fiction, poetry and fiction. They produce original, quality and off-beat written, audio and visual content that is playful, interactive, informative, interesting, wide-ranging, diverse, and thought provoking. With their niche content, they've reached a stage where the majority of Half and One's readers come from outside the country and they've published writers, poets, journalists from 21 different countries and counting.
Babatdor Dkhar is the Creative Head of Half and One. He was the Charles Wallace Fellow 2021-2022 at the University of Kent and is an alumnus of Oxford University and National University of Juridical Sciences (NUJS). He founded Ka Ktien Media in the spring of 2018. On his venture, Dkhar articulated, "the first year-and-a-half, like most things when you're starting something new and different, were difficult and uncertain. It was a lot of starts and stops, a lot of figuring it out. Mistakes and road bumps."
Allen Thangkhiew, one of the illustrators at Half and One says, "As a child, I read a lot of comic books and I told my Grandfather once that I want to be a cartoon character," as we would watch cartoons every evening. I loved collecting and reading comic books as well, some of them like The Adventures of Tintin, Garfield, Calvin and Hobbes, most of the DC Franchise, and not to forget, Tinkle. I love the characters they created. So now, as I work on illustrating The Adventures of Man, the influence of the comic panels from when I grew up is seen in each frame."
Damehi Laloo with a background in mass communications, he says the skills that he acquired are entirely through practise and emulation. Laloo further adds, " That's what this medium allows and that might probably be the reason why I'm so drawn to it."
Speaking on the liberating nature of art, Laloo expresses, "A piece of artwork can either be a representation or an imitation. Inspiration is dictated by what's being represented or emulated. In It's a Kong's World, for example, the locale determines the premise of a storyline. That's where I draw inspiration from."
That a platform from Shillong can share space with publications like The Harvard Review, American Short Fiction, and The Los Angeles Review of Books makes for a proud moment.