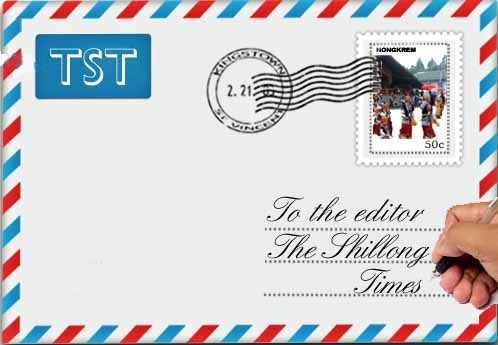 Editor,
There is an old saying "A man is only as good as his words.' When the Rajya Sabha MP, who also happens to be the state president of NPP, started wading into the Constitution with regards to the State Reservation Policy and his subsequent challenge for a debate to the "highly intellect" members of the Opposition party, we, the common citizens, waited with bated breath for its fruition. Indeed, the time is ripe that the public gets to witness some highly constructive debates, and what better than the subject that has captivated every thinking citizen of the state. Unfortunately when the Opposition party vis-à-vis, a neutral agency in the form of St. Anthony's College agreed to conduct such a debate, the wary politician chose to back out instead. This reminds us of the phrase coined by our folklore "Ksan rympei rem dorbar." Nevertheless, it seemed like this particular individual was trying to "test the waters" and did not expect to receive an affirmative answer. Let us give him the benefit of the doubt though, maybe, an engagement somewhere did hold him back, and so our humble appeal to our Honourable MP to accept this debate at a later date, to enable the general public to get some idea about this "paramount subject" which has become a "thorn" for the ruling party lately, besides, of course, we also get a "sneak peek" on the kind of representation we have in the Rajya Sabha today.
Yours etc.,
Lawrence Pherliam Sumer,
Via email
Is the Education Minister dangling a red herring?
Editor,
Pardon me for being a wet rag when the primary focus in the news of late, even in letters to the editor, is the quota policy review. But the report, "Govt panel to dig up cause of GH schools' poor show " (ST May 31, 2023) compels me to respond.
The learned and honourable minister must get his priorities right! I applaud all measures he proposes, however, he must bring clarity to, "the stakeholders…".  Will students and teachers be part of this group?
However, my true focus is the Minister's, "within a couple of weeks." promise. And what will be done in the interim period when the teaching learning transactions at the grassroots is being carried out? Will classes be suspended till after 'stakeholders' come up with a workable blueprint or roadmap for this academic year? Prioritise so students don't miss out on academics. Go in for radical (temporary, ad hoc or even part time) measures post haste, targeting learning outcomes, because we know by the time the government gets it's finger on the pulse and comes out with the new implementations to be enforced, the year will have gone by.
I shake my head in disbelief reading the closing para of the report. Is not this a crime!
Yours etc.,
Kevin Phillips
Shillong – 19
Crisscross of confusion
Editor,
Shillong is definitely a very beautiful and scenic hill town of India. The city of Shillong is blessed in every way – in terms of climate it is temperate and mild, in terms of air quality it is absolutely clean and refreshing, in terms of scenic beauty it is one of the best, with picturesque mountain ranges surrounding it, rich pine forests and a variety of flowers. However, every Shillongite will have realized that there is one particular aspect of the city which has robbed away part of its beauty and that is the crisscrossing wires all along the city streets. When we go around the city, we see electric cables, telephone cables as well as cable-tv wires crisscrossing each other along the streets. In fact whenever I look up at these, I get so upset because they really disfigure our beautiful city. They have become an eye-sore to every passer-by. This picture of chaos betrays the character of our state, namely, it shows that we are an undisciplined people, that we have an unorganized and unsystematic civic administration and that we have a "chalta hai" attitude. Even in Guwahati the situation is much better and there is some sort of order. What is revealed in our city is the lack of central organization and systematization where each department seems to work independently without any common planning. The consequence of such a haphazard policy by those responsible in the government, is the present mess we see all along our streets. It is not impossible to redress the matter if the government has the political will.
The Urban Development Department should take up the issue with the departments concerned (MeSEB, BSNL and private Cable TV operators), sit down with them and plan the realignment of these cables. As is done in many organized cities, the cables should run only on the sides of the road and not crisscrossing the roads. The crisscrossing cables often pose a lot of threats to passing commuters apart from their ugly appearance. The authority concerned should also ensure that these cables are properly laid and artistically done, not allowing them to hang loose. There should be a common standard of laying these cables, for example, their elevation, quality of props etc. I am sure that if this is done, our city would wear a new look altogether. We all love our city and we would love to see its beauty restored.
Yours etc.,
Dr. Barnes Mawrie sdb
Via email
Dealing with filthy hotels
Editor,
In the age of technological advancement, we are also expected to keep pace with cleanliness. Sadly, there exists a dark underbelly of roadside tea stalls/eateries that flout all basic norms of hygiene. By tossing the "cleanliness is next to godliness" out of the window, they put public health at risk.
It is indeed commendable that some vigilant members of the KSU raided certain roadside tea stalls and eateries. They exposed what had previously been overlooked. It is good that the concerned authorities of 'Food Safety' have also taken the issue very seriously. Of course, appropriate action must be taken against those who do business with total disregard for maintaining cleanliness. Just imagine weary villagers from remote areas, hunger gnawing at their stomachs, entering the roadside hotel, lured by the array of sweets and samosa in the showcase, and being served unhygienic food items. Little do they know that behind the deceiving façade lies a den of filth and contamination. The unsuspecting people thus often fall prey to the unhealthy practices of unscrupulous hotel keepers at great cost to their health.
There are several hotels with "accommodation" facilities that as well hardly keep their rooms neat and clean. The musty smell in the room, infested with cockroaches and bedbugs, should also invite the urgent attention of the health authorities. Tourists from outside should not carry a wrong impression of Meghalaya only because of the filthy hotels they happen to stay in. Two weeks ago, some tourists from Canada had to instantly leave the previously booked guesthouse and shift to "Hotel Palace" due to the musty smell in the room. If I were not there to help them, they would have been forced to stay in the same guesthouse.
Hence the authorities concerned must also conduct "regular and surprise inspections in hotels and guesthouses. The importance of a pleasant hotel stay in the realm of hospitality cannot be overlooked at all. It alone sets the tone for a traveler's experience and leaves a lasting impression. So, let our state embrace the phrase "hospitality at its finest" and ensure that every guest walks away with delightful memories. Unless the tourists experience a pleasant stay in the town, our pride in having the cleanest village – Mawlynnong, is futile.
Yours etc.,
Salil Gewali,
Shillong