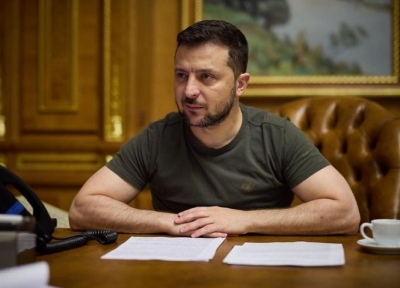 Kiev, June 6 : The office of Ukraine President Volodymyr Zelensky has said that the Dnipro river has been contaminated with 150 tonnes of industrial lubricants after the Kakhovka dam breach, the media reported.
The Kakhovka dam is one of six dams that sits along the river, which stretches all the way from the very north of the country into the sea in the south, the BBC reported.
Satellite images are slowly being uploaded, showing the extent of the damage to the Nova Kakhovka hydroelectric power plant.
This image shows extensive damage to the central part of the dam and to a section of the hydropower plant building on the east bank of the Dnipro River, the BBC reported.
Water is running downstream from two breaches. A third breach is also moving water south in the so-called North Crimea Canal.
Ukraine has accused Russian forces of blowing up a dam in the Kherson region though Moscow denies this, the BBC reported.
A dam at a hydro-electric plant in the Russian-occupied Ukrainian town of Nova Kakhovka was breached overnight and water has been pouring through it ever since.
The damage is thought to be severe, with Russian state media reporting the town is submerged under water, the report said.
Zelensky has accused Russian troops of blowing up the plant "from inside" while Moscow claims it was a "deliberate act of sabotage" by Kiev.
Evacuation efforts are under way as Zelensky says some 80 towns and villages could be affected by the flooding. The dam is a significant resource, supplying water to a host of communities upstream and the Zaporizhzhia nuclear power station, the BBC reported.
The head of the UN nuclear watchdog, the IAEA, has said a lack of cooling water at Zaporizhzhia could disrupt its emergency diesel generators – though the situation at the plant is said to be under control.
The Kremlin has blamed the attack on the dam in Nova Kakhovka on Ukraine, saying it was a "deliberate act of sabotage" by Kiev.
Ukraine has accused Russia of blowing up the dam, in the Moscow-controlled region of Kherson, and the EU Council President Charles Michel has also pointed the finger at Moscow, saying the attack amounts to a "war crime", the BBC reported.
But in his daily telephone conference call with journalists, Russian President Vladimir Putin's spokesman Dmitry Peskov denied Moscow was responsible and blamed Kyiv.
"It is also linked to the fact that, having begun large-scale offensive operations two days ago, the Ukrainian armed forces are not achieving their aims. Their offensive operations are stalling," the BBC reported.(IANS)