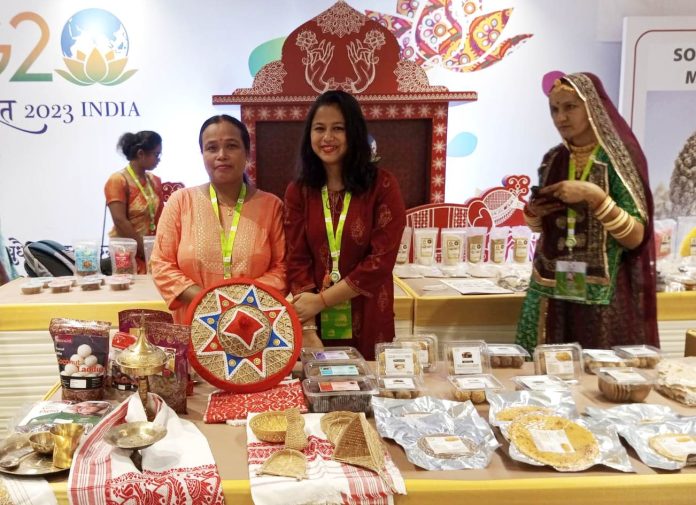 While the G20 Summit includes a full agenda for all of the world's leaders, there is a separate schedule established for all of the first ladies of G20 leaders to attend meetings on the sidelines.
Their itinerary took them to a unique exhibition. This unique exhibition on India's agricultural prowess was organised by the Ministry of Agriculture and Farmers' Welfare at ICAR – Indian Agricultural Research Institute, Pusa Campus, New Delhi which featured a millet-focused live cooking session led by celebrity chefs. Besides, agricultural technology from prominent Indian startups was displayed.
The guests were shown highlights of India's progress, the empowerment of women, and Indian culture and traditions. In addition, the first ladies interacted with Indian women agri-champions. A highlight of this exhibition was the 'Agri Gully' (Agricultural Street) showcasing India's agricultural legacy. The guests made their way to the exhibition area, prior to that they had a brief pitstop at the 'Rangoli Area', which featured two massive 'Millet-themed Rangolis'.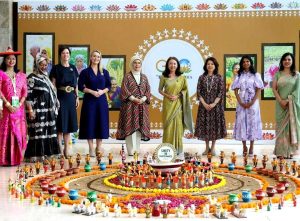 The beautiful artworks were prepared using millet grains and local Indian motifs. The first rangoli captured the theme of "Harmony of Harvest" unveiling India's deep-rooted agricultural traditions.
The second rangoli piece echoed India's cultural philosophy – "The World is One Family", emphasising global unity. The guests included Britain's first lady Akshata Narayana Murty, Australian PM Anthony Albanese's wife Carmel Tebbutt, Japanese first lady Yoku Kishida, the wife of Turkey's President Emine Erdoğan, Mauritius's first lady Kobita Ramdanee and Heiko von der Leyen, the husband of European Union Chief Ursula Gertrud von der Leyen. The first ladies and spouses of G20 member nations were welcomed by India's External Affairs Minister Dr. Subrahmanyam Jaishankar's wife, Kyoko Jaishankar.
Women farmers were invited from far-flung villages in 11 millet-producing states of India- Madhya Pradesh, Assam, Odisha, Chattisgarh, Uttarakhand, Karnataka, Uttar Pradesh, Tamil Nadu, Rajasthan, Maharashtra and Bihar. Two accomplished milletpreneurs from Assam, Munme Saikia Gogoi and Mayashree Baruah got the opportunity from the Agriculture department and World Bank-funded APART Project's Assam Millets Mission to represent Assam.
The duo, played a pivotal role in the 'G20 Official Spouses' Program', G20 Summit in New Delhi. Munme Saikia Gogoi from Salikihat, Da-Barahi village of Golaghat district, told in an exclusive interview with Abhishek Singha- "I briefed and showcased the guests millet-themed value added products. They looked happy and praised the products". She further adds, "I got success with the help, support and assistance provided by the State Agriculture department, Assam Agribusiness and Rural Transformation Project's Assam Millets Mission, District Administration of Golaghat, District Agriculture Office, Golaghat, Krishi Vigyan Kendra – Khumtai, Assam Agricultural University – Jorhat, Assam State Rural Livelihood Mission – Golaghat, Golaghat Agrobase Industry Association, All & Sundry NGO, Agricultural Technology Management Agency, Athkhelia Agro. Farmer Producer Company Ltd. and my family members.
The encouragement, advices, support and trainings provided to me were highly focused and helped increase my knowledge in connection with millets farming, processing and value addition under the brand 'Munme Organic Hub'.
Another milletpreneur Mayashree Baruah who is from Guwahati told, "We have a startup called 'US Enterprise', and we are fortunate to use our brand name for our work. We specialize in producing products that are free from chemicals and preservatives. Additionally, we create savoury snacks like 'Jhalmuri' with unique flavours such as Bhoot Jolokia. We also incorporate traditional herbs like moringa powder into our snacks to create new and innovative products".
She further adds, "Our company was launched in September 2020 and primarily focused on snacks. We introduced millet namkeens (Salty Snacks) in the region under the brand name 'SHOBHAGYO'. Currently, 20% of the snackable products by Shobhagyo are millet-based.
— Contributed by Abhishek Singha,