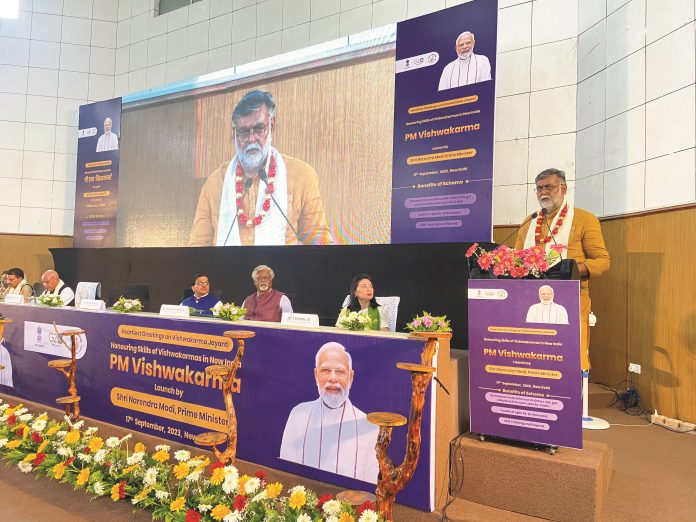 By Our Reporter
SHILLONG, Sep 17: Union Minister of State for Jal Shakti, Food Processing, and Industries, Prahlad Singh Patel on Sunday stated that traditional artisans and craftsmen play an integral role in the society by preserving India's centuries-old traditions and crafts. However, he added, they are yet to receive the recognition they deserve.
Patel was speaking during a programme here to virtually witness the launch of 'PM Vishwakarma' scheme by Prime Minister Narendra Modi.
The Union MoS credited the Prime Minister for providing talented artisans their due right by launching the 'PM Vishwakarma' scheme. He highlighted that this initiative would provide the necessary support and training to empower these essential members of our society.
He conveyed his best wishes on the occasion of Vishwakarma Jayanti and remarked that it is dedicated to the traditional artisans and craftspeople.
Expressing gratitude to the PM for the scheme, Patel said, "It is a coincidence that it is also the birthday of our Prime Minister Narendra Modi who has been labouring to build a prosperous Bharat. This is a historic day in the development journey of India as the government has come forward as a partner to elevate the respect, enhance the capabilities, and grow the prosperity of the traditional artisans and craftsmen"
Enumerating the details of the scheme, the minister said that during the next five years from 2023-24 to 2027-28, with an outlay of Rs 13,000 crore, 18 focus areas of artisans and craftsmen — Carpenter, Boat Maker, Armourer, Blacksmith, Hammer and Tool Kit Maker, Locksmith, Goldsmith, Potter, Sculptor, Stone breaker, Cobbler (Shoesmith/ Footwear artisan), Mason (Rajmistri), Basket/Mat/Broom Maker/Coir Weaver, Doll and Toy Maker (Traditional), Barber, Garland maker, Washerman, Tailor and Fishing Net Maker have been included in the PM Vishwakarma scheme.
They will be given recognition through PM Vishwakarma certificate and ID card, skill upgradation involving basic and advanced training, toolkit incentive of Rs 15,000, collateral-free credit support up to Rs 1 lakh (first tranche) and Rs 2 lakh (second tranche) at a concessional interest rate of 5%, incentive for digital transactions and marketing support, he added.
'PM Vishwakarma' scheme represents a blend of India's civilisational ethos and traditional craftsmanship. The scheme offers the option of earning livelihood while at the same time sustaining India's age-old 'Guru-Shishya Parampara' (teacher-pupil tradition), said the MoS.
Elaborating on the measures to impart training to the skilled artisans and professions, Patel said that during training times, Rs 500 per day allowance will be provided to the artisans. He also said that a toolkit voucher worth Rs 15,000 will be given for a modern toolkit and the government will help in branding, packaging and marketing of the products.
The products of the local artisans will also be made available in the Government e-Marketplace (GeM) for better marketing of their products, he added. He requested the authorities to make awareness across the state so that people get to know more about the scheme and can get themselves benefitted.