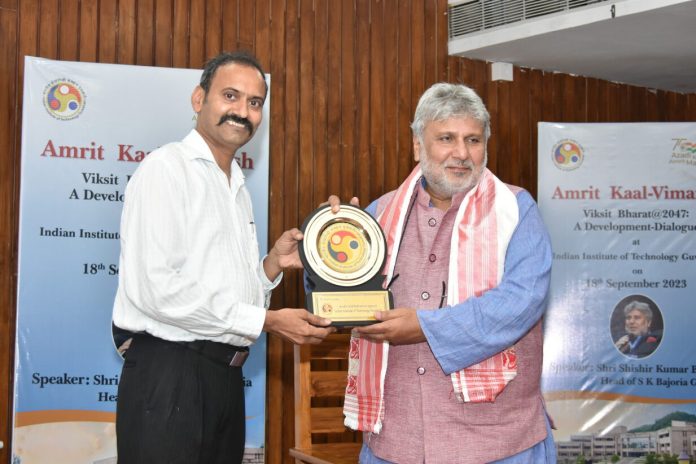 Guwahati, Sept 19: Aligning itself with central government's goal of A Viksit Bharat@2047, Indian Institute of Technology-Guwahati (IIT-G) organised a development dialogue for its students and staff with Shishir Kumar Bajoria, chairman, board of governors, IIM Shillong.
The event was attended by students, faculty and other delegates of IIT Guwahati.
During the interaction with students, Bajoria, who is also the head of S.K Bajoria Group, said, "We cannot afford our youth to go empty-handed after investing so many years. This is where the National Education Policy (NEP) will make a difference. The importance of skill development is paramount for the future of India. We have to move from a country of job seekers to a country of job givers."
"I commend IIT Guwahati on its Startup initiatives. Startups are the future. This will take our country forward. We must take pride in our culture and heritage, strength in our unity and duty towards the nation for a Viksit Bharat," he said.
The session included active dialogue between the speaker and students where the interaction covered startups, work-life balance, G-20 Summit, and the National Education Policy.
Earlier, K.V. Krishnan, dean of academic affairs, IIT-G, welcomed Bajoria and said that the initiative of the ministry of education was an encouraging step to connect with the youth of the country and make them future-ready.
The central government has initiated the Viksit Bharat programme aimed at creating a public platform to highlight grassroots transformations and the rapidly changing development scenarios. The initiative seeks to inspire and engage the youth of our nation, encouraging their active participation in the development-focused ecosystem.
"IIT Guwahati has aligned itself with the Government of India's policies to bring together the trustees of our future generations to deliberate and discuss innovative, sustainable, and actionable solutions, especially in the realm of social development," a statement issued by the institute on Tuesday said.