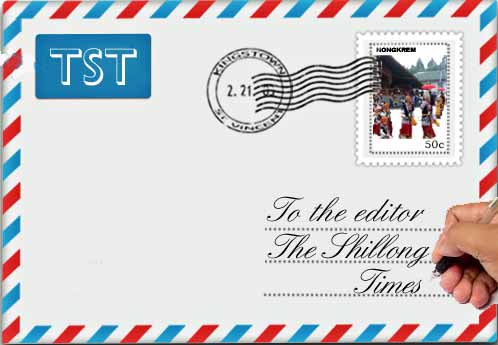 Editor,
When an institution like the District Council starts to act in a responsive manner and applies its own checks and balances, it is a welcome step, but going on an overdrive mode such as to cause loss of employment of local youths of the state is detrimental to their future. It also sends wrong signals to investors who wish to invest and develop our state economy which obviously cannot be done by a State Government that relies on the central government for everything. Granted, that Swiggy or Rapido should have according to Mr Paul Lyngdoh, EM (Trade), KHADC, gone by the rules and regulations governing trade license but then did any authority take any initiative in summoning these firms and asking them to apply for a trading license before signing or entering into an agreement? If digitisation is the norm of the new Council it should start profiling all businesses run by non-tribals including those from other northeastern states who thrive on our resources. Let the law be equal for all.
Yours etc…
Dominic S. Wankhar,
Via email
Gross errors in MBoSE text books
Editor,
I wish to point out some extremely important issues related to the MBoSE Science text books of Classes IX, X and XII in the interest of our Science students. I do hope that though my findings are problematic only as far as Physics is concerned, others teaching Chemistry and Biology could also examine their subjects. The text is full of critical, unfounded information some of which are as follows:
Hearing aid: Ear trumpet is a device which is used by a person who is hard of hearing. Its shape is just like a trumpet. The narrow end is kept in the ear hole of a person who is hard of hearing, whereas the wider end faces the speaker. The waves received by the wider end of the trumpet are reflected into narrow end. This in turn increases the intensity of sound energy and hence a person who is hard of hearing can hear clearly.
Ultrasonography: The ultrasonic vibrations can be reflected from boundaries between materials of some density. This technique is used in sensing some internal organs of human body. It is superior to x-rays scanning as it does not cause harm to human cells unlike x-rays. The instrument which uses ultrasonic for getting the image waves travels through the tissues of the human body and get reflected from the region where there is a change in density. These reflected waves are converted into electric signals. These signals are then displayed on TV monitors or can be produced in films. The process is called Ultrasonography and help doctors to detect abnormalities such as stones in gall bladders and kidneys or tumors in different regions. Ultra sound waves of high intensity are employed to break small stones in kidneys into grains. The fine grains then get flushed out with urine.
Sonic boom: When the speed of moving object exceeds the velocity of sound the object is said to be moving with supersonic speed. The first such object was produced in 1948, in the form of supersonic jet planes. When sound producing objects move with speed higher than the speed of sound then it produces shockwaves in air. These shock waves produce large amount of energy. When shock waves pass through air they produce loud sound called sonic boom. The sonic boom produced by jet aircrafts has enough energy to shatter glass panes and damage buildings. (Sadly auditory illusions is insulated)
The experiment on Archimedes Principle's very vital concept is totally wrong. The experiment to show sound waves need a medium to propagate is also wrong. We do not need suction pumps to make the glass jar vacuum. The sound waves from the electric well are too weak to make the glass vibrate. Then ultrasonic waves can clear the fog in the runway. Kepler's law on planetary motion meant for B.Sc is introduced in Class IX. It may just be an introduction but why trouble the students who are yet to study an eclipse?
I wonder how this text was accepted and why school teachers with Post Graduate degrees and good teachers with B.Sc Physics Honors have not complained to the Board. The concept with unfounded explanation has really confused our students.
We are now in the month of June and the need of the hour is to convene an urgent meeting of all HOD's (Physics) of St. Anthony's College, St Edmund's College, Shillong College, Lady Keane's and Tura and Jowai colleges. Meanwhile, I will be grateful if CBSE text books are switched too. The effort is not small but the text should be rid of the errors. Let our children who aim for Medicine, Engineering, Veterinary, Agriculture not be misled at the crucial stage of Class IX and X. On Chemistry and Biology I am not authorized to comment. Let the HOD's mentioned above in their respective subjects scrutinize the text.
Yours etc.,
Khyriem
Via email
When will terror end?  
Editor,
In a fresh encounter with the security forces in Jammu and Kashmir's Anantnag district on Tuesday, two militants were killed and an Army jawan was martyred in the operation in Bijbehara area of South Kashmir district. The encounter started when the militants opened fire on security forces who were conducting a cordon-and-search operation following inputs about the presence of the ultras.
It is regrettable that militancy still rears its ugly head in Jammu and Kashmir even after the Pulwama terror attack. The government and the Army have to find an answer to the question why certain youths are enticed to the vortex of terrorism in the state?' We need a lasting solution rather than a fleeting one on this vexed issue. Every household from where possible youths get sucked into accepting destructive ways, must be held accountable for any of its members who voluntarily embrace the destructive theories. Also, close monitoring of such families by the Army will definitely reduce the number of recruitees towards terrorist organizations.
Yours etc.,
TK Nandanan,
Via email