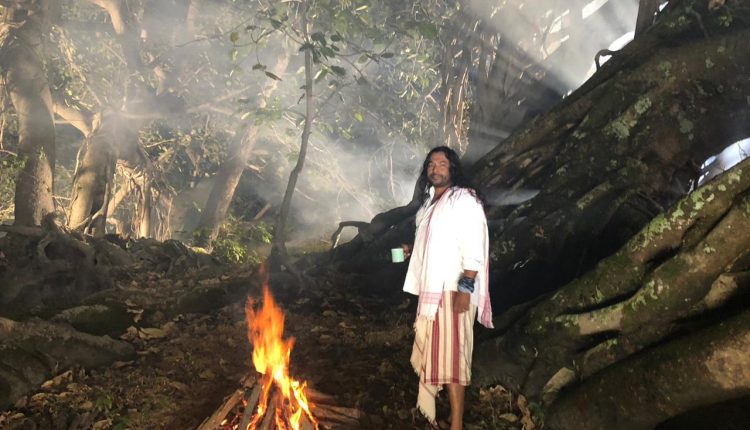 Unheard India at Kolkata film fest
By Shoma A Chatterji
Have you ever heard of the Paniya language spoken by tribals of the adjoining border areas of Kerala, Tamil Nadu and Karnataka besides Kannur and Kerala where this is spoken at Palakkad, Mallapuram and Wayanad areas? Some sections of the audience got to hear this language in the feature film Kenjira directed by Manoj Kana.
This was screened as part of the 25th Kolkata International Film Festival (KIFF) this year curated by Santanu Ganguly who has been curating this section – Unheard India – Cinema in Rare Languages for several years now.
This happens to be the fifth year since this section was inaugurated. It assumes special importance this year not only because the festival is celebrating its silver jubilee but also because Unesco has dedicated 2019 as the Year of Aboriginal Languages.
"The Unheard India section is giving scope and space to small, independent filmmakers who are willing to take the risk of making a film in their own language though there is not likely to be any financial benefit and such films rarely have a theatrical release. Their purpose is to showcase their work to the audience in places like Kolkata. This initiative has been encouraging filmmakers to take risk again and again to tell their own stories," says Ganguly.
This year, for the first time in the history of KIFF, there are four feature films made in Santhali, Nagpuri, Paniya and Rajasthani. The Santhali language, which is also the language of many aboriginal people of West Bengal, along with Jharkhand, Odisha and Assam, is finally being able to screen its film at the 25th KIFF.
Phoolmuni, directed by Dashrath Hansda, has a strong content of atrocities against women in the society. This is not the first Santhali film but it is most certainly the first film that has highlighted a social agenda.
Chhota Nagpur is home to several adivasi tribes who speak in several different languages and dialects. One of them is called Nagpuri and for the first time, "we have presented Dhumkudiya in this language". This film is directed by Nandlal Nayak and also explores trafficking of young girls in the name of domestic work.
Kerala-based tribal rights activist Manoj Kana has made first ever Paniya language film Kenjira. The film deals with severe oppression, marginalisation and injustice inflicted on local tribals by non-tribals of the mainstream who are hand-in-glove with the police, the criminals and the administration.
Director Dinesh Yadav won the prestigious National Award for his debut film in Rajasthani language (Turtle). The film is based on the acute water crisis in parts of Rajasthan that heightens and adds to their problems issuing out of petty village politics and superstition.
Rajni Basumatari's Bodo language film JWLWI (The Seed) focuses on terrorism and army-civilian conflicts but ends with a ray of hope for the future.
Filmmaker Prakash Kariappa's Kodava language film Kodagra Sipayi (Soldiers from the Coorg) is based on a former army man's life story.
Banjara language film Sapnero Gopuro (The Dream Tower) directed by Victor Dayalan shows in detail, the various rituals and cultural practices among the Banjara communities.
KS Ravindranath Kanagal's Kolkani language film Ponyari (The Traveller) is a fiction drama, which shows how human greed can destroy the peace of mind of not only the same family members but also of others in the society.
The Tulu language film Malla Daana (Prime Donation) shows how grown up children neglect their aged parents on the one hand and the significance of organ donation within this environment in today's world. It is aimed at creating awareness about organ donation.
However, having watched all these films from beginning to end, this critic sincerely feels that all the films are lacking in the techniques of cinema such as casting of actors, editing skills, lighting in cinematography and ways of narration.
Not only are the productions amateurish, they are more importantly, technically poor. If this section truly wants an audience at film festivals, the filmmakers need to concentrate on cinematic skills and story-telling techniques rather than on projecting their language, which is good but cannot survive without solid presentation.
But this focus on rare languages is very commendable and should go on. (IBNS/TWF)
Award-winning films
A look at some of the Indian films which bagged awards at KIFF.
■ Indrasis Acharya won the Best Director Hiralal Sen Memorial Award in Indian films for his third feature film Parcel in Bengali. The film is about how our every move is subject to constant surveillance. It redefines the thriller genre within the Indian cinema space.
■ Ananth Mahadevan's Crime No.102/2005, a shocking celluloid fictionalisation in Marathi, also bagged the other Hiralal Sen Memorial Award for the Best Film in an Indian language.
■ The Malayalam film Run Kalyani marked the debut of
J Geetha is a low-key film dotted with a lot of silence space that speaks a thousand words without uttering any. It won the Special Jury Award in the Indian Language Film Category which consisted of a certificate.
■ The NETPAC Award for Best Film went to The Goddess and the Hero (Devi Aur Hero) by Aditya Kripalani. Kripalani made his directorial debut with the very radical and bold film Tikli and Laxmi Bomb.
(IBNS/TWF)