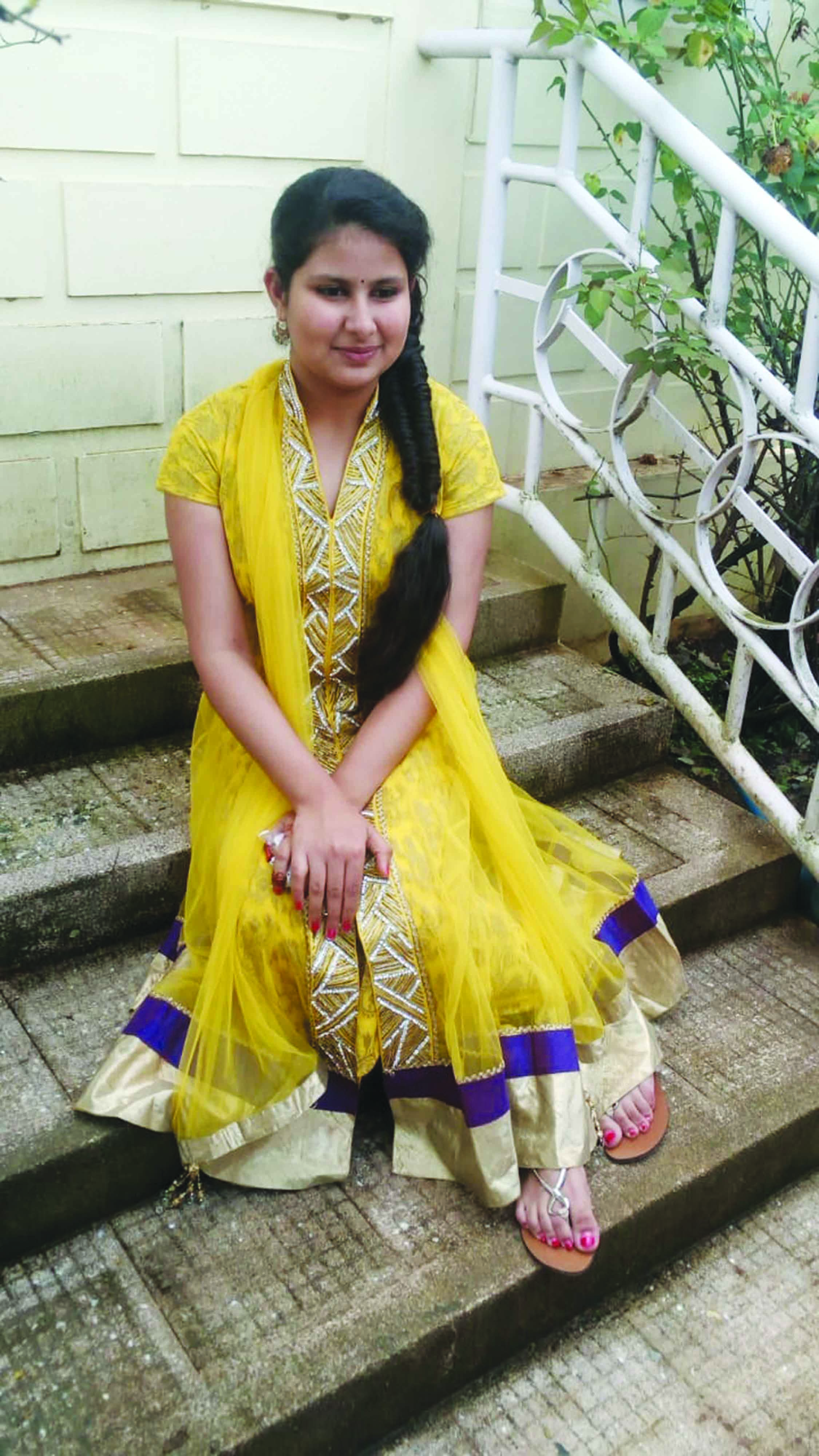 Sanskriti Singh is 17 and she has already authored a book. The student of Loreto Convent recently released her first book, Ram's Sister, based on a mythological character.
Born and brought up in Shillong, Sanskriti studied in BK Bajoria School before shifting to Loreto Convent. She belongs to the Bundela Rajput clan that has its roots in Orchha, also known as the city of palaces, Bundelkhand. Her ancestral home is in Bhagalpur. "I truly believe that the history and culture of this clan have influenced my life," says the young author.
Sanskriti, who is also a kathak dancer, says her mother would tell mythological stories when she was a child and over the years, her interest in the epics only increased. The Ramayana was the first epic she read. She has read both the epics "well". She believes by reading these books, she has become more calm and patient and definitely a better person.
In an interview with Sunday Shillong, Sanskriti talks about her the book and her inspiration for choosing the subject. She says she loves reading as well as writing, especially on subjects like women empowerment and environment conservation. She is also deeply interested in Indian art, culture and heritage. Excerpts:
Why did you choose mythology as your genre?
Indian mythology has a beautiful base. It is like a movie consisting of every emotion… it has war, politics, love, passion, pain, endurance, friendship, enmity and the list is endless. It is a very strong medium that can influence the thoughts of a reader. It gives the picture of an idle society in contrast with the one which is unstable and full of foul play. I am a deeply spiritual person and personally I feel that mythology has had a great influence in my life. Mythology gives the picture of what values are important for the society as well as an individual.
I wanted to write something that brings about some moral to the society and is also interesting to read. Hence, mythology is the best way to do the same.
Why did you choose that subject for the book?
I choose Shanta because not much was written about her and I wanted to write something new which readers did not know about. Shanta has a very beautiful persona which I am sure will be loved by readers. She had faced difficulties in life and had surpassed her limitations.
These were the main reasons to choose this subject. And then the genesis of the novel was a philosophy, that of a new woman in today's world. Shanta was the perfect figure who matched this philosophy.
She is Lord Ram's elder sister right? What piqued your interest in her? When?
Yes. Shanta is a beautiful character to read about. She is a simple woman with her flaws. Her flaws make her perfect. This piqued my interest in Shanta.
I read about Shanta for the first time in the Valmiki Ramayana 1: Bal Kand Sarga 11. And again I saw her being mentioned in the television series Siya Ke Ram on the Hindi channel Star Plus in 2015-16. It was then that I began my research on Shanta.
Authoring the first book is not difficult but sustaining writing is. What is your plan?
Yes, I agree… I think the main reason for this is that writing is an art which requires a lot of patience, research and thoughtfulness. And authoring a book tests your patience a lot, because it takes a lot of time, it took me exactly one year to get the hard copy in my hand. And this journey of a whole year gave me a lot of ideas about how to move forward and now I guess I know what to do next.
I will try to divide my attention between writing and studies as I am in Class 12. Still I cannot leave writing. It is an inseparable part of my very existence. I have already planned my new project and am also researching about the same. I plan to work with historical stories too in future as my major paper is history but that will be later. For now it will be mythology.
How much research did it take to write the book?
A lot of research went in this book; I have to truly say this. Because the only reference I could find about Shanta was small paragraphs or a few hundred to two hundred word article.
When I write anything, my prime focus is to refer to the Epics, Vedas, Upanisads and books by new and old writers.
Does Shanta have similarities with today's women?
Yes, every woman can relate to Shanta. She is emotional, sometimes weak and sometimes strong. She is not perfect… I truly believe the words said in the play Candida by George Bernard Shaw where he portrays Candida the protagonist of the play as today's new women.
How do you categorise the epics?
I categorise them historically because I firmly believe that they have influenced the culture of this country. Both the epics bring forth two different kinds of societies. These epics are not for a particular religious group… Every character in the epics teaches us something, it's the vision that matters.
Are you aware of the political and social-economic upheavals centring Ram and Ayodhya?
Ram was a righteous king who believed in following rules. The whole dynasty stands on the pillar of truth, rules, its extreme forms of following their promise and dharma. King Harishchandra's promise given to Vishwamitra is famous.
We come to see those harsh rules when Sita had to leave the palace. Ram remained shackled even though he was assured with political powers; he had no control over himself and his life. While talking about Ram, I would say how one cannot understand the harshness of society which could not see Ram's pain when Sita left Ayodhya. He had suffered because of those rules.
To write this novel I truly had to remain indulged in knowing the political and socio-economic upheavals centring Ram. I have done extensive research on this prospect and it is explained in the novel clearly. One can witness these complications in the novel in the essence of each character…
Your favourite writers…
I am always hungry for literature whether it is in Hindi, English or Sanskrit… My favourite writers in English are William Shakespeare, George Bernard Shaw and Jean Sasson. In Hindi, I love reading Ramdhari Singh Dinkar, Siyaramsharan Gupta, Maithilisharan Gupta and Kabir Das. And who can resist Kalidas in Sanskrit.
Anything else you want to add?
At the end I would like to add that I hope that my novel "Ram's Sister: True Scion of Raghu" will be liked by readers… I hope readers will be able to know Shanta as I have known her in these many months.