First it was lockdown and now the cyclone. Life has turned upside down. But hunger remains constant. So Toshali Mandal shares two simple recipes for snack time. Enjoy and stay safe.
Stuffed French Toast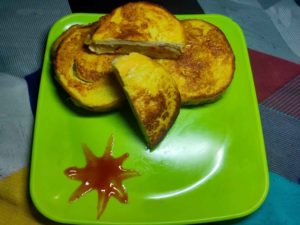 Ingredients
6 bread slices;
5 eggs; 2 tablespoons of butter
Salt to taste
Paprika/red chilli powder to taste
2 teaspoons of dried oregano
1 teaspoon of black pepper powder
2 tablespoons of milk
2 tablespoons of coriander and mint chutney
2 tablespoons of sweet tamarind chutney
2 cheese slices
For the stuffing
50 gm of cottage cheese/paneer, crumbled
1 potato
1 green chilli, finely chopped
Salt and chaat masala to taste
1 teaspoon of red chilli powder
1 teaspoon of black pepper powder
1 onion, finely chopped
1 green capsicum, finely chopped
½ teaspoon of oil
Direction
Heat oil in frying pan. Saute chopped green chilli, onion and capsicum in oil for 2 minutes till the onion just starts to turn soft. Add crumbled paneer, grated boiled and peeled potato, salt, red chilli powder, pepper and some chaat masala. Mix well and remove from heat.
For each stuffed French toast, take two slices of bread. Spread a tablespoon each of green chutney and tamarind chutney on the slices. Add about 2-3 tablespoons of the stuffing in the centre of one bread. Top it with a cheese slice and press down the other bread slice.
This is the basic preparation for bread which is then coated with gram flour batter and deep fried.
To make the egg batter, beat together all the eggs, milk, salt, paprika/red chilli powder, dried oregano and black pepper powder in a bowl. Empty in a flat bowl, big enough for the sandwich. Dip the prepared stuffed breads into the egg batter and let each side soak in the batter for about 20-30 secs. Heat a flat pan and add a knob of butter. When the butter starts to melt, put the soaked stuffed breads. Cook each side for about a minute till it turns golden brown. Serve hot with ketchup.
Gola Parathas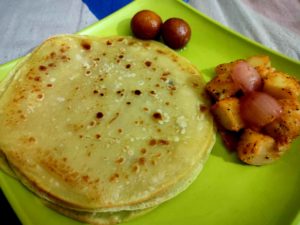 Ingredients
1/2 cup flour
Salt to taste
2 tablespoons of oil
1/2 cup milk
1 cup of water
Direction
Mix all the ingredients in a large bowl and make a batter like dosa batter. Now heat a large non-stick pan or dosa pan. Pour 3-4 drops of oil and rub it with a tissue paper and pour 1 or 2 large spoon-full of batter on the pan and spread it all over the pan. Let both sides cook well. Brush with oil on both sides and fry till light brown. Take out from pan and serve hot with any curry of your choice.