Tashi Topgyal believes that any work, if done responsibly and with a good intention, will be a success. So whether it is household chores or managing business or running for the post of prime minister in exile of Tibet, 55-year-old Topgyal does it with utmost sincerity.
Originally from Ladakh, Topgyal came to Shillong in the late eighties, then an energetic youth of 21 who was curious to know about and learn the ways of the world outside the Himalayan 'country' that defines a crucial geo-political boundary between India and its bête noir, China.
Topgyal's journey has been eventful — from his early career in the Special Frontier Force, which he joined in 1981, running for the Tibetan PM post in 2016 to even leading the life of an ordinary man. "When I joined the force, I could not read or write. A colleague and friend in the force gave me my first signature, 'TTopgyal', but I wrote it on an official document in a way that the authorities thought my name was 'Hopgyal'. The name stayed with me for some time," he said, simultaneously demonstrating it.
That Topgyal has continued a disciplined life even after leaving the force in 1996 is evident from his agility and energy. He informed that his day begins at four in the morning and his varied activities, including a long evening walk and meeting other members of the community, continue round the clock.
In Topgyal's dimly lit 2BHK rented house in Barapathar, where he stays with his wife, son and 92-year-old mother-in-law, there is a constant din that transcends a person, a stranger by all means, to a state of torpor, more spiritual than psychedelic, probably because the Dalai Lama's smiling face watches all from a frame on the wall.
After 1996, Topgyal became a contractor and later got into coal business, "which has been ruined after the NGT ban".
The soft-spoken man is normally judicious with words and welcomes his guests or a casual visitor with a muted greeting and a serene smile. But he has volumes to speak about the Sino-Indo-Tibetan relations at various levels. Topgyal does not discuss the political and military power games unless asked for an opinion. The smile remains even as he speaks about serious issues like India's policies related to Tibet or strategy to keep a powerful neighbour at bay.
The decision to run for PM in Exile post was "natural" for Topgyal.
"I would always think about the problems of Tibet and any possible solution. I had, and still have, a clear agenda as I know about the situation very well," Topgyal said with his eyes fixed on the red moquette on the couch in the sitting space of the multipurpose hall.
"You need good intention. The post has always gone to highly educated people. I may not be that educated but I am a self-made person and have seen life. You do not always have to be highly qualified to run a country. There will be talented people in the system. What a leader needs is a sharp mind and a clear vision. One man creates history and the whole mankind reads about it years after he is gone," he added.
To a query on how Indians respond to the turmoil in Tibet and China's claim of sovereignty, Topgyal was candid. "I had been posted in several places in India, starting with Shimla. In the initial days, I noticed that people here did not have much idea about Tibet or its problems. But today, they have a fair knowledge about the problems."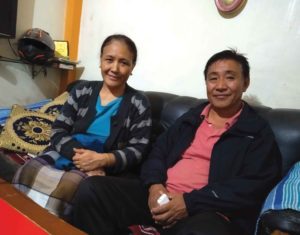 On Tibet
For every Tibetan, including Topgyal, residing in India and elsewhere in the world, freedom of Tibet is a topic close to the heart. "For over 60 years we have been saying we are free and we still say it. There are historical evidences (that Tibet is not part of China)," his voice rose a few decimals above the normal.
Talking about India's policies on Tibet since its independence in 1947, Topgyal pointed at the "mistake" that Jawaharlal Nehru made by accepting Chinese claim over Tibet in 1950 and blamed this "miscalculation" for the current problems and the huge defence expenditure.
"After Nehru said that Tibet was part of China, we (the Tibetans in Tibet) were beaten, tortured and chased away. China came behind us and attacked India (in 1962)," he said with the usual smile and calmness on his face.
However, he appreciated India's gesture to welcome the Dalai Lama in 1959. Nehru was still the Prime Minister.
Topgyal extolled current Prime Minister Narendra Modi, a "strong leader", and his policies. In the wake of the Galwan Valley clashes between Indian and Chinese soldiers last month amid peace talks between the two countries, Topgyal said he was confident that Modi's policies and stand on China would go a long way in strengthening Indo-Tibetan relations.
"If India stands by Tibet and supports us in our cause, then it will not only benefit the former but also the latter… Economically, India's spending on the Tibetans living on its soil in the last 60 years is significantly less than the country's annual defence expenditure. The Modi government has shown courage to make big changes, in reversing historical policy blunder, in its abrogation of Section 370 and conversion of Ladakh into a Union territory. India should take the next step and recognise Tibet's independence and support the reestablishment of the buffer state of Tibet free of Chinese influence for posterity. Tibet ka azadi, Bharat ka suraksha (Tibet's freedom is India's security)," he said.
On PM post
Topgyal smiled when asked whether he wanted to run for the PM in Exile post again. He contemplated for a few seconds and answered, "Maybe."
He is convinced that he has what it needs to become the political head of Tibet. "Considering the present situation, we have to keep our unity and have to work towards safeguarding our culture and language. Our unity will definitely usher in change. No matter what happens and whether we get the world's support, we have to fight for our rights and freedom," he said and turned his attention to the ringing mobile phone.
Topgyal's wife Dawa Thakchoe, who is as disciplined as him, took a break from her household work and sat beside him. And the conversation resumed. He admitted that it was a challenge to convince people about his capabilities because "all these years, they have been choosing educated people" but that is an "immature way of thinking".
"They should consider other aspects like experience and grassroots knowledge," Topgyal, who prefers Hindi to English while speaking, added.
There were more visitors at his door and Topgyal had to cut the conversation short. He came back a few minutes after but the interview was interrupted again as his mobile phone rang. He excused himself to take the call. Topgyal still uses an old phone with keypad. He vehemently denied that a smartphone would be of help if he were planning a stint in politics. "I am smarter than a smartphone. I don't need one of those to keep a tab on current affairs and the situation in Tibet," he declared.
~ NM