When the Monk visited Shillong
Remembering Swami Vivekananda's Legacy on his 158th Birth Anniversary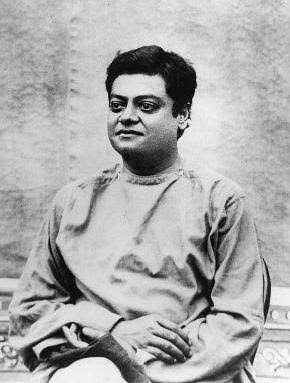 At the turn of the 20th century, Swami Vivekananda, regarded in history to be the chief disciple of Ramakrishna Paramhansa, and founder of the Ramakrishna Mission movement, decided to go on a pilgrimage in East Bengal (now Bangladesh) and Assam. He was accompanied by a few disciples and his mother Bhuvaneshwari Devi who wanted to visit Kamakhya temple, a Shaktipeeth. He was ill and this trip was intended to improve his health.
Once in Guwahati (Gauhati), they visited Kamakhya and offered puja. His health condition worsened. On hearing about Swamiji's visit and ill-health, the then Chief Commissioner of undivided Assam, Sir Henry Cotton invited him to Shillong. His stay was arranged at a house in Laban, owned by one Rai Saheb Kailash Chandra Das. It is said that he and Jatindranath Basu went to Guwahati to receive them. The group went in a tonga, a horse driven cart. Hazi Kasimuddin Mullah owned the Guwahati-Shillong Tonga Service. He arranged food and took care of Swamiji during the journey.
Shillong days
Swamiji was impressed with Sir Cotton, who had garnered a reputation for being sensitive to the Indian cause. Born in then Madras to India-born parents of English descent, Sir Cotton was instrumental in spreading modern western education. He enquired about Swami Vivekananda's health and arranged for a civil surgeon to take care of him.
Sir Cotton is said to have asked him" "After travelling all over Europe and America why have you come here and who will understand your greatness here?" Swamiji's reply to him is not known. The Laban house would go on to become a major pilgrimage site. It was made of hay and had an open veranda and was later developed into an Assam-type house. It no longer exists, an unfortunate reminder of what would have happened, had it been converted to a heritage building.
Swamiji delivered his last public lecture at the then Quinton Hall, named after James Wallace Quinton, the Chief Commissioner of Assam who was murdered during the Anglo-Manipur War of 1891. This hall was inaugurated by Swami Vivekananda on April 27, 1901. Sir Cotton was the president at this historic public meeting. Unfortunately, this lecture was not recorded but a report came out in the contemporary Khasi newspaper, U Khasi Mynta, which was edited by Hormurai Diengdoh.
The Ramakrishna Mission Vivekananda Cultural Centre is now located at the place where the 1901 meeting was held
Ramakrishna Mission
As a response to Christian missionary work, a section of the Khasi leaders, concerned about the loss of their culture and tradition, invited the Ramakrishna Mission to the Khasi Hills The non-missionary nature and broad outlook of the organisation attracted their attention. The leaders wanted an educational institution that would be secular in its approach. Following discussions, it was decided that a junior monk would first come and live in the area.
Enter Swami Prabhananda, pioneer of the Ramakrishna movement in Meghalaya, and popularly known as Ketaki Maharaj by the people. Under his leadership, the Ramakrishna Mission started its activities in the United Khasi and Jaintia Hills in 1924. He travelled to Shella, a village on the outskirts of Shillong, with no money, knowledge of Khasi or lifestyle of the people. Once there, he came in contact with Mathuranath Deb Nath, a medical assistant in a government dispensary. The latter offered him a place to stay for a few days. His host was instrumental in introducing him to the village elders and giving him an overall idea of the place. Ketaki Maharaj also met Gour Charan and Yogidhan Wadadar who decided to help his mission in every possible way.
A night school for adults was started where Bengali was taught so that the people could speak to the Bengali population with whom they had business connections. It proved to be successful and the elders decided to start an elementary day school for the children. Within three months of his arrival, Ketaki Maharaj learnt the language and their way of life. Soon, news of his work reached other villages and the demand for schools grew. He volunteered to visit these places and the idea grew. Soon schools would start in Cherrapunjee (now, Sohra) and Jowai as well.
It is interesting to note how Ketaki Maharaj preferred to work in the background. From the very beginning, he left it to the village elders where decision-making was concerned, something that proved to be a success in the long run and earned him respect from the people.
Back in Shillong, the need for an ashram was felt and Swami Prabhananda Maharaj played an important role. A plot of land was purchased in the 1930s and after having moved from Laban, Jail Road, Mawkhar, Oakland, it was shifted to the present address at Laitumkhrah in 1936. A school for the Dalit population was also started in the form of an LP School in 1948.
Impact of Swamiji's visit
That Swami Vivekananda's visit to Shillong left a lasting impact is seen in the present work of the mission. The school at Sohra has given Meghalaya a few towering personalities like B.B. Lyngdoh and Prof G.G. Swell besides offering skill development programmes such as weaving. The Ramakrishna Mission Vivekananda Cultural Centre offers language courses, skill development workshops and computer literacy programmes. Two magazines, Ka Jingshai (The Light) and Turshaphrang (Marching Ahead) are published with the aim to establish a cultural bridge in Meghalaya.
As we celebrate Swamiji's birth anniversary this year, it must be noted that he entered the world with his famous lecture at Chicago in 1893 and left the scene with his last public address in Shillong, thereby completing a full circle. Modernity, rooted in culture, thus, remains an integral part of his unique teaching to the world.